(Last Updated On: July 1, 2021)
Have you heard the inspirational real-life story of Wheelchair Athlete Dean Furness who aims to inspire others through a positive approach to owning each day? He advises people to overcome challenges, stop comparing yourself to others. Dean Furness met with an accident in 2011 which left him as a paraplegic without the use of his legs. But several years of rehabilitation, hard work and encouragement from his physical therapist helped him to compete as a wheelchair athlete in both the Chicago and Boston Marathons. 
Wheelchair athlete Dean Furness
Dean Furness is a data and analytics professional. He is a husband, a father of three and a basketball coach.
In a recent TED talk, Wheelchair Athlete Dean Furness shared his real-life story of the accident that left him in a wheelchair. He explains what that experience taught him about "personal averages". Dean Furness shared his best advice for overcoming challenges and also the importance of not letting other people impact how we think about ourselves.
Wheelchair athlete Dean Furness says, "when you stop comparing yourself to others, you can accomplish great things." After losing the use of his legs in an accident, he discovered a powerful new mindset focused on redefining his "personal average" that helped him get better little by little.
To overcome challenges, stop comparing yourself to others
Wheelchair athlete Dean Furness
Wheelchair athlete Dean Furness started his inspiring talk with the topic personal average.
"It seems we have been measured almost all of our lives, when we are infants, with our height and our weight, and as we grew it became our speed and our strength. And even in school, there are test scores and today with our salaries and job performance. It seems as if those personal averages are almost always used to measure where we are in comparison to our peers. And I think we should look at that a little differently. That personal average is just that, it's something very personal and it's for you, and I think if you focus on that and work to build that, you can really start to accomplish some really amazing things."
"Everything that I had learned and had known about my height and my strength and my balance and my mobility was blown away. My entire personal average had been reset. Now you could be sure in those days I was being measured more than ever, by the doctors and nurses for sure but maybe more so in my own mind, and I found myself comparing what I thought I was going to be able to do going forward with what I once was able to do. And I became pretty frustrated. It took some very consistent prodding from my wife, who kept saying, "Get your eyes up," before I could get moving forward."
"And I soon realized that I almost had to forget about the person I was before and the things I was able to do before. I almost had to pretend it was never me. And I'm afraid if I had not made that realization, my frustration would have turned into something much harder to recover from."
He explains that he would have good days and bad days.
"What I found out is that good and bad really didn't have a lot of meaning unless I had the context of knowing what my average was. It was really up to me to decide if something was bad or good based on where I was at that point in time, and it was in my control to determine if it really was a bad day.
"What I found in those scenarios is the quicker you move on to what's next, the quicker you can start attacking things. And by moving on to next as fast as possible, you shrink the time you spend in those bad scenarios and it gives more time for the good. And, as a result, the good outweighs the bad, your average increases and that's just how the math works."
With guidance and encouragement from his physical therapist, coach, team members, his goal shifted for participating in a wheelchair half marathon, a "door closed" behind Dean Furness. His goal for walking again became less. He began to research wheelchair racing. "I had learned my lesson," he says. "I was really careful not to compare with how accomplished those people on the internet were and how fast they were because if I had, I probably never would have continued going through with it."
When he was in a room with the best wheelchair athletes, including several Paralympic medalists, he felt pretty small. Dean Furness says "I felt pretty small and I fell back into that trap of comparing myself. I knew that my averages that I had been tracking during my workouts were over 90 seconds slower per mile than theirs." He had to block such thoughts out and focus on himself.
The best advice he offers to others is "no matter what kind of challenges they might be facing, never compare yourself with others."
He concludes his talk with these motivational words "Take some time and focus on you instead of others, and I bet you can win those challenges and really start accomplishing so many great things."
Real-life success stories of physically challenged
1. Anju Rani Joy world record winner
Anju Rani Joy is a paraplegic woman, multi-talented and world record winner for the longest time lifting two glass jars (1kg each) upside down with two fingers of each hand. Anju Rani Joy is an actor, theatre artist, model, entrepreneur, record holder, media person, social worker and much more. Anju Rani Joy proves that difficulties make you a jewel. Read the inspirational story of Anju Rani Joy.
2. Veena Venugopal India's first wheelchair TV anchor
Read the inspiring story of Veena Venugopal India's first wheelchair TV anchor who has hosted multiple shows. Veena Venugopal proved that the power of dreaming big is important for achieving success in goals. 
3. Sparsh Shah changed 'Impossible' to 'I'm Possible'
Sparsh Shah is a 14-year-old talented boy. He was born with an incurable disease called Osteogenesis Imperfecta. This disease makes his bones extremely fragile/brittle, due to which even a hard handshake can break his bones. Read how Sparsh Shah changed 'Impossible' to 'I'm Possible'?
4. Arunima Sinha the first woman amputee who climbed Mount Vinson
Arunima Sinha is the first female amputee in the world to climb Mount Everest in 2013. Arunima Sinha has become the first woman amputee climbed Mount Vinson, the highest peak in Antarctica.  Read the inspiring story of Arunima Sinha.
5. Haroon Kareem visually impaired used a laptop to write the exam
Haroon Kareem, 15-year-old reportedly the first visually impaired student used a laptop to write the Kerala state board exams, without scribes. You may like to know how Haroon Kareem, visually impaired student achieved success and created history using assistive technology which is also helpful for other visually impaired students.
6. Pranjal Patil the first visually challenged woman IAS officer in India
Pranjal Patil, a 26-year-old lady, a visually impaired Ulhasnagar resident, has proved it right by clearing the Union Public Service Commission (UPSC) exams in 2016 and getting an All-India rank of 773. Pranjal Patil became the first Visually Challenged Woman IAS Officer in India.
7. Nick Vujicic | No arms and no legs
Nick Vujicic (Nicholas James Vujicic) is a Serbian-Australian Christian evangelist and motivational speaker born with tetra-amelia syndrome, a rare disorder characterized by the absence of arms and legs. One of the seven known surviving people planet-wide who live with the syndrome. Read the Inspiring Story Of Nick Vujicic,| No Arms And No Legs.
We can find many physically and mentally challenged children and adults around us with God-given talents. It is important to give proper care and help to physically and/or mentally challenged to improve their talents and become successful in life.
If you watch videos of all the people mentioned above, you will be surprised to notice the happiness on their face. Do you know the secret of their happiness? The only secret is they never compare their disability with others, but they accept it as a gift from God and try their best to become successful with full of happiness. They are aware of their problems, but they never allow their mind to disturb them. They take everything in a positive way and that positive attitude makes them successful.
Your mindset controls the success and happiness in your life. Your beliefs, thoughts and mindset affect everything in your life. A negative mindset makes you unhappy. You have to build a positive mindset to reach your greatest potential. You must train your mindset every day for happiness and success in life. Learn to build a growth mindset that will boost self-confidence to overcome obstacles and help to turn failure into success.
Conclusion
Hope that you found the real-life story of wheelchair athlete Dean Furnesse very inspirational. You must have noticed how he has learned to prioritise his own results and performance, without holding them up against other people's. That is the point most of us do not follow in our life.
Reference and photo on the featured image TED YouTube
If you liked this article, kindly share with your friends, relatives and on social media to help them to read.
You are welcome to share your thoughts in the comment box below.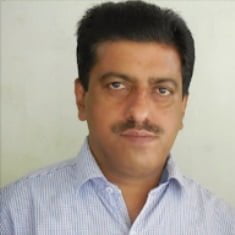 Mathukutty P. V. is the founder of Simply Life Tips. He is a Blogger, Content Writer, Influencer, and YouTuber. He is passionate about learning new skills. He is the Director of PokketCFO.
He lives with the notion of "SIMPLE LIVING, CREATIVE THINKING". He Believes – "Sharing is caring." and "Learning never ends."