(Last Updated On: July 7, 2022)
Have you set effective goals for the future? Are you clear about what is your main aim in life? The first step to achieving success is to set effective goals. If you have no goal, you can not achieve success. In this article, you can find a few steps to setting and achieving effective goals.
How To Set Effective Goals?
We all want to do something, whether great or small, at some point in our lives. Achieving these goals is related to our happiness and well-being. It is a way to increase self-esteem.
Five rules for setting effective goals
Your goal should be something that enhances your life and makes it more enjoyable.
Click To Tweet
Better to find another goal if your current goal is taking away enjoyment from your life.
If your goals are long-term, divide it into multiple short-term goals. Short-term goals can be monthly, weekly, or daily.
Write down and post your goal wherever you can see it often.
Set an alarm throughout the day to keep you focused on your goal.
Tell yourself every day what you are going to do to accomplish your goal.
Here are a few steps to setting and achieving goals
Be specific about your goal to achieve
Make a plan of action to be done
Create a list of steps to be taken
Do not be passive, Act as early as possible
Read books and articles, and listen to the advice of experts, if needed.
Find alternative plans, if needed.
Examine your goals periodically
For better results, visualize your goal
Take action to achieve the goal
How do achieve goals?
Conclusion
Without proper vision and goals, you can not achieve success. Setting goals effectively will help one focus and move forward in the correct direction and achieve success.
Do you like to share any tips for setting and achieving effective goals?
Feel free to share your views in the comment box below.
"Sharing is Caring!" Don't forget to share the article on your network.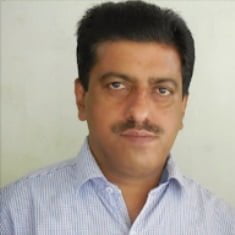 Mathukutty P. V. is the founder of Simply Life Tips. He is a Blogger, Content Writer, Influencer, and YouTuber. He is passionate about learning new skills. He is the Director of PokketCFO.
He lives with the notion of "SIMPLE LIVING, CREATIVE THINKING". He Believes – "Sharing is caring." and "Learning never ends."