(Last Updated On: July 1, 2021)
We all have dreams and aspirations that we work towards fulfilling. Our short life in this world is full of challenges and struggles. People who face challenges fearless of failures and fight against all the difficult situations can make their dreams come true and create an inspiring success story. Have you heard about such an inspiring story of Veena Venugopal who proved the power of dreaming big is important for achieving success in goals? Let's read and watch the inspiring story of Veena Venugopal, India's first wheelchair TV anchor who has hosted multiple shows.
Veena Venugopal India's First TV Anchor In A Wheelchair
Veena Venugopal, an aspiring TV anchor in a wheelchair, wants to use the powerful media to touch the lives of others with disabilities. Continue reading to know more about this young woman's plans to change the lives of the community.
Veena Venugopal got the inspiration to turn to television as a mode of communication from Muniba Mazari. Veena Venugopal looks up Muniba Mazari, a well-known Pakistani disability rights activist as a role model. Muniba Mazari is a respected motivational speaker and hosts TV shows.
About Veena Venugopal TV Anchor In A Wheelchair
Veena Venugopal is a native of Kodungalloor.
While studying in class 8 Veena Venugopal was diagnosed with muscular atrophy.
The rare genetic spinal muscular atrophy didn't prevent her from dreaming high.
By the time she finished her studies, she had zero mobility.
The neurologist advised her to start using a wheelchair because nothing else could be done to improve her condition.
Veena started using a wheelchair.
She did not realise how disability is going to change her life.
The first few months were hard for her, and she even went into depression.
A major source of support was Krishnakumar PS, who has muscular atrophy. He is a motivational speaker and member of the NGO MIND.
Veena didn't lose hope. She gathered all the broken pieces together to build a new life and chase her passion of becoming a TV Anchor.
Veena has been training herself to make her mark in the competitive industry.
Her show Vellinakshatrangal was aired on Malayalam channel Goodness TV
By hosting the Vellinakshatrangal show, Veena Venugopal became one of the first wheelchair TV anchors in India.
Vellinakshatrangal show was very special because all the guests in this show were people with disabilities who are achievers.
Goodness TV has an exclusive show for disabled people called Kanalvazhikal.
What Is Spinal Muscular Atrophy?
Spinal muscular atrophy (SMA) is a genetic disease affecting the central nervous system, peripheral nervous system, and voluntary muscle movement (skeletal muscle). Most of the nerve cells that control muscles are located in the spinal cord, which accounts for the word spinal in the name of the disease. SMA is muscular because its primary effect is on muscles, which don't receive signals from these nerve cells. Atrophy is the medical term for getting smaller, which is what generally happens to muscles when they're not stimulated by nerve cells. Source: Muscular Dystrophy Association
Veena Venugopal India's First TV Anchor In A Wheelchair
Being in a wheelchair is no barrier to Veena Venugopal who is always vivacious, like a gurgling stream. She is always speaking with joyous abandon and a sense of optimism which is unparalleled. Her never give up attitude and the help of an NGO MIND, helped her overcome challenges and change her life into success.
Conclusion
The wheelchair doesn't limit Veena Venugopal from proving the power of dreaming high and achieving success in life. Her dedication and commitment helped her to achieve her goal to become the TV anchor in a wheelchair in India. Let's congratulate and support her for success in life.
Related Inspiring Stories
Let me know your thoughts and suggestions in the comment box below.
If you liked this article, kindly share it with your friends, relatives, and social media to help them to read.
Reference: The New Indian Express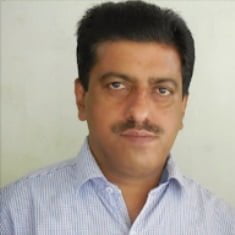 Mathukutty P. V. is the founder of Simply Life Tips. He is a Blogger, Content Writer, Influencer, and YouTuber. He is passionate about learning new skills. He is the Director of PokketCFO.
He lives with the notion of "SIMPLE LIVING, CREATIVE THINKING". He Believes – "Sharing is caring." and "Learning never ends."