(Last Updated On: November 9, 2022)
This is the proudest moment to share the historic moment for all the Indians, especially for women. Arunima Sinha, the first female amputee in the world to climb Mount Everest in 2013, has become the first woman amputee to have climbed Mount Vinson, the highest peak in Antarctica. 
The First Woman Amputee Climbed Mount Vinson – Arunima Sinha
She achieved something which even able bodies finds difficult to do. Arunima Sinha lost her leg in a horrific incident a few years ago. But nothing could stop Arunima Sinha from achieving her goal and she proved that disability is not an obstacle to success.
Are you searching for the answers for these questions? If yes, you reached the right place. Answer for all the questions are covered in the article.
Who is the first female amputee to climb 5 mountains of the world?
When did Arunima Sinha climbed Mount Everest?
Who is the first handicapped to climb Mount Everest?
Where did Arunima Sinha born?
Where does Arunima Sinha live?
What is the name of Arunima Sinha father?
How did Arunima Sinha lose her leg?
Biography Of Arunima Sinha – The First Woman Amputee To Climb Mount Vinson
Born
20 July 1988 (age 30)
Ambedkar Nagar, Uttar Pradesh
Husband
Shooter Shree Gaurav Singh
Nationality
Indian
Occupation
Charity Work for Arunima Foundation
National level Best Motivational Speaker
Volleyball player
Mountaineer
Known for
First female amputee to climb Mount Everest
First female amputee to climb Mount Vinson
Awards
Padma Shri & Tenzing Norgay National Adventure Award (2015) (2016)
First Lady award (2018)
University of Strathclyde Glasgow, United Kingdom.
Honoring Award Doctorate Degree on 06Nov 2018 12:30 PM
(Glasgow Time).
How Arunima Sinha, The First Woman Amputee To Climb Mount Vinson, Achieved Success?
On 12 April 2011, she boarded the Padmavati Express train at Lucknow for Delhi, to take an examination to join the CISF.
She was pushed out of a general coach of the train by robbers wanting to snatch her bag and gold chain. 
Immediately, as she fell on the railway track, another train on a parallel track crushed her leg below the knee.
After 14 hours on the track, someone took her to the hospital.
She was operated on without anaesthesia.
Her leg was amputated below the knees.
But she refused to give up.
While still being treated in the All India Institute of Medical Sciences, she resolved to climb Mount Everest.
On May 21, 2013, she did the impossible summiting the Everest in her first attempt with a prosthetic leg .
Then the peaks of other 5 continents
The last one was Mount Vinson of Antarctica known for notorious winds and very low temperature
On Jan4, 2019 she summitted the Mount Vinson and became the first woman amputee to summit the peak
Credits Wikipedia
Arunima Sinha, the Indian mountaineer who became the world's first woman amputee to climb Mount Everest in 2013, has now become the first woman amputee to climb Mount Vinson (the highest peak of Antarctica). Credits: The Indian Express
Arunima Sinha On Mount Everest
How Arunima Sinha Lost Her Leg?
This is the story she told in the below video. You can watch the video to know about how she did the impossible summiting the Everest in her first attempt with a prosthetic leg.
Quote:
In 2011, I was thrown out of a running train by some robbers. I have also been a volleyball champion. In 2011, I was wearing a gold chain, and some robbers threw me out of a running train, I was travelling from Lucknow to Delhi.
It was a general compartment, there were a lot of people – nobody tried to intervene. It's in the spirit of a player to not easily let go, not even after struggle. Even I resisted, there were four to five of them, and they threw me out of a running train. It was unfortunate that at the same time another train was passing on the adjacent track. I first banged into that train and then fell on the tracks. Both the trains passed. After a while, when I tried to lift myself upand saw that my leg had cut off. I lifted my thigh and saw it was hanging with the jeans, blood flowing profusely. Bones of the other leg were all broken and had come out.
All night I kept shouting in pain on the tracks, there are small rocks there…crying for help. Nobody came to rescue me. All night shouting so much that I could no longer see. When a train used to pass the track would vibrate. Not only that, some had got a free invitation –– you must have seen small rats on the railway tracks. They were now chewing on my injured leg.
My brain consciousness was working – I was fully aware, but there was no movement in my body. Every second I was thinking how I could save myself. The whole night passed, in the morning some villagers took meto Bareilly District Hospital in UP. This is where it happened.
In the morning, when the villagers took me to the district hospital the pharmacist, doctor, and everyone were all discussing among themselves –that they did not have anaesthesia or blood –and if they start my treatment how could they start.
Though I couldn't see, I could hear all of this. From where I got the strength, even I don't know, I said, "Sir, my whole leg is crushed, and for so long I was on the tracks and I endured the pain, but for my good you will now cut off my leg".
Maybe you won't believe this, or you would have never seen this before –that a doctor or pharmacist donated their own blood to save a patient. After hearing what I had to say, the doctor and pharmacist both gave a unit of blood each and amputated my leg without any anaesthesia. Even today, I feel that pain. Every time I speak, I feel all that pain.
After that…When the media found out, people got to know that Arunima is a national player. I was then admitted to KGMC – King George Medical College in Lucknow. From Lucknow to AIIMS Trauma Centre in Delhi, on Sports Minister's intervention. Everything was going fine, because of being a player I started getting good treatment.
For about four months I was being treated at AIIMS. After AIIMS, as I started getting better after about 25 days, I looked at the newspapers, all twisted stories – "Arunima didn't have a train ticket, and jumped off a train" "she was rejected by her family," and even, "Arunima attempted suicide."
For a girl whose limb had been amputated, future is unknown – if she'll be on a wheelchair or crutches. To the extent that my spine had three fractures, I didn't even know if I would ever get off the bed. You can only imagine what must be going through my heart and mind. You can imagine the situation of the family whose young girl is going through such a situation. They say – "Where is a will, there is a way."
On the bed at AIIMS, I decided – I was shouting out what I had to say everything that was happening was at such a high level, and I being from a middle class family, was shouting out what I had to say but nobody was listening. They say… From my heart, mind and soul, I made a decision– It's okay, today is your day say how much and whatever you want to say. One day it will be my turn, and I will prove who I am……prove who I was.
On the hospital bed I decided, not volleyball but life's most difficult game –I then choose mountaineering. To say and to do – there is a huge difference. When I first thought about mountaineering and shared it with people, the biggest thing was to get training under proper guidance.
Unquote

Arunima Sinha's Mount Everest Journey
Watch the full video as she takes us along on her inspiring success journey in this passionate talk. 
How many mountains Arunia Sinha conquered?
Mount Everest
Sagarmatha National Park, Rikaze, Nepal
Elevation :8,848 m 
Start Date :2013-04-02
End Date :2013-05-21
Mount Kilimanjaro
Mt.Kilimanjaro National Park, Tanzania
Elevation :5,895 m 
Start Date :2014-05-01
End Date :2014-05-11
Mount Elbrus
Kabardino-Balkaria,Russia
Elevation :5,642 m 
Start Date :2014-07-15
End Date :2014-07-25
Mount Kosciuszko
Kosciuszko National Park , NSW 2642, Australia
Elevation :2,228 m 
Start Date :2015-04-12
End Date :2015-04-20
Mount Aconcagua
Mendoza Province, Argentina
Elevation :6,962 m 
Start Date :2015-12-12
End Date :2015-12-25
Mount Carstensz Pyramid
Indonesia
Elevation :4,884 m 
Start Date :2016-07-07
End Date :2016-07-08
Mount Vinson Massif
Vinson Massif, Antarctica
Elevation :4,892 m 
4 January 2019
Credits Arunima Sinha
Never stop believing in yourself, and success will always accompany you.
Her aim was to climb all the continents' highest peaks and hoist the national flag of India. She has done it and proved what she said: " The day your inner-self is awakened toward any goal, nobody can stop you from reaching that goal."
This is the spirit, this is the sentence young people have to keep in mind and move forward to achieve the success. Never allow obstacles break success in your life.
Conclusion
Arunima Sinha defied all the odds and achieved her goal which is unthinkable to many. She has become an inspiration for millions of people who are physically disabled or handicapped. The leg is obviously required to climb the highest peaks, but she proved that what is needed most is a brave heart. Her courage, determination and dedication played important role in achieving her goal.
Let us salute her impeccable achievement with pride.
Spread this inspiring success story and help others to read and watch the videos. You can easily share by clicking on share buttons. Remember"Sharing is Caring!"
Feel free to leave your thoughts below.
Images Credits: https://www.youtube.com/watch?v=Wx9v_J34Fyo [CC BY-SA 3.0], via Wikimedia Commons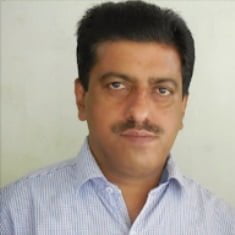 Mathukutty P. V. is the founder of Simply Life Tips. He is a Blogger, Content Writer, Influencer, and YouTuber. He is passionate about learning new skills. He is the Director of PokketCFO.
He lives with the notion of "SIMPLE LIVING, CREATIVE THINKING". He Believes – "Sharing is caring." and "Learning never ends."