(Last Updated On: September 27, 2021)
Have you read or heard the inspirational and unbelievable success story of Anju Rani Joy from Ernakulam, Kerala? Anju Rani Joy is a paraplegic woman, multi-talented and world record winner for the longest time lifting two glass jars (1kg each) upside down with two fingers of each hand. She is a multifaceted woman and her accomplishments so far have been stupendous. Anju is an actor, theatre artist, model, entrepreneur, record holder, media person, social worker and much more. Anju Rani Joy proves that difficulties make you a jewel. Tough times make you stronger.
Anju Rani Joy Paraplegic Woman
We have read and watched many YouTube videos of differently-abled people who became successful and done miracles beyond our imagination. The story of Anju Rani Joy is special because she is a very beautiful and multi-talented woman who has climbed many steps successfully. After reading her story and watching the videos, you may think about why you can't achieve success like her in your life.
Very Beautiful Anju Rani Joy
In the previous paragraph, I have mentioned: "Anju is very beautiful". Her smile reflects the beauty of her mind. No stress, no tensions, very peaceful and happiness filled mind.
Soul smiles through the lips of a happy face (Description on FB)
Do you wish to smile like her, always be happy like her? Yes, we all wish, but how many of us can?
I have noticed this happiness on most people like her, differently-abled, special children. God fills their mind with special happiness. They have the power and strength to make their mind happy and also to make others happy with their smile.
What Does Paraplegic Mean?
Paraplegia, sometimes called partial paralysis, is a form of paralysis in which function is substantially impeded from the waist down. Most people with paraplegia have perfectly healthy legs. Instead, the problem resides in either the brain or the spinal cord, which cannot send or receive signals to the lower body due to an injury or disease.
What Is Paraplegia?
Paraplegia is almost always the result of damage to the brain, spinal cord, or both. In most cases, spinal cord injuries to the thoracic, lumbar, or sacral spinal cord are to blame. When these injuries occur, signals cannot travel to and from the lower regions of the body, and the body is prevented from sending signals back up the spinal cord to the brain.
Read More Source – Spinalcord
Wheel-Chair Bound Anju Rani Joy – The Multi-Talented Woman
An actor
Theatre artist
Model
Entrepreneur
Record holder
Media person
Social worker and whatnot.
About Anju Rani Joy
31-year-old Anju Rani Joy is disabled from birth and uses a wheelchair.
She is an expert in the art of mirror writing.
Using both hands she can write in normal and in mirror image at the same time.
Anju has won 2 world records for jar lifting.
She makes handmade jewellery and sells them online.
Anju is associated with Thanal, a paraplegic welfare society.
Anju performs her rare feat regularly, along with exhibiting her ambidexterity, at the music concerts of Freedom on Wheels, the troupe of persons with special needs.
She and her team were part of Chhaya, the country's very first play featuring only wheelchair-bound artists.
Chhaya performed in Kochi and Thiruvananthapuram. They earned a standing ovation from the crowd for their performance at the prestigious Soorya Festival.
Anju was part of fashion shows.
She recently graced the ramp of a show by E-unnathi Foundation as the celebrity guest.
Acted in two films – Simon Kuruvilla's 'Oru Nalla Kottayamkaran' and Dr Siju Vijayan's 'Insha'.
Anju is the media director of Plavila Plus TV which runs as a parallel shelter service for persons with special needs. Plavila Plus TV YouTube channel is a platform to express their passion, talents, needs and keep them motivated.
Her dream is to open a shelter for persons with special needs.
Every Child Is A Gift From God
The world has changed a lot, but still, in many parts of India, many people are not happy with the birth of a girl child. In that case, what will be the response when a girl child is born with a disability?
What type of feeling or thought comes into your mind when you see a differently-abled person? How do you treat with a special child? Every child is a gift of God and the creator has a special aim for his creation. Never curse the special child or differently-abled person thinking that their disability is a punishment from God. Remember, God never punishes his children, but he always showers his blessings abundantly.
Posts Related To Parenting
Support From Anju Rani Joy's Parents
Joy and Jessy, Anju Rani Joy's parents were distraught when their firstborn child was diagnosed with paraplegia (a spinal cord injury that paralyses the lower limbs).
But her loving parents did not decide to give up. They stood with their child, letting her explore everything she wanted in her life.
Anju Rani Joy was born with a disability and hence she has been using a wheelchair all the years of her life.
Her father Joy was a sports teacher at an LP school near her home at Ponmudi in Idukki district of Kerala State. Every day her father used to take her to the school where she studied till Class IV. Since UP school was far, she was homeschooled thereafter. She continued her studies and earned graduation in Sociology and continuously experimenting with her skills.
Anju Rani Joy lives with her parents and siblings in Kakkanad, Ernakulam, Kerala State, India. Her parents are her biggest pillars of strength and have been with full support to her through thick and thin.
Anju Rani Joy Wheelchair-Bound World Record Holder In Jar Lifting 
Anju's tryst with jar lifting began while she was watching television and saw someone jar lifting. She was quite fascinated. Out of curiosity, she tried doing the same with two glasses. That gave her the motivation and she kept practicing with more weights. After a few days, she realised that she could hold weights with her two fingers.
World Record Winner Anju Rani Joy
Today, she holds two record-breaking titles for her jar-lifting attempts by Record Setter and Universal Records Forum. She lifted two 1-kg jars with her fingers for one whole minute. Now she can lift up to two kgs with her two fingers.
Anju Rani Joy's Mirror Writing Skill
Anju has lots of passion for Mirror writing. She can write with her both hands at the same time in English and Malayalam. She uses both hands to write from left to right. This can be read as a mirror image!
Celebrity Guest – Aarson Fashion Media Star Stamp Season 1
After graduation, she tried jewellery-making. She started running an online boutique named Lis Queen and online jewellers named Anjoos Collections.
Lis Queen Boutique
Lis Queen Boutique is an Online Store for Retail and Wholesale Shopping. They Offer A Wide Range of Sarees, Dress Materials, Anarkali, Salwar Kameez, Lehenga Choli and Kurtis at Best Affordable Prices and Best Quality. Worldwide Shipping Available. They are Taking Orders Online. Contact Lis Queen Boutique for more details and placing your valuable order. Help this young woman to make her life success.
Anjoos Collections
Enhance your look with Anjoos Collections, Necklace Set, Earrings, Bracelet, Bangle, Anklet and more. They accept online orders. You can send as a gift to your beloved one, they will courier on behalf of you. Contact Anjoos Collections for more details and placing your valuable order. Encourage and help Anju to make her life successful.
Actress Anju Rani Joy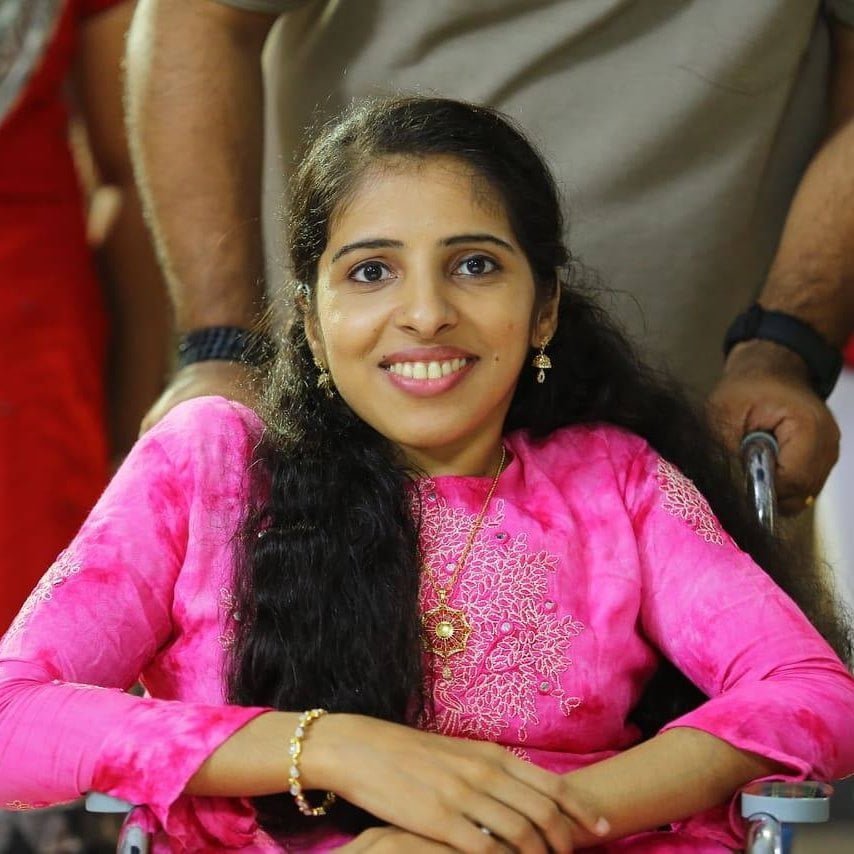 Anju Rani Joy In The Malayalam Movie 'Oru Nalla Kottayamkaran'
Anju acted in the Malayalam Movie Oru Nalla Kottayamkaran (a good Kottayam Resident), a film telling the story of P.U. Thomas, an ordinary man with an extraordinary mission. P.U. Thomas is the founder and Managing Director of Navajeevan Trust, Kottayam, Kerala, India. Navajeevan Trust Kottayam helps Rehabilitation of Psychiatric Patients, Free Food Distribution, Hospital Service and other welfare and rehabilitation services.
"It feels so surreal. Like everyone, I too had dreamt of appearing on screen one day but never thought it would be possible. I could do modelling and appear in beauty contests and fashion shows. I am proud and happy. None of these would have been possible without the support of her parents and siblings Amal and Ashley."
"With self-motivation. I have to face the hurdles of both gender and my condition. Converting criticism into opportunities is the only way forward. I have decided not to fail myself and my parents. Their happiness keeps me going."
Anju Rani Joy At The Beach
Conclusion
Anju Rani Joy is really an inspiration to others. Her parents are the reason for her success and happiness. If you have a special child, accept the child as a special gift from God. Support and motivate the child to become successful in life.
Related Posts
Let me know your thoughts and suggestions in the comment box below.
If you liked this article, kindly share it with your friends, relatives, and social media to help them to read.
Photos Credits – Facebook Anjuraniofficial
References Manoramaonline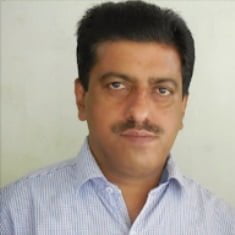 Mathukutty P. V. is the founder of Simply Life Tips. He is a Blogger, Content Writer, Influencer, and YouTuber. He is passionate about learning new skills. He is the Director of PokketCFO.
He lives with the notion of "SIMPLE LIVING, CREATIVE THINKING". He Believes – "Sharing is caring." and "Learning never ends."