(Last Updated On: July 1, 2021)
There are many physically and mentally challenged children and adults in the world with God-given inspiring talents.
Inspiring Talents
Last night, I watched a music award show on Flowers TV.
In that show, one small blind boy and one girl (appeared to be autistic, not sure though) were singing, in a beautiful and melodious voice. The small boy was energetic as he answered questions asked with a cheerful face.
The girl's mother was holding the mic for her as she also holds her with the other hand. Her singing also was very nice.
I was thinking about how they would have learned the songs and sang to the tune of the orchestra, maintaining the rhythm precisely.
This was Flowers Music Awards function and many great South Indian Singers, including Dr. K. J. Yesudas, Ms. K. S. Chitra, Ms. Sujata, great music directors and other artists were present there. All appreciated their singing.
The eminent singers and the public were not applauding the duo out of sympathy for their disability, but for their God-gifted talent and spirit.
It was their dream to meet great singers, K. S. Chitra and Sujata. As per their request, both came on the stage, appreciated their singing, embraced and kissed them.
The happiness on the face of the small boy and girl proved that they have achieved their dreams.
Shivam Porwal was born with impaired legs and missing fingers
Today I found the below article on Linkedin, and I thought it would be better to embed this and publish to read this inspiring story of Shivam Porwal was born with impaired legs and missing fingers and he became an IITian, a motivational speaker, swimmer, singer and a poet.
Inspiring Talents – Nick Vujicic
The most inspirational video you will ever see.
No arms, no legs – no worries! Nick Vujicic uses his story to inspire and inform people all around the world.
Inspiring Talents – Wheelchair-Bound Boy Sparsh Shah
Have you read the post on this blog published on December 13, 2017 – Wheelchair-Bound Boy Sparsh Shah Transformed 'Impossible' To 'I'm Possible'?
Inspiring Talents – These 5 prove that if you try hard enough, nothing can hold you back!
Vikram Agnihotri
Vikram lost his arms at the age of 7 after accidentally touching a high voltage wire. Vikram slowly rebuilt his life learning to redo most things on his own. He even excelled in sports, particularly swimming and footballer.
Zuly Sanguino
Zuly was born without fully formed limbs. She picked up her first paintbrush when still only a few years old. Zuly is now a motivational speaker and hopes to prove disability doesn't have to hold you back.
Jerome Elbrycht
Jerome's life was turned upside down in June 1998 when a skateboard trick went wrong and he broke several bones in his spine leaving him in a wheelchair. But he refused to give up his passion and took up sit-wakeboarding. He is now the French champion.
Kanya Sesser
After being abandoned as a baby in Thailand due to being born with no legs, Kanya was adopted by an American family. Despite her troubled start to life, she has gone on to greater things and now earns up to $1000 a day modelling.
Mark Goffeney Aka
Mark has released one album titled 'Big Toe'.
Encourage Inspiring Talents
Read the inspiring story of Anju Rani Joy Paraplegic Woman Multi-Talented World Record Winner
Many parents of disabled children do not know that although their children have some kind of disability, they have God-given inspiring talents.
There are many organisations and care centres working for the upliftment of physically and mentally challenged children.
Most of them are providing free service and giving proper care to them according to their needs including Medical, Education and other activities.
It is necessary to give the proper care and help the physically and mentally challenged to improve their talents and make them feel happy and successful in life.
KERALA SOCIAL SECURITY MISSION  IS A CHARITABLE SOCIETY SPONSORED BY SOCIAL JUSTICE DEPARTMENT, GOVT. OF KERALA, India
Read this article in WikiHow How to Help Those Who Have a Disability
Feel free to share your views in the comment box below.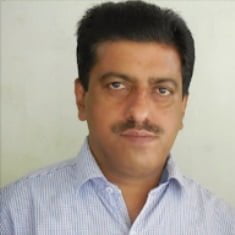 Mathukutty P. V. is the founder of Simply Life Tips. He is a Blogger, Content Writer, Influencer, and YouTuber. He is passionate about learning new skills. He is the Director of PokketCFO.
He lives with the notion of "SIMPLE LIVING, CREATIVE THINKING". He Believes – "Sharing is caring." and "Learning never ends."