(Last Updated On: June 24, 2020)
Technology is improving day by day and social media has an unexpected and unbelievable influence in common man's life. Social media is developed for the benefit and for the good for life. But, it is a fact that some people are misusing social media.  Fake news and baseless comments are hurting many people. Do you know the success story of Mark Zuckerberg, Facebook founder and CEO? Let's find Mark Zuckerberg's top 10 rules for success and his success story.
Mark Zuckerberg – Top 10 Rules for Success
You get what you spend your time doing
Get feedback
Make mistakes
Only hire people who you would work for
Make a change in the world
Learn from the people around you
Build a really good team
Give the very best experience
Care the most about it
Social bonds are critical
Above details and video source: Youtube
Mark Zuckerberg Facebook CEO
Mark Zuckerberg is now the face of the multi-millionaire company.
Mark Zuckerberg is named among the 100 wealthiest and most influential people in the world.
In December 2015 he and his wife Priscilla Chan announced that they would give away 99% of their Facebook shares for advancing human potential and promoting equality.
About Mark Zuckerberg
Mark Elliot Zuckerberg (/ˈzʌkərbɜːrɡ/; born May 14, 1984) is an American technology entrepreneur and philanthropist. Zuckerberg is known for co-founding and leading Facebook as its chairman and chief executive officer. He also co-founded and is a board member of the solar sail spacecraft development project Breakthrough Starshot.
Born in White Plains, New York, Zuckerberg attended Harvard University, where he launched Facebook from his dormitory room on February 4, 2004, with college roommates Eduardo Saverin, Andrew McCollum, Dustin Moskovitz, and Chris Hughes. Originally launched to select college campuses, the site expanded rapidly and eventually beyond colleges, reaching one billion users by 2012.
Zuckerberg took the company public in May 2012 with majority shares. His net worth is estimated to be $55.0 billion as of November 30, 2018, declining over the last year with Facebook stock as a whole. In 2007 at age 23 he became the world's youngest self-made billionaire. As of 2018, he is the only person under 50 in the Forbes ten richest people list, and the only one under 40 in the Top 20 Billionaires list.
Since 2010, Time magazine has named Zuckerberg among the 100 wealthiest and most influential people in the world as a part of its Person of the Year award. In December 2016, Zuckerberg was ranked 10th on Forbes list of The World's Most Powerful People. Source: Wikipedia
Mark Zuckerberg – Biography
What are the key points about Mark Zuckerberg?
An American computer programmer and Internet entrepreneur.
Best known as one of five co-founders of the social networking website Facebook.
He was captain of the fencing team. In college, he was known for reciting lines from epic poems such as The Iliad.
He began using computers and writing software in middle school.
He enjoyed developing computer programs, especially communication tools and games.
By the time he began classes at Harvard, he had already achieved a "reputation as a programming prodigy".
Zuckerberg launched Facebook from his Harvard dormitory room on February 4, 2004.
The group then introduced Facebook onto other campuses nationwide and moved to Palo Alto, California shortly afterwards.
In 2007, at the age of 23, Zuckerberg became a billionaire as a result of Facebook's success.
Since 2010, Time magazine has named Zuckerberg among the 100 wealthiest and most influential people in the world.
Conclusion
Mark Zuckerberg is truly an inspiration for the youth. His success rules and biography will surely help to make changes in your attitude, thoughts and lifestyle.
Recommended for reading
Share the post on your network and help others to read about the founder and CEO of Facebook.
Feel free to share your views in the comment box below.
Photo Credits – Anthony Quintano from Honolulu, HI, United States [CC BY 2.0], via Wikimedia Commons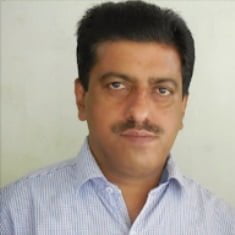 Mathukutty P. V. is the founder of Simply Life Tips. He is a Blogger, Content Writer, Influencer, and YouTuber. He is passionate about learning new skills. He is the Director of PokketCFO.
He lives with the notion of "SIMPLE LIVING, CREATIVE THINKING". He Believes – "Sharing is caring." and "Learning never ends."