(Last Updated On: November 29, 2021)
Do you know the power of dreaming big? The first step to success is dreaming big. You may say it is difficult for you because you think you can't dream big. Is it is too overwhelming for you and you have no clue about how to do?
Ok, you are correct. Dreaming big is unrealistic, overwhelming at first, outrageous, unbelievable, and maybe even crazy. But don't think you can't dream big. Continue reading and watch the video. I am sure, you will start dreaming big.
The Power Of Dreaming Big
There is no limit to how much one can achieve. This world is filled with people who started with nothing and became super successful beyond their imagination. Mind theory says that each individual has infinite potential within us. But the problem is many of us do not realise our skills and real value. It all comes down to how much we believe in ourselves and our capabilities. You should never stop believing in yourself even for a second.
You can tap your inner potential to the extent you believe in yourself and your capabilities. Bigger dreams excite you and inspire you to do more, stretch yourselves and go the extra mile. So, you must have big dreams and take massive action every single day to make your dreams come true. You should start your day with simple morning routines that will transform your life.
Remember the clock is ticking. Life has no rewind button, nor will it give us a second chance. Use your time to dream big and make it big. Time is precious and priceless and hence never waste your valuable time.
Without dreaming big, you cannot become a successful person. Hence you should be dreaming big and achieve unbelievable success in your life.
Dreaming big brings positivity in yourself. That positivity will help to deal with every challenge both in your personal and professional life.
We all have many dreams in life. Because of certain constraints, we may not achieve all our dreams.
This quote says that dreaming big is important because that will help to reach somewhere near to our dream.
Years back people might not have thought about touching the moon. Someone had a big dream and today people have not only reached in the moon but also trying to build their house there.
Dreaming big removes all restrictions and limits.
Definition of a big dream
A big dream is a substantial wish or an aspiration for something beyond our level. We believe this dream will fulfil our inner longing or desire.
Don't be afraid of dreaming big and living your life to the fullest
Click To Tweet
We can learn a lot from birds, animals and nature. You have seen many times bird sitting on a tiny branch of small plants or trees. Sometimes the branch shakes when the wind blows. But the bird is never afraid of the branch may break because it knows it can fly with own wings if anything goes wrong.
Sahla Parveen talking about dreaming big
About Sahla Parveen
Social media Influencer
An entrepreneur
Trainer
Success coach
Motivational speaker
Artist
Author of a book titled 'The Beauty of Purpose in Life'
Managing director of Give and Grow global foundation
Director of Haydays.
The 'Youngest Mind Power Trainer' conducting motivational workshops internationally.
Watch her inspiring talk explaining her real-life story. She proves the power of believing in your dreams, the power of dreaming big.

Great persons know the power of dreaming big
When you look at the stories of great persons, you will find their dreams differentiate them from ordinary people.
Ordinary people are fearful to take risks and never carry out extraordinary tasks. They dream about only what they can achieve. So, they can never achieve success like great persons.
But great persons dream big even if their goal may seem extremely difficult to achieve. They take risks, move forward fearless of failures and overcome obstacles.
They never ignore opportunities and ignore baseless comments. Their positive attitude and optimism help them to set effective goals and achieve success.
Mahatma Gandhi had a big dream about an independent India. It seemed unachievable and hence people did not believe in his dream. But he never gave up. After many years of struggle with determination, he achieved success.
Born in Kerala State, (known as The God's own country, in India. She has fought her way up the ladder with sheer determination to become one of the leading international trainers.
Her story of success wasn't without struggles. Sahla was a below-average student. She battled dyslexia throughout her teenage. But a single motivational session at her college changed her life and she became successful.
Dreaming big is powerful. Taking action on that big dream takes a lot of guts and courage.
Click To Tweet
Start dreaming big and move on
Start with dreaming big and get into energy.
Imagine yourself having already achieved your big dream
Feel the excitement, the passion and the energy
Now you have visualised and the path is clearer. Take your first baby step. Dream a little more and move steps one by one. After each step, your self-confidence in your unlimited potential awakens. Your mind speaks you can do it.
Your family members, friends and society might have given you limited beliefs about your strength. It is time to ignore and drop all. Exchange limited with bigger ones. It is free and simple.
So, what is the problem with you for dreaming big? The main problem is you have no self-confidence. If you believe in yourself, you can dream big and face any challenges. Never stop believing in yourself even for a second.
What happens when you dreaming big?
Light your inner fire and provide the ongoing fuel for your burning desire.
Level of self-esteem will increase.
Self-image improves.
Feel more positive about yourself.
Generate higher levels of anticipation and excitement.
Improve your ability to handle anything and overcome obstacles.
Overcome limiting beliefs.
Develop new good habits.
19 Steps on How to Dream Big – Infographic

Conclusion
While reading the article and watching the video you found some very strong reasons to dream big and the power of dreaming big. This will encourage you to dream big and improve the quality of your life. Not only that you should dream big, but also put your all efforts to accomplish it. Otherwise, your dream will become a waste and you cannot achieve success in life.
Do you dream big? Could you achieve success in your dreams?
Do you like to share tips about dreaming big and achieving success?
Let me know your experiences and thoughts in the comment box below.
Thanks for sharing the post on your social media and other networks.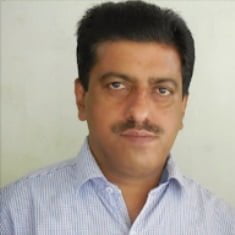 Mathukutty P. V. is the founder of Simply Life Tips. He is a Blogger, Content Writer, Influencer, and YouTuber. He is passionate about learning new skills. He is the Director of PokketCFO.
He lives with the notion of "SIMPLE LIVING, CREATIVE THINKING". He Believes – "Sharing is caring." and "Learning never ends."