(Last Updated On: January 19, 2023)
Have you heard about Sparsh Shah, the 19-year-old musical genius whose cover of Eminem's 'Not Afraid' earned him many fans? Sparsh Shah is a singer, songwriter, rapper, inspirational speaker, philanthropist and Guinness World Records holder.  He was born with an incurable disease that makes his bones extremely fragile/brittle. Despite all the challenges, Sparsh Shah's spirit is unbreakable. He is an inspiration and sensation to many in the world.
Who Is Sparsh Shah?
Sparsh Shah,  is a 19-year-old prodigy, singer, songwriter, rapper, inspirational speaker, philanthropist and Guinness World Records holder. He was born with an incurable disease called Osteogenesis Imperfecta. This disease makes his bones extremely fragile/brittle, due to which even a hard handshake can break his bones.
He cannot bear weight on his hands and legs, and hence cannot walk or run like other normal kids. He had more than 140 fractures and multiple rod surgeries (8 rods and 22 screws in his body) so far in 18 years of his life and God knows how many more are yet to come.
But God has gifted him with a wonderful voice and a brilliant mind. He has written several original songs and composed their music too. Sparsh has won prizes in many singing competitions and done many live performances in 9 countries and at prestigious venues such as Madison Square Garden, Radio City Music Hall, Prudential Center, Metlife Stadium, CitiField, National Center of Performing Arts, CosmoCaxia Barcelona, etc.
Despite all the challenges, Sparsh's spirit is unbreakable. Sparsh is an Internet sensation; he has performed in front of a billion people (twice) through television and the internet.  Sparsh Shah inspires them that even a kid like him with such a severe medical condition/disability can achieve his dreams.
When Sparsh was just three years old, he started learning the keyboard and reading books. However, as his bones kept breaking, it was difficult for him to continue to learn the keyboard and he had to stop playing. Sparsh has gone through multiple surgeries for his brittle bones. His parents help him write when he has fractures, or he uses voice-to-text technology to do his homework.
Sparsh's rapper avatar name is "PURHYTHM"
From the very beginning, he always had a way with words. He was reading English fluently at the age of three. When he was six and a half, he learned to pronounce some of the eleven longest words in the English dictionary in under twenty seconds!
11 Longest words in the English dictionary
Pneumonoultramicroscopic-silicovolcanokoniosis
Supercalifragilisticexpialidocious
Hippopotomonstrosesquippedaliophobia
Pseudopseudohypoparathyroidism
Floccinaucinihilipilification
Antidisestablishmentarianism
Honorificabilitudinitatibus
Electroencephalographically
Antitransubstantiationalist
Disproportionableness
Incomprehensibilities
Just as these words are complex, so has his life. Although difficult things, such as memorizing long and complex words and numbers, are simple for him, simple things, such as standing and bearing weight, are impossible for him.
In addition, when he was very young,  he would often spend car rides to Philadelphia for his treatments listening to the Word Master CD series by Denis Waitley with his dad, as well as self-help audiobooks like How to Win Friends and Influence People by Dale Carnegie, The 7 Habits of Highly Effective People by Stephen Covey, and Outliers by Malcolm Gladwell. All of these influences not only imbibed profound wisdom into his life but also bettered him as a person by teaching him how to live.
Sparsh's vision in life is to inspire and "Sparsh" (touch) everyone's hearts around the world.
How did a 13-year-old change 'Impossible' to 'I'm Possible'?
During his birth, he had over 35 fractures and was taken immediately to the intensive care unit. He was desperately clinging to his life. The doctors gave him the very bleak prognosis that he would only live for a day or two. But because of God's grace, and the support of his parents and their "never-say-die" attitude, he survived and became an inspiration and sensation for many in the world.
Sparsh Shah had many fractures in his body and only God knows how many more will happen. He also had multiple screws and rods placed in his body. He says, "so I guess you can call me Iron Man as well."
How to turn Impossible into I'm possible:
Find your passion
Never hold yourself back
Help others
Dream big
Find your passion
Although he lived a very rough life for the first few years, God opened a new door to it, Music, which became his passion and changed his life forever. Music had a tremendous impact on him, both physically and emotionally.
He started singing ever since he could speak. At the tender age of six, his parents enrolled him in Indian classical vocal training. Much later on, he also started taking American vocal lessons, helping to increase his versatility as a singer.
At the age of ten, when he wrote his first song: "This love will never fade," he found his true calling as an artist. Since then, he has written 11 more songs.
Read How To Find Your Passion With Secret Formula?
Never hold yourself back
One day, he came across an amazing rap song many of you may have heard of: "Not Afraid," by none other than Eminem, also known as Slim Shady. This song struck his chords and was so inspirational to him. He could not hold himself back and he decided to make a cover of it himself.
He didn't just rap the song like any other person. He decided to make his rapper name: Purhythm. He also added his own touch of Indian classical music to the song, which is part of a new music genre that he wants to pioneer called 'ragarap', or the fusion of seemingly polar opposites: Indian classical music and hip-hop.
The cover blew up all over the Internet, and it became a worldwide phenomenon. He received praise from some of the most famous celebrities out there. Today the cover has gotten over 1,81,46,455 views, and counting, on all social media sites so far.
He decided he would not hold himself back and instead go out and display his musical talent to the world. He could achieve these, among many other achievements.
Read Never Stop Believing In Yourself Even For A Second
Help others
He is singing pro bono for various nonprofit organizations. He believes that the biggest satisfaction for all of us is when we get to help change someone else's life for the better.
Read How helping others will brighten your life?
Dream big
None of this would have ever happened if he had not dreamed big. He wants to leave his footprints – or rather track prints – into the sand of legacies so deep not even a tsunami can erase it. He firmly believes that every one of us should strive for such big goals. Do you know the power of dreaming big?
He has many plans for his life in the future, especially in his musical career, coming up with many original albums, winning a Grammy Award one day, and most importantly, "sparsh" (touch) everyone's hearts all over the world.
Watch the video of Sparsh Shah
In the TEDx event video, Sparsh talks about the challenges of living with Osteogenesis Imperfecta, a condition which makes his bones extremely brittle. He also talks about his love for music, and how he turned the word 'impossible' into 'I'm possible' in four simple steps.
In his 14-minute-33-second-long TED Talk, he touches upon everything from overcoming the challenges of disability to helping others.
He winds up the talk with a wonderful musical performance.
Stop all works and listen to his inspiring story until the end of the video.
Sparsh Shah wants to show people how they can transcend every difficulty that comes their way in life. And how they can start a chain reaction to be a guide for other people who want to turn their life around as well.
He became a worldwide internet sensation with his Purhythm versions of Eminem covers.
Sparsh is multi-talented. He performs at community events and has appeared on local radio stations and television shows, besides hosting shows as an MC.
Watch the video below. It is a lesson in being fearless – one you didn't know you needed.
Eminem – "Not Afraid" clean cover by Sparsh Shah
"It's always been my dream to inspire billions of people one day with my musical talent, and I wish that dream comes true," writes Sparsh Shah from New Jersey on YouTube.
Sparsh's cover of Eminem's Not Afraid is making waves online with  1,81,46,455 views since being posted on January 2, 2016, on YouTube.
Join his journey to fame and help him make his dream come true by sharing his sensational cover song: "Not Afraid" with all your friends and family members.
Sparsh Shah Guinness World Records Holder
Sparsh Shah now became the "Guinness World Records Holder" for the "Longest Raised Leg Hold" by holding his legs up in the air for 120 minutes (2 hours) at a 45-degree angle! Despite having over 150 fractures in life and with an incurable brittle bones condition, he was able to achieve this unimaginable feat through daily practice, patience and sheer determination for over the last 3+ years! This is his official Guinness world record attempt for the longest Lego putting his leg up at like a 45-degree angle and keeping it there for as long as possible.
Sparsh Shah's Awards
SHOORVEER AWARD BY AMPLE MISSION
Most Inspiring Individual BY ICAN RESEARCH AND ADVOCACY SUMMIT
Inspiration Award of Excellence BY SOUTH ASIAN AMERICAN COMMUNITY OUTREACH (SAACO)
Junior Phenom Award BY HARLEM GLOBETROTTERS
Special Achievements Award BY GLORIOUS INDIA
2017 Champion of Inclusion Award BY NATIONAL INCLUSION PROJECT
2017 RARE Champion Of Hope Award BY GLOBAL GENES
Best Male Singer AT IFAB MUSIC AWARDS
Global Inspiration Award BY SOUTH GUJARAT CHAMBER OF COMMERCE & INDUSTRY (SGCCI)
Special Achievements Award & Citation Certificate BY GOPIO AND BY THE STATE OF NJ SENATE AND GENERAL ASSEMBLY
Best Motivational Speaker & Youth Singer Award BY SHIAMAK USA
20 Under 20 Global Indian-Male Award BY YONO SBI
Global Indian Award BY CANADA INDIA FOUNDATION (CIF)
JL Kids Crew Award BY JOEY LOGANO FOUNDATION
Student Recognition Award FROM MIDDLESEX COUNTY SCHOOL BOARDS ASSOCIATION AND THE MIDDLESEX COUNTY ASSOCIATION OF SCHOOL ADMINISTRATORS
Certificate of Appreciation THE ILLNESS CHALLENGE FOUNDATION, CHINA
International Excellence Awards 2020 BY ORGANISATION MONDIALE POUR LA PAIX / THE WORLD ORGANIZATION FOR PEACE (OMPP/WOFP)
Danny Award FROM DANIEL'S MUSIC FOUNDATION
High School Scholarship Award 2020-2021 FROM GIFTED & TALENTED ENRICHMENT PROGRAM
Elizabeth & Michael D. Couch Memorial Award
In the Limelight Video Contest/Award
Guinness World Record THE LONGEST RAISED LEG HOLD (SS)
Conclusion
Sparsh Shah is a great inspiration to others. He proved that if you have a strong mind and power, then physical disability is not a problem for success. His parents are also role models to other parents who have children with disabilities. Remember, children are gifts from God. He has his own plan. Have faith in the almighty and help and support your children in whatever stage they are.
Share the post on your social media network.
Feel free to share your views in the comment box below.
References and credits:
To know more about him visit his website. To listen to Sparsh's magical music, log on and subscribe to his YouTube channel. You can also connect with Sparsh Shah on his Facebook page   Twitter   Instagram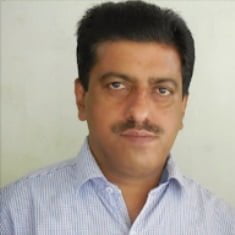 Mathukutty P. V. is the founder of Simply Life Tips. He is a Blogger, Content Writer, Influencer, and YouTuber. He is passionate about learning new skills. He is the Director of PokketCFO.
He lives with the notion of "SIMPLE LIVING, CREATIVE THINKING". He Believes – "Sharing is caring." and "Learning never ends."