(Last Updated On: August 24, 2023)
How many times have you said to yourself and others "I want happiness"? How many times did you hear that phrase from friends and relatives? Have you ever searched for a magic solution for happiness? If yes, what is happiness means to you and wishing for? Are you clear about what true happiness is? If not, it is hard for your wishes for happiness to come true.
What Is True Happiness?
We all want happiness in our lives. What will give you happiness? Every person has different answers to this question.
Getting a new luxurious car
Buying a new house
Boost in the business
Travelling the world
Enjoying with friends
Holiday trip with family
Winning the first prize in a lottery
Getting married
Having children
Entertainments
The list goes on. Do you think any of the above or other things will give you true happiness?
These moments come in your life will give you happiness for a few hours or days only. They can't make you happy for a long time but are momentary happiness.
Do you think happiness is having a lot of money? Most people have this wrong thinking. Are you sure all the rich are happy in life? Many of them don't have enough sleep at night.
When you feel good, relieved or satisfied with something, you feel happy. Happiness helps you to relax and to smile. Your face and mood prove your happiness.
Lovers think getting married is the best way to be happy in life. But after a few days of marriage one day, some argument happens and the happiness is gone.
Do you seek happiness in travelling a lot and enjoying capturing the scenic beauty of different places in your digital cameras? Do you think this is true happiness in your life? How can it be true happiness? This happiness is associated with materialistic things, places and people which are momentary happiness only.
What does it mean? It means you are finding your happiness in the outside world. You don't even understand the actual meaning of true happiness.
True happiness doesn't come from materialistic things or from people. You should feel true happiness inside your mind. That is a state of mind constantly being in love with yourself. You can feel it only when you live in peace of mind and harmony with your mind and body. If you have stress, anxiety, anger or any such bad emotions you cannot feel happiness. Your mind should free and peaceful.
Many people think of happiness as the opposite of sadness. Do you think so? Yes, if you are talking about the mood or emotion, that meaning is Ok. But Is that the real meaning of happiness?
Many times you go back and forth between happiness and sadness. Do you treat it as part of life? Yes, emotions are part of life. Emotions come and go. Don't give more stress to emotions.
Never Stop Believing In Yourself Even For A Second. As the quote says, it is important to believe in yourself. If you have no faith in your abilities, you can never bring happiness in your life.
Learn how to be happier by managing your mindset
You can learn how to be happier by managing your mindset, calming your mind, becoming more confident, using your strengths, building your self-esteem, doing things you enjoy, and creating good relationships.
Is There Any Magic Solution For True Happiness?
Many people have this question in mind and they are searching for magic solutions for happiness. Why are they searching? Because they want the fast result in the shortcut method. They don't realise that they can bring happiness in their life through self-improvement.
Gretchen Rubin says there is no magic solution for your happiness.
Surround yourself with good positive people and you will notice your life-changing.
The best way to be happy in life is to take massive action towards things you care about.
Look back on your life and see how wonderful it could have been had you not been afraid to live it.
"There's No Magic Solution for Your Happiness!" | Gretchen Rubin
Gretchen Rubin is an American author, blogger, and speaker. She began her career as a lawyer but dropped it all to pursue her true passion of being a writer. She is a best-selling author and the host of an award-winning podcast "Happier with Gretchen Rubin!"  Gretchen Rubin's Success Rules are motivating and helpful to find happiness in life.
About Gretchen Rubin
Received her undergraduate and law degrees from Yale University.
She was the editor-in-chief of the Yale Law Journal.
She was clerking for Supreme Court Justice Sandra Day O'Connor when she realized she wanted to be a writer.
A writer on subjects of habits, happiness, and human nature.
Author of the New York Times bestsellers Better Than Before, Happier at Home, and The Happiness Project.
Her book, The Happiness Project, spent over two years on the New York Times bestseller list, including at #1.
Her books have sold over two million print and online copies worldwide in over thirty languages
On her weekly podcast, Happier with Gretchen Rubin, she discusses good habits and happiness with her sister Elizabeth Craft, a Los Angeles-based television writer.
She has a weekly show on Facebook, called "Ask Gretchen Rubin Live".
On her daily blog, GretchenRubin.com, she reports on her adventures in pursuit of habits and happiness. Credits Wikipedia
Self-Improvement Tips For True Happiness
Do What You Love.
Be Thankful.
Set meaningful goals for yourself.
Learn to Manage Stress
Live at the moment
Avoid over analysing
Stop worrying about the future
Believe Happiness is a Choice
Get Rid of Negativity of Life
Embrace Your Mistakes
Have a Positive attitude
Empower Yourself
Do you know you can brighten your life by helping others?
10 Signs Of True Happiness – Infographic
From Visually
A short story of true happiness
In an interview, the Radio Jockey asked his guest, a millionaire, "What made you most happy in life?"
The millionaire said:
I have gone through four stages of happiness in life and finally, I understood true happiness.
The first stage was to accumulate wealth and means. But at this stage, I did not get the happiness
Then the second stage of collecting valuable items. But I realized that the effect of this is also temporary and the lustre of valuable things doesn't last long.
Then came the third stage of getting big projects. Like buying a football team, buying a tourist resort, etc. But even here I did not get the happiness, which I had imagined. 
The fourth time a friend of mine asked me to buy wheelchairs for the disabled. I immediately bought them… But my friend insisted that I accompany him and hand over the wheelchairs to the disabled children. I got ready…I gave these chairs to the needy children with my own hands. I saw the strange glow of happiness on their faces. I saw them all sitting on chairs, moving around and having fun… It was as if they had arrived at a picnic spot.
One of the kids grabbed my legs while I was leaving the place. I gently tried to free my legs but the child stared at my face…I bent down and asked the child: Do you need anything else?
The answer of the child not only made me happy but also changed my life completely. The child said *"I want to remember your face so that when I meet you in heaven, I will be able to recognize you and thank you once again"*
Credits: WhatsApp Message
Conclusion
There is no magic solution for happiness. Others can't fill your life with happiness. Through self-improvement, you can make your life happy and live life to the fullest. Remember, Honesty, Kindness and Integrity are important for a happy and successful life. Try your best and you will find the result.
Related Articles
How do you find true happiness in your life?
Do you share your secret of happiness with others and help them to experience true happiness in their life also?
If you found this post useful, please recommend and share it to help others find it! You can easily share by clicking on the share buttons. Remember"Sharing is Caring!"
Let me know your thoughts on true happiness in the comment box below.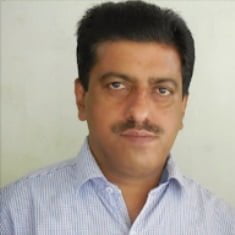 Mathukutty P. V. is the founder of Simply Life Tips. He is a Blogger, Content Writer, Influencer, and YouTuber. He is passionate about learning new skills. He is the Director of PokketCFO.
He lives with the notion of "SIMPLE LIVING, CREATIVE THINKING". He Believes – "Sharing is caring." and "Learning never ends."