(Last Updated On: January 17, 2023)
How do you respond to someone who hurt you with words or actions? Do you fight with that person and keep the anger in your mind for a long? Do you know the secrets of forgiveness and self-forgiveness?
After reading the post and watching the video talk, you will realise the reason for your unhappiness, stress and other such problems. You will take a decision to make changes in your life through forgiveness and self-forgiveness.
What Are The Benefits Of Forgiveness Self-Forgiveness?
Some people do not say sorry because they do not know the value of this simple word. For some people saying sorry is a matter of ego because their status does not allow them to ask sorry to others.
I am sure you might have said 'sorry' many times in life. That's Ok.
But how many times you have forgiven someone who has hurt you, but didn't say sorry? Nice question, isn't it?
Even after saying sorry, it is difficult to forgive, so how can forgive without saying sorry? That will put down your status. This is a common problem for many people.
We all know Forgiveness is an 11-letter word, but according to Elizabeth Marx the famous writer Forgiveness is a 4-letter word: Love

… forgiveness is a four letter word: Love.



Elizabeth Marx, Binding Arbitration
Award-winning speech about forgiveness and self-forgiveness
Ashwini John | Youth ICON Awardee 2017
This is a power-packed and inspirational talk by Ashwini John from Vivekanandha College of Engineering For Women, Kerala, India who won the Youth Icon of the year 2017 of Youth Talk contest.
Her speech on Secrets About Forgiveness made the youth think positively and enthusiastically. Don't miss watching this video. This young girl explains the importance of forgiveness in a pleasant, simple and powerful voice.
It is difficult to forgive when you realise the mental pain but forgiving others is essential for your well-being and peace of mind.
Click To Tweet
Why some people cannot forgive others?
Some people are not mentally strong and they cannot forget and forgive. Hence the past incident haunts them throughout their lives. You must be smart enough not to let the same events cross your path again.
The first to apologize is the bravest. The first to forgive is the strongest and the first to forget is the happiest.

Unknown
Song Forgiveness – TobyMac
This is a heart-touching and meaningful song about forgiveness. Close your eyes and open your ears and mind to listen to this beautiful song.
To forgive but not to forget is like saying you will make an omelette without breaking eggs
Click To Tweet

Self-forgiveness
We hear a lot from parents, spiritual leaders and great persons about the importance of forgiving those who have harmed us. Is that enough? What about forgiving ourselves? Is that important as well?
Self-forgiveness is equally important as forgiveness to others. Bad events can happen many times in life. There is no point beating yourself up every time. The best thing is to learn from life lessons and move forward to success.
Self-forgiveness is hard because you cannot look at yourself in a detached manner to understand your problems and find solutions to move along. You may require help from others as does forgiving others.

The more you know yourself, the more you forgive yourself. 


Confucius
How to heal your shame and guilt through self-forgiveness?
The Obstacles to Self-Forgiveness
How to Forgive Yourself for the Harm You Caused Others
Four Avenues Toward Self-Forgiveness
Self-Understanding Can Lead to Self-Forgiveness
Common Humanity and Gaining Compassion for Yourself
Exercise: Your Sins and Omissions
Earning Your Forgiveness
Apologizing
How to Give A Meaningful Apology
Ask Your Creator or Higher Power for Forgiveness
A Google search showed me a beautiful post about self-forgiveness written by Beverly Engel. She has been a psychotherapist for over 30 years and is the author of 20 books, including The Emotionally Abusive Relationship and The Right to Innocence. I have listed the points of the article for your reference to understand the depth of the article. You can read the full article Healing Your Shame and Guilt Through Self-Forgiveness
Whom to forgive?
Is it a big question? No. You have to ask sorry and also forgive everyone, family members, relatives, neighbours, classmates, colleagues in the office, and any stranger you meet while travelling. Forgive everyone who hurt you or your enemy.
Parents should forgive children and children should forgive parents. These two things happen without fail, but in some families sometimes forgiveness does not happen and that causes many problems.
Husband and wife should forgive each other.
Today one of the main reasons for unhappy married life and divorce is not forgiving each other.
Click To Tweet
Why forgive and What are the benefits?
Forgive – For Give. You are giving happiness and peace of mind to the person whom you forgive.
Now you may ask what will you get in return for this free-of-cost action. You also get happiness and peace of mind.
Forgiveness and Respect are a two-way system. Give and take.
Once you ask sorry and forgive, your mind becomes free from tension, stress and anger. Peace and love fill in your mind and that energy passes through your body. Your love and care help the other person to think positively and become a better person because Forgiveness Leads To Light, Love And A Joyful Life.
Anger and resentment keep you stuck in the past incident replaying disempowering emotions and never allow living in the present moment. If you don't ask sorry or forgive and keep the anger in your mind that will affect your physical and mental health and also may lead to major problems which you never imagined.
There is no limit to forgiveness and it should be irrespective of status, wealth, age and look. There should be no barriers to forgiveness.
Click To Tweet
What will happen if you don't forgive others?
Now think about what will happen if you don't forgive others.
Your mind fills with anger and stress. The wound in your heart will not heal until you forgive the person who hurt you with words or deeds.
That person also will not have a peaceful mind.
If you don't forgive and keep grudges in your mind that can lead to any unwanted incident giving more harm to you and the other person.
How did a Kerala nun's family embraced her murderer?
'We forgive you'. You might have heard about this inspirational story of forgiveness. If not, read the full story to know what is real forgiveness. Some people may find it difficult to believe this, but it is a true story and really happened in Kerala, India.
In 1995, Sister Rani Maria was murdered near Indore. Ahead of her beatification this November, HT recounts the moving story of how her family forgave the killer and accepted him as their own. Read the full story of forgiveness
Each time you experience fear or anger, choose forgiveness over hatred.
Click To Tweet
When we go to bed at night, we have no guarantee to wake up and see the next morning. We don't know what will happen to us in the next minute. That is life. So, the question is "why we are arrogant in short life in this world?"
After facing any hurtful incident do not hold on to anger and resentment, but forgive yourself and others. Each time you experience fear or anger, choose forgiveness over hatred. This will help you heal yourself, raise your awareness and lead to inner freedom, peace and happiness.
The problem with many people is that our ego and status don't allow us to forgive others. We want to prove our power and that cause many unwanted incidents and unhappiness in our life.
Let's change our attitude and try to forgive others for everything whatever deep the wound in our mind.
Conclusion
You must have realised that forgetting is a better option than being resentful. Do you think it is difficult to forgive others? However, you have the choice – either to rot in the past or forgive and forget and move on.
Let us start today, make changes in life and realise 'forgiveness is a four-letter word: Love.'
What is your experience with forgiveness?
What do you think of self-forgiveness?
Any advice for those who need to forgive?
Thanks for sharing with others. Remember " Sharing is Caring!"
Your valuable suggestions and comments will help to make my effort on this small blog a success. Feel free to share your views in the comment box below.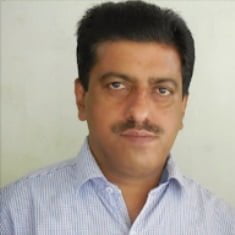 Mathukutty P. V. is the founder of Simply Life Tips. He is a Blogger, Content Writer, Influencer, and YouTuber. He is passionate about learning new skills. He is the Director of PokketCFO.
He lives with the notion of "SIMPLE LIVING, CREATIVE THINKING". He Believes – "Sharing is caring." and "Learning never ends."