(Last Updated On: July 1, 2021)
Have you heard the inspiring story of Naina Jaiswal, Table Tennis Star? When Naina born in the year 2000, friends and relatives of her parents reminded them to start collecting gold jewelry in preparation of her marriage. But her father, Ashwani Kumar Jaiswal, decided not to invest in gold jewelry but turns his daughter Naina Jaiswal into a golden girl.
Inspiring Story of Naina Jaiswal Table Tennis Star
In the below video, Naina Jaiswal speaks that she and her brother Aditya Jaiswal didn't attend school. Naina Jaiswal passed 10th class at 8, Intermediate at 10, Graduate at 13, Post Graduate at 15 and enrolled for PhD at 16. All these success achieved only through study at home and coaching by parents. Read her inspiring story to know more about this multi talented girl and her activities.
Who is Naina Jaiswal?
Naina Jaiswal born in the year 2000
Father – Ashwani Kumar Jaiswal – Mother – Bhagyalakshmi 
The first Asian girl who passed the 10th Class examination at the age of 8. State SSC Board refused to let her take its examination saying that she was too young for it. Naina appeared for the International General Certificate of Secondary Education (IGCSE) examination, conducted by the University of Cambridge (CIE board).
In 2010, at the age of 10, she cleared her Intermediate from the Andhra Pradesh State board.
In 2014 completed her B.A. in Mass Communication from Osmania University at the age of 13,
She became the youngest journalism graduate in India.
At the age of 15 completed Post Graduate M.A. in Political Science.
Enrolled for PhD at the age of 16 in Adikavi Nannaya University in Rajahmundry. Her research subject is the "Role of micro-finance in women's empowerment."
Table Tennis – National Champion, South Asian Champion and 6th position in the world
Naina write with both hands (Ambidextrous). Ambidextrous – people have the ability to use both hands with equal dexterity.
She can type A to Z only in two seconds.
She is a Piano player and Singer.
Naina Can cook the famous Hyderabadi Biriyani within 25 mins.
She started playing Table Tennis at the age of 7 in 2007.
Her grandfather used to play table tennis and he is her inspiration.
Her father Ashwani Kumar Jaiswal, a state-level table tennis player, is the coach in Table Tennis.
She operates CS2, Corel draw and Photoshop.
A professional motivational speaker. She has made hundreds of speeches in English, Hindi, Telugu and Urdu in schools and colleges, in many states of India. She has also talked in the US, Singapore, Muscat and Oman on the theme "empowering the girl child."
Due to her immense popularity, the Election Commission chose her as the brand ambassador for its 'right to vote' campaign in Mahabubnagar district in Telangana.

Related Inspiring Story Of A 15 Year Old Girl Mansi Mehta
What is Naina Jaiswal's success secret?
"Till the age of 5, my mother made me study at home. I didn't go to school. At the age of 6 my father made me study basics like, English, Hindi and Telugu. And he developed my memory skills and handwriting skills. And this is the reason that I memorise the answers very quickly. I just understand the answer and write with my own language. And this is the secret of my education." Naina Jaiswal
"As an institution we have been very very lucky from the beginning to have International sports personnel as our alumini, example Lakshman, Gopichand, Sanya Mirza, And I am sure in future even Naina which will be on par with these names that we are talking who then be a International player." B.Mahender Reddi, Director, St. Mary's College
Bringing up his daughter as a successful rounded individual, Ashwani Kumar Jaiswal helped his daughter Naina Jaiswal to change people's outlook that "daughters are a liability".
Her brother Aagstya Jaiswal could answer 300 questions at the age of two and 3000 at the age of five. The media had given him the nick name "Google Boy".
Naina Jaiswal unanimously attribute the success of her and brother to their "super mom and super dad." "We were coached by our parents completely from KG to PG,".
Today we can find everywhere there is a cut-throat competition where parents put a lot of pressure on their wards to excel in studies. They try their best to get admission in the top schools in their area. Also spend thousands of money for private tuition. In this age, it is heartening to see these children being home-schooled in a relaxed environment. Naina Jaiswal is truly an inspiration to children.
Related 16-Year-Old Girl Nilofer Muneer Becomes Youngest Qualified Pilot From Kerala
Conclusion
Does it mean parents should stop sending their children to educational institutions? Not at all. Naina's parents taught their kids at home, because they are well educated and the children have the talent for it. That is not the case in every family.
You don't need to save money and property for your children. Give them good education, teach them to hard work and earn money for their living. The most important thing is to spend your hard earned money for providing good education to your kids. That is the biggest wealth you can give to them.
Related Articles
What do you think about the story of Naina Jaiswal?
Leave your thoughts in the comment box below.
If you liked the article, kindly share it with others and on social media.
References – YouTube Video
Naina Jaiswal Photo Shahed811 [CC BY-SA 3.0], via Wikimedia Commons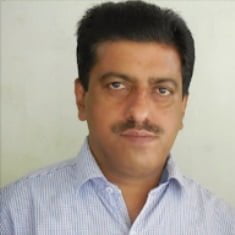 Mathukutty P. V. is the founder of Simply Life Tips. He is a Blogger, Content Writer, Influencer, and YouTuber. He is passionate about learning new skills. He is the Director of PokketCFO.
He lives with the notion of "SIMPLE LIVING, CREATIVE THINKING". He Believes – "Sharing is caring." and "Learning never ends."