(Last Updated On: August 26, 2022)
Are you surprised to see people around you have an always happy life? What kind of thought comes to your mind? Do you think they are happy because of their wealth and status only? Do you think money, education, career, and such things are the only requirements for being always happy in life? If these are your thoughts, this post will help you change your thinking. Let's continue reading and watching the video.
Always Happy Life
'Always be happy' for good health and success. You might have heard this many times in your life. But how can a person always be happy in life? This is a question that comes to the mind of most people. How many times did the question come to your mind? Remember, you are the person responsible for your happiness and sadness. Other people, money, wealth, status, or any such things can make you happy for a limited time only. But if you want, you can keep yourself always happy. Let's find out how one can lead always a happy life.
What is happiness?
Being happy is a choice. You can choose to be always happy. This choice will help you make more effort to bring happiness into your life.
When you are happy you will spread happiness in the lives of others around you.
Happiness is a feeling of pleasure and positivity. Boost Inner Happiness. Try to always be happy in your life. Are you thinking about how to be happy always?
Posts related happiness
Now you understood what is true happiness and how can you get it for free.
How to keep your mind always happy?
Take a strong decision in your mind that "Whatever the circumstances you want to be happy and you will be happy always."
Reduce complications.
Keep Life simple and don't complicate it.
You will become what you believe yourself to be.
Never Stop Believing In Yourself Even For A Second
If you believe you cannot do something, that makes you incapable of doing that.
If you believe you can do it, then you acquire the ability to do that even if you didn't have the ability in the beginning. So have self-belief. Boost Self-Confidence.
Learn to Overcome self-doubt.
Live your beliefs and you can do anything.
Click To Tweet
You can be your own best friend. Accept yourself, respect yourself and love yourself. Learn self-forgiveness
Always think positive. Avoid wasting time thinking about things that you can't achieve.  Keep a positive attitude. Be happy with what you have.
Believe and Treat yourself as the luckiest person in the world.
Always be thankful to God for everything you have now.
Click To Tweet
Remember that there are many people who don't have enough food, clothes, and shelter. You can Brighten your life by helping others.
In your work schedule give priority to the most important things. This will help you not run out of time and avoid stress.
When your expectations are not fulfilled that will give you pain. It is better to avoid expecting anything from anyone.
Don't think people around you are happy because they are successful. You should understand that they are successful because they are always happy.
Watch the video Always Be Happy – By Sandeep Maheshwari
Always Happy Life Tips
When you awake alive in the morning, thank God for it.
No matter how you feel, get up, dress up and start your day.
Love yourself, because you are unique and wonderful in your own way.
Live with the 3E's Energy, Enthusiasm, and Empathy.
Enjoy each moment of life, and try new things.
No one is in charge of your happiness except you.
Try to make other people smile each day.
Each day gives something good to others. Help others.
Make peace with your past so it won't spoil the present.
Don't take yourself too seriously. No one else does.
'Don't compare your life to others You have no idea what their journey is all about.
Don't waste your precious energy on gossip.
Get rid of anything that is not useful, beautiful or joyful.
Avoid negative thoughts or things you cannot control. Always invest your energy in the positive present moment.
Never bother about what other people think or say about you
Related
Conclusion
Remove all the negative thoughts from your mind. Forget and forgive. Don't allow your mind to feel sad about the past. Live in the present. Give proper respect and love for others.
Do you want always happy life?
Share the secrets of your happiness.
If you found this post useful, please recommend and share it to help others find it! You can easily share by clicking on the share buttons. Remember"Sharing is Caring!"
Feel free to share your views in the comment box below.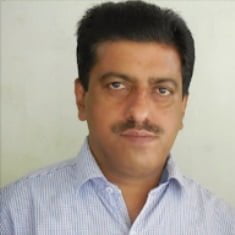 Mathukutty P. V. is the founder of Simply Life Tips. He is a Blogger, Content Writer, Influencer, and YouTuber. He is passionate about learning new skills. He is the Director of PokketCFO.
He lives with the notion of "SIMPLE LIVING, CREATIVE THINKING". He Believes – "Sharing is caring." and "Learning never ends."