(Last Updated On: September 19, 2023)
In the midst of life's challenges, many find themselves wrestling with the heavy burden of depression. But what if we told you that there's a way to convert depression into happiness? In this blog, we'll delve into practical strategies and insights that can guide you on a transformative journey from the depths of despair to the radiant light of joy and emotional well-being
How to Convert Depression Into Happiness?
Many individuals find themselves burdened by a weighty affliction – depression, a mood disorder marked by persistent feelings of sadness and a loss of interest in daily activities. If you're grappling with this issue, you're not alone. Depression affects countless individuals today. The good news is, with the right treatment and expert guidance, you can embark on a journey to convert depression into happiness.
How To Convert Depression Into Millions And Happiness?
Understanding Depression
Depression is a profound mental health issue that all too often goes unnoticed, yet it can escalate into a serious concern when left unaddressed. The bright side of this challenging journey is that with timely and appropriate treatment, you have the potential to convert depression into millions of moments of happiness.
Many individuals who have faced depression head-on have emerged victorious, finding fulfilment and joy in their lives. However, it's crucial to recognize that ignoring depression can stem from a lack of understanding about its gravity and the importance of seeking proper treatment. If you or someone you know is experiencing symptoms that persist for more than a few days, it's imperative to consult a healthcare professional promptly and follow their expert guidance on the path to healing and happiness.
How to deal with depression?
Life's journey often presents us with heartbreak and failure, inevitable companions on the road of existence. Yet, the impact of these challenges is profoundly influenced by our perception and how we choose to confront them.
It's possible to train your mind to acknowledge heartbreak and disappointment without succumbing to prolonged despair. Finding the resilience to bounce back is key.
One invaluable resource in this journey is the inspirational real-life stories of individuals who have faced and conquered similar challenges. These stories serve as beacons of hope and guidance, providing insights on how to preserve and protect your mental well-being even in the face of adversity.
Turning Depression into Triumph: The Lilly Singh Story
Lilly Singh, famously known as YouTube Superwoman, faced the depths of depression before soaring to create a million-dollar entertainment empire through her videos. Her remarkable journey is a testament to the transformative power of passion and resilience.
Struggling through her darkest days, Lilly discovered solace and purpose in the art of entertaining and educating her audience. Her relentless work ethic became the driving force behind her global success, a journey that has seen her become the founder of GirlLove and the author of "How to Be a Bawse."
In a compelling video discussion with Tom Bilyeu on Impact Theory, Lilly shares her insights on why doubling down on your passion can be the catalyst for forging your unique path to success. Her story is an inspiring reminder that even in the depths of despair, one can find the strength to rise, conquer, and build an empire fueled by their dreams.
How To Convert Depression Into Millions?
How did being lost and unhappy inspired the start of her empire?
Creating own path instead of following others.
Describes the importance of taking ownership and how to deal with the consequences.
Dives into how obsession can lead to extraordinary results and how to keep it in check.
Making plans for goals and having self-awareness while executing.
Importance of learning, understanding and loving yourself.
Details the origins and mission of GirlLove.
Reveals the impact she wants to have on the world.
How To Turn Depression Into Millions?
Read Lilly Singh Inspiring Story And 10 Rules For Success
Deepika Padukone talks about her fight against Depression
Infographic – Core realities about depression with its recovery
Conclusion
Remember, the choice is yours: to live life to its fullest, unburdened by depression or any other mental health challenge. Seek the right treatment, heed the guidance of healthcare professionals, and prioritize your mental well-being. Your life has the potential to be as beautiful as a blockbuster movie, filled with moments of joy and fulfilment.
Extend your hand to others and be a source of encouragement and support in their battle against depression and mental health issues. Together, we can inspire one another to find happiness and success on this remarkable journey called life.
How To Cope With Anxiety And Depression
Do you have depression? Are you taking proper treatment?
Would you like to share any tips to convert depression into happiness?
I appreciate your visit. I trust you found the post enjoyable.
Remember, Sharing Is Caring! Feel free to share this post on your social media and other networks to help others discover it.
Please share your thoughts and insights in the comment box below.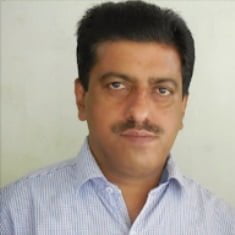 Mathukutty P. V. is the founder of Simply Life Tips. He is a Blogger, Content Writer, Influencer, and YouTuber. He is passionate about learning new skills. He is the Director of PokketCFO.
He lives with the notion of "SIMPLE LIVING, CREATIVE THINKING". He Believes – "Sharing is caring." and "Learning never ends."