(Last Updated On: August 26, 2022)
Some people crave to self-grow and help others grow. Life is 10% what happens to you and 90% what you do about it. Learn easy self-development tips to grow yourself every day and become successful in life.
Easy Self-Development Tips to Grow Yourself Every Day
Some people often only want to learn from people liked by them, the same or higher status level. They ignore the good tips of other people for betterment in life.  You should understand that if you try to learn only from particular persons that will limit your growth.
Easy Self-Development Tips
If a person, man, or woman of any status has a message that can help you get better, embrace it.
If you find a single message from a person makes you better, then you should accept and learn from it.
Your goal is to be the best version of you. Take different pieces from different people to make a unique creature called you.
Click To Tweet
Put yourself in the culture of success and happiness.
Never feel down about yourself. Believe you have all the strengths to become successful in life.
Work hard for success.
Ask for the help of others when needed. Don't feel shy to ask for help.
Find If You Walk Every Day What Will Happen To Your Body
We get the most out of life through self-improvement.
There is always something about ourselves we can improve on.
Have faith in everything. Self-confidence is very important.  Never For A Second Stop Believing In Yourself. If you have no self-confidence, you can not achieve success.
Failures are part of life. It is not necessary that you will be successful in everything. If you read the stories of successful persons, you can find they all have struggled a lot and faced challenges fearless of failures. That is the secret behind their success.
Most of us have fears.
Some people have a fear of public speaking.
Read How Rinku Sawhney Overcame Fear Of Public Speaking?
Fears prevent us from growing. Recognise your areas of fear and try to overcome them.
Read good books and good articles describing how one can live life to the fullest.
Do not hold on to past mistakes and sorrows because that prevents you from moving on and becoming a better person. Forget the past, forgive yourself and others. Forgiveness Leads To Light, Love, And A Joyful Life.
Quit bad habits and cultivate new good habits.
Make it a habit to read at least one personal development article every day.
Avoid negative thoughts and negative people.
Learn to be likable and make more good friends. But never keep bad friends because they will damage your life.
Some friends behave and act like good friends. But they may be selfish and looking to get some benefits from you. Identify friends and frenemies.
Everyone wants happiness. It is the duty of everyone to Spread Happiness. 
Some people try to follow others. Following good things from others is good, but do not try to become another person. Try within your limit and capacity. Never Fly High Beyond Your Capacity. 
Surround yourself with successful people who have accomplished their goals.
Click To Tweet
Many people don't show kindness to people in need of help. You can brighten your life by helping others.
By helping others you cultivate good qualities such as compassion, patience, and love.
Click To Tweet
Meditation helps to make your mind calm and peaceful.
You need to put in good efforts and dedication to achieve Self-improvement because it is not an overnight miracle.
You have to set effective goals and learn the science of achieving them. The path to reach the destination of success is not straight. It goes through various tunnels and stages. The first one is discipline.
You can find 25 revolutionary self-improvement tips in this infographic that will lead to your desired successful life.
Conclusion
Everyone has flaws. Learn and follow self-development tips. Don't worry or feel bad about your flaws. Try to understand, acknowledge, and address them. That is the most important thing you have to do. Self-development and self-improvement are the best to make your life successful.
What do you think are your flaws?
Do you like to share any easy self-development tips?
Thanks for sharing the post on your social media and other networks. Remember, "Sharing is Caring!"
Let me know your thoughts in the comment box below.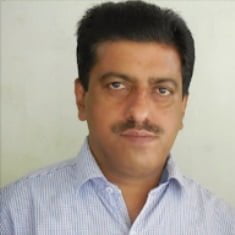 Mathukutty P. V. is the founder of Simply Life Tips. He is a Blogger, Content Writer, Influencer, and YouTuber. He is passionate about learning new skills. He is the Director of PokketCFO.
He lives with the notion of "SIMPLE LIVING, CREATIVE THINKING". He Believes – "Sharing is caring." and "Learning never ends."