(Last Updated On: July 1, 2021)
Are you looking for the secrets to achieve success? Have you noticed some people forget the people who helped them to climb the stairs to reach the top? Do you agree that this is wrong? Yes, it is absolutely wrong. We should never forget the steps climbed to reach the top and achieve success. Let's find how to achieve success and also why should not forget the people who helped to achieve success.
How To Achieve Success?
None can achieve success in an overnight. Don't expect you sleep well in the night and when you get up in the morning success will be ready to welcome you. If you read inspiring stories of successful people, you will realise about their struggle and hard work to achieve success.
To achieve the success you need determination, strong willpower, hard work and perseverance. Without these qualities, you can never achieve success. You can decide to choose whether you want to be successful or not. You can find a plethora of ways to become successful.
35 Tips To Achieve Success
Never Forget The Steps You Climbed To Achieve Success
The steps you climbed doesn't mean your educational step. Here steps mean the persons who helped you by means of money, knowledge and any other way of support. This includes your loving parents, teachers from nursery to higher education, classmates, colleagues at the workplace and many others. Never think you achieved success with your own effort. If you are in business, your customers, team, workers all are the steps to your success. Always be thankful to everyone. Do you know the power of gratitude? Yes, gratitude can change your life with success and happiness.
Short Story
A man got the chance to play the piano in the presence of the queen.
The queen thrilled on his extraordinary performance and praised him saying, 'you are an extraordinary talent'.
The man replied, ' before becoming a talent, I was just a normal man'.
He took and opened the piano notebook kept on the table and said, 'I have practised this 80 times. If I miss practising once, I can realise it. If I miss practising twice, the listener can catch it and if I miss thrice, the world can catch the difference.
Morale: Never forget the steps you climbed and be always humble.
Never Forget Your Past
Mountaineers have to start from the ground and go through many steps. They have to face challenges and overcome obstacles to reach the top of the highest mountain.
You can read the inspiring story of Arunima Sinha the first woman amputee climbed Mount Vinson.
After reaching the top people celebrate the victory. But do they realise the struggle and challenges the person faced and overcome to reach the top?
A group of people start the challenge together. But many leave the mission on the way because of many reasons including fear of failures.
There may be many unavoidable or unexpected reasons for their return leaving the mission uncompleted.
When we praise the winners and celebrate their victory, we should not forget or insult the losers. Because they have lost the mission with tears in eyes and wound in the heart.
Face Challenges Fearless
Some people without even trying once, reject the project, saying impossible. Some people ignore after 1/2 failures and do not attempt maximum times. How can such people achieve success in life?
Persons who face challenges and move forward fearless with a strong mind only can achieve success.
Click To Tweet
Friends may leave you alone. They may discourage and may not support you. They may give you the wrong directions and make fun of you or provoke you.
But to achieve success, you should be fearless of failures. You should have a strong mind with dedication. You have to hard work and fight to overcome obstacles.
Never Forget The Steps You Climbed
After achieving success in life some people forget the past. They feel ashamed to speak about their past struggles. They also dislike other people to talk about their past. They think that will affect their present status.
They do not like to talk about their poor family background. Their poor parents struggle to educate them. The small jobs they did for a low salary. They also do not like name the people who helped them to become successful.
But if you look at great persons, most of them speak about their past, struggles everywhere.
Jack Ma is a Chinese business magnate who achieved major success. He is proud to speak about the struggles and failures faced in the success journey.
Do you know how Jack Ma became a billionaire by founding Alibaba group, a family of successful Internet-based businesses?
Stay Humble
No matter how talented you are and the heights you have climbed, you must always stay humble and true to yourself.
Never forget the past and the people who helped you. Find time to meet them, be thankful and helpful to them.
Never forget the past and the people who helped you
Click To Tweet
Your humble nature will make them feel proud and happy. This will help you find added purpose in your life and make you feel good.
Do you know how Abdul Kalam, a newspaper boy from a small village, became the 11th president of India and one of India's top motivational characters? Even after achieving great success and status, he was simple and humble.
Don't Waste Hard-Earned Money
Because of your hard work only you attained success. When you have money, many friends will follow you and trap you to spend your hard-earned money on unnecessary and luxurious life. Remember such friends will be with you only when you have money.
Do not waste your money, use it wisely and enjoy life with your family and children. Money is a strange thing, to earn money you have to do hard work, but you can lose it easily.
Money is a strange thing, to earn money you have to do hard work, but you can lose it easily
Click To Tweet
Are you a fan of KFC?
Do you know the struggle and failures Colonel Harland Sanders faced in his life? How he started KFC at the age of 65 when most retire? How KFC became the World's Biggest Brand?
Be Generous And Help Others
You should help others in whatever way possible. Sharing is Caring! Through sharing you are spreading the love.
When you help others that bring happiness in their mind and you also feel happiness.
When you help the education of a child, you are helping to fulfil the dream of the student.
Help someone who doesn't have money for treatment and save the life of that person.
You can help someone who doesn't have money to build a small shelter to keep their grown-up children safe at night. Help someone to feed their hungry children. Helping others will brighten your life.
Don't expect any return for your helping hand. The blessings from their happy mind are enough for you and your family. Don't give publicity for your help.
This is a beautiful quote from Sundar Pichai Google Ceo, a small-town boy, from Chennai, became India's Pride, by heading the biggest company in the world.
He is very simple and humble in look, walk and talk.
Many successful persons speak about their parents' hard work and encouragement behind their success. That is the best gift they can give to their parents. Never Forget Parents Struggle And Sacrifice For Your Success
This kind of words from the children make the parents happy.
Conclusion
Learning never ends. Always try to learn new things, strive to be a better version of you. Discover new ways of adding value to your life and society.
Never forget the steps you climbed to reach the top. If you forget those steps, that will be the starting of your failure.
Never be hungry for money because money cannot buy everything required in life.
Find time to spend with your family and children. Remember, they can live a happy life without your money, but they cannot live a happy life without your love.
Do you remember and visit the persons who helped you achieve success?
How did you achieve success?
One request?
I've put so much effort writing this blog post to provide value to the visitors. It'll be very helpful for me if you consider sharing it on social media networks. Thanks for spreading the love with others. Remember " Sharing is Caring!"
Your valuable suggestions and comments will help to make my effort on this small blog a success. Feel free to share your views in the comment box below.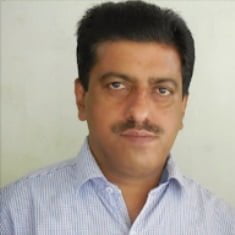 Mathukutty P. V. is the founder of Simply Life Tips. He is a Blogger, Content Writer, Influencer, and YouTuber. He is passionate about learning new skills. He is the Director of PokketCFO.
He lives with the notion of "SIMPLE LIVING, CREATIVE THINKING". He Believes – "Sharing is caring." and "Learning never ends."