(Last Updated On: July 5, 2022)
Everyone knows that Civil Services Examination questions are like an ocean. It is really difficult to complete the study as per the syllabus because you don't get enough time to cover all the materials. When you try to cover all the study materials in the available time, you feel difficulty, frustration, tension and stress. So you need to be focused on studies within the available time limit. Ansar Shaikh IAS shares simple tips from his experience about how to stay focused while studying for the UPSC IAS exam.
UPSC IAS Exam – What Is The Importance Of Staying Focused On Studies?
What is the importance of staying focused on studies for attending any competitive exam? This is a big question coming into the mind of many candidates. The simple answer is, that questions in the competitive exams are not coming from any particular textbook. In school and college, you have to answer selected questions from a particular textbook. For competitive exams especially on UPSC IAS Exam, you study sample questions and general knowledge. But you have to answer using your brainpower because the answers are meant to prove your ability and personality.
Hard work, smart work, patience and self-confidence are important for success in the UPSC IAS exam. Along with that focus is very necessary. It is not important how many hours you spent on your studies, but it is important how you studied. You may say you studied for 12 hrs, but in reality, you were focused on studies only for 5 hrs. That is not an efficient way of studying. So to face these challenges you need to be focused on your studies.
9 Tips To Stay Focused For UPSC IAS Exam
1. Motivation
Motivation is very important for focusing on studies. To get the motivation you need a motive. You should know what are you studying and why are you studying. You should set up a goal, and need the mindset motivation for hard work to achieve success. You should stop habits that destroy motivation.
2. Target Setting
Make a timetable for what to study and when to study. You should have a target for your study and often remind your mind to achieve the target of study. This will give a positive impact on your studies. If you have no proper planning you will waste time unnecessarily and in the end, you will find it difficult to manage important topics.
3. Peace Of Mind
Peace of mind and determination have a major role in your success. During your study, many things might be coming to your mind. You may face the fear of failure, self-doubt about your capacity to pass the examination and other matters. It is also possible that your mind is disturbed by matters related to your family problems, an insult from others or anger with someone etc. Self-forgiveness and forgiveness are important for a peaceful mind. Never keep anger in your mind. Learn to forgive others because Forgiveness leads to a joyful life. When you forgive you will feel a free and peaceful mind.
Any type of disturbances in the mind and unwanted thoughts will simply waste your valuable time. Remember, time is precious and priceless, never waste time on unnecessary matters. Keep your mind free from disturbance.
It is difficult to control your thoughts related to family problems, relationship problems and mind-wounded matters. But it is important to remove all negative thoughts from your mind and make the mind calm and peaceful. Peace of mind is important for better concentration on your study. You may have to face challenges. Remember tough times can make you stronger
4. Good Study Environment
A good and peaceful environment is necessary for focusing on study. There should not be disturbance from noise, friends studying nearby you should be disciplined, the room should have enough light and fresh air availability. If the environment is good you can study in a library or hall else you can study alone in your room. The study environment has a great effect on your efficiency and understanding of the subject you are studying.
5. Self-Discipline
Today technology is improving day by day and many students are wasting their valuable time on social media, chats and messaging. This should be strictly avoided. You should have self-discipline and controlling power over your bad habits and addictions. Smartphone addiction is affecting many students in their studies. When you are studying you should completely avoid such activities and must be fully focused on your studies only.
Some students have the habit of moving around for tea, snacks or other things every 10/15 mins. This should be avoided because this will waste your time and take away your concentration from your studies.
5. Regular Intervals
Don't study continuously for 10/12 hours. Regular intervals are necessary for refreshing the mind and body. After a 3/4 hrs study take a break for 10/15 mins. You can take a cup of tea or juice as per your choice. You can also take a small walk in the garden or in a field where you get fresh air. That will refresh your mind and body. It is like after driving for a few hours you stop the vehicle for engine cooling. If you don't allow cooling time, the engine will get overheated and stop or burn.
6. Listen To Music
Good music is best for mental health. You can listen to light music, instrumental etc which will ease your mind. But avoid listening to romantic, sad or such type of songs which will divert your mind from study to other fields.
Relaxing Studying Music, Brain Power, Focus Concentration Music
7. Health And Fitness
Maintaining good physical and mental health is important for concentration on study. If you have any health problems, you will not be able to focus on your studies. Continuous study will affect your health. Do some small exercises, meditation, yoga or any fitness method which are helpful for your physical and mental health. Start the day right and win the day. Do you know simple morning routines will help you to get the energy required for the day? You might have seen many people have a routine of the morning walking every day. Walking every day has many benefits.
Never avoid food on time. Don't overeat and fill your stomach. Take the best foods to boost your brain and memory.
6. Sufficient Rest And Sleep
You need to study well for many hours, at the same time your mind and body need enough rest and sleep. Proper sleep is required for the brain to refresh. Ensure that you have better sleep at night. Your eyes also need rest. If you don't take proper rest, that will hurt your physical and mental health.
Ansar Shaikh IAS Sharing Study Tips From His Experience
Ansar Shaikh, son of a poor autorickshaw driver cracked the competitive UPSC IAS Exam in his maiden attempt. At the tender age of 21, he passed this difficult exam securing an All-India Rank of 361 in 2016. Ansar Shaikh is the first graduate in his family and the first civil servant and India's youngest IAS officer.
If you think your competition is with other lakhs of aspirants who give the exam, you are mistaken. Your only competition is you. So get rid of all of your pessimistic thoughts and success will come your way.

Ansar Shaikh
Do you know how Ansar Shaikh Son Of An Auto Driver Became IAS At 21?
Also, Read
Conclusion
Never waste your valuable time on unnecessary matters which give you temporary pleasure. Remember time wasted will never come back. Make use of your valuable time properly on focusing your study for UPSC IAS Exam. Never stop believing in yourself. There is no magic or shortcut to success. Dedication, hard work, self-confidence and a positive attitude are necessary for success.
Success Stories Of UPSC IAS Exam
What are the tips you found useful for focusing on studies?
Let me know your thoughts and suggestions in the comment box below.
If you liked this article, kindly share it with your friends, relatives, and social media to help them to read.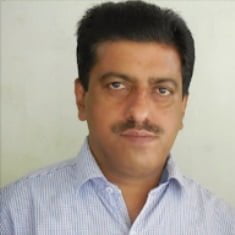 Mathukutty P. V. is the founder of Simply Life Tips. He is a Blogger, Content Writer, Influencer, and YouTuber. He is passionate about learning new skills. He is the Director of PokketCFO.
He lives with the notion of "SIMPLE LIVING, CREATIVE THINKING". He Believes – "Sharing is caring." and "Learning never ends."