(Last Updated On: August 11, 2020)
Have you heard the inspiring success story of Surabhi Gautam, a village girl who became an IAS Officer? The success story of Surabhi Gautam is an inspiration to many students who wish to appear for the prestigious civil services examination. Surabhi Gautam struggled a lot and has broken many glass ceilings during his journey of cracking the UPSC Civil Services Exam. Continue reading the article to know more about her and listen to her inspiring talk.
Many people think that IAS or such high-level administrative jobs are reserved only for rich people who study in high standard schools. Because the entrance exams are tough and good coaching is required to pass the exam. But this is not always true. Today many poor students from remote village area are passing these high-level exams. Continue reading the inspiring story and motivational talk of Surabhi Gautam, a village girl who became an IAS Officer
The Succes Story Of  Surabhi Gautam IAS
Her success story is inspiring and will motivate and guide you to overcome obstacles and move forward to success.
If you are a student trying for IAS, you can learn many things from her experience. Watch the below videos and listen to her inspirational talk about her real-life experience.
Who is Surabhi Gautam?
Surabhi Gautam was born in an orthodox village Amdara, in Satna district of Madhya Pradesh, India, where girl child had unequal rights. Years later she walks into the same village and the entire village is celebrating her success. She talks that knowledge is the only art of recognition.
Her father is a lawyer at the civil court in Maihar, Madhya Pradesh. Her mother, Dr Sushila Gautam, is a teacher in higher secondary school, Amdara.
Surabhi was a smart scholar from childhood. In class 10 Surabhi Gautam decided that she wanted to become an IAS officer. This village girl had no idea what it would entail or how hard she would have to work to become an IAS officer. All she knew was an IAS officer get a lot of respect and she wanted to get the IAS.
Without any external help and limited resources she scored above 90 per cent marks in her Class 10 and Class 12 Board exam as well.
After the Class 12 Board exam, Surabhi had appeared for the entrance exam of State Engineering and cracked the exam. From her village, Surabhi Gautam was the first girl to relocate to the city for higher studies. Surabhi Gautam completed her Engineering in Electronics and Communications from Bhopal where she topped the university and received a gold medal for her performance.
Since 21 was the minimum age to appear for the civil service examination, Surabhi was short of six months. Hence she decided to appear for other competitive examinations to avoid wasting time.
Before appearing for UPSC Civil Services, Surabhi Gautam had worked as Nuclear Scientist at BARC for a year. Surabhi Gautam had also cracked exams like GATE, ISRO, SAIL, MPPSC PCS, SSC CGL, Delhi Police and FCI. 
She completed her B.tech in an ordinary engineering college and went on to work in BARC as a scientist through gate score.
Surabhi Gautam is an RGPV Alumni. Later she prepared vigorously for IES-2013, with flying colours she became the first ranker.
She has recently secured AIR 50 in UPSC Civil Services Exam.
What is IAS (Indian Administrative Service)
The Indian Administrative Service (IAS) is the administrative arm of the All India Services. Considered the premier civil service of India, the IAS is one of the three arms of the All India Services along with the Indian Police Service (IPS) and the Indian Forest Service (IFoS). Members of these three services serve the Government of India as well as the individual states. IAS officers may also be deployed to various public sector undertakings. Source: Wikipedia
How Surabhi Gautam Became An IAS Officer?
Watch the video to know about her in her inspiring words.
10 mistakes every UPSC CSE aspirant commits
Any aspirant irrespective of their academic background can realize the dream of clearing the Union Public Service Commission's civil service examination (CSE) and join the most elite services of the country by preparing well.
There are some mistakes that most UPSC CSE aspirants make and thus fails to clear the hurdle.
Click To Tweet
Here are the 10 mistakes and how to avoid them. Must watch for all aspirants.
What are the books and resources used by Surabhi Gautam?
UPSC Civil Services Exam 2017 – In this lesson, Surabhi Gautam (AIR 50 CSE 2016) talks about the books and resources used by her to prepare for the UPSC CSE. Watch to learn more.
Even before writing the examination negative thoughts disturbing their minds, and that will affect the result.
Remember, your thoughts become your actions. Always keep a positive attitude and positive thinking. That positive energy will boost your self-confidence and help you become successful.
Your thoughts become your actions. Always keep a positive attitude and positive thinking.
Click To Tweet
"I had a deep sense of wanting to correct things in my village; getting good medical services, getting electricity for every house, these were some of the immediate basic needs. In my mind, becoming a Collector would help in achieving these goals,"
"While the general practice is to take a sabbatical and focus on clearing the exam, I did not have that luxury. I was working with the Railways during the day and preparing for the exam in the evenings. I was hardly getting three-four hours to prepare. I still decided to go ahead. I would download all the materials and use every free minute I would get, to read and prepare. I would constantly be stealing minutes for hours,"
Source: The Better India
Conclusion
The inspiring story of Surabhi Gautam reveals that hard work and dedication is important for success. Many students are facing the problem of fear of failures. Let us wish and pray to continue her successful journey to being a committed officer.
Success stories of other IAS
Are you an IAS aspirant?
Could you get inspiration and learning tips from the video talk of Surabhi Gautam IAS?
Share this post on your network to help others to read the inspiring story of Surabhi Gautam.
Feel free to share your views in the comment box.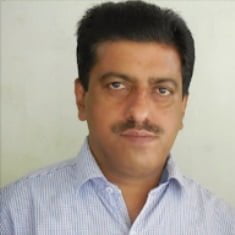 Mathukutty P. V. is the founder of Simply Life Tips. He is a Blogger, Content Writer, Influencer, and YouTuber. He is passionate about learning new skills. He is the Director of PokketCFO.
He lives with the notion of "SIMPLE LIVING, CREATIVE THINKING". He Believes – "Sharing is caring." and "Learning never ends."