(Last Updated On: January 5, 2022)
Have you heard the inspiring success story of S Sushree IPS, a 23-year-old girl from Kerala, became the first youngest person who passed the IPS in India? She qualified for the UPSC exam on her first attempt and secured 151st rank. After completion of her training at Dehradun and National Police Academy at Hyderabad subsequently, on 11th November 2019, Sushree has joined the Odisha cadre. Her success story proves that hard work and support from parents are necessary for the success of a child. Let's find glimpses of her success story.
S Sushree IPS, a girl from Kerala – the first youngest person who passed the IPS in India
We all know that passing the UPSC Civil Services examination is not an easy task. When hard work meets proper guidance from experts and support from parents everything is possible. You can find many stories of grit that reinforce one's belief in the inevitability of success in the UPSC Civil Services Exam. This is such an inspiring success story of Sushree, who qualified for the UPSC exam in her first attempt and secured 151st rank and that was also only through self-learning.
Some people think only candidates who can afford to spend a lot of money on specialised coaching can pass the prestigious UPSC examination. And some people think a particular group or people with a good status only can achieve success in UPSC exams. But you can find many inspiring stories of candidates who strive hard with dedication and determination and strike gold at the UPSC altar.
How S Sushree IPS from Kerala got the name SUSHREE?
Her parents shared the first letters from their name to give the name SUSHREE to their loving daughter. SU from her father's name SUNIL and SHREE from mother's name SHREEKALA joined and thus the name SU+SHREEV = SUSHREE.
His father Sunil not only shared his name but also sacrificed a lot for her daughter. At 44, he took VRS only to fulfil the dream of her daughter. He could have been in service for many more years and could climb many steps of promotion. But the loving father ignored everything and gave full support and help to his daughter for achieving success in her goal.
About S Sushree IPS – The Girl From Kerala
Her family hails from Thazhamel in Anchal, Kollam, Kerala.
Her basic education was mostly in Delhi for 10 years.
She studied in different schools because of her Father's transferable job.
Passed 12th with 1st Rank from Sabarigiri Residential School, Anchal, Kollam.
Graduated in B.A. English & Communicative English with 1st Rank from Kerala University. ( St. John's College, Anchal, Kollam, Kerala). Sociology was her optional subject.
From Std 11, her father started her preparation by bringing many General Knowledge and publications related to Civil Service study.
In the first year of Degree course itself, admitted her in the weekend classes in KERALA STATE CIVIL SERVICE ACADEMY, Thiruvananthapuram.
The main reason for taking admission to this academy was the huge library there.
After graduation, she had passed the tests written and had received appointment letters from the Postal Department, Intelligence Bureau and ISRO.
But S. Sushree and her father refused all the appointment letters because they considered all these tests as a test dose for the UPSC Exam.
The preliminary exam was in June 2017 and the result came in August. Mains was in October and the result came in December. The interview was on 23rd April 2018.
S. Sushree passed the UPSC Civil Services Exam with 151st All India Rank and 5th Rank in Kerala.
She passed this exam in her first attempt and that is a great achievement.
S. Sushree became the first youngest person who passed the IPS in India.
Her mother S. Shreekala is a Mathematics teacher in Sabarigiri School, Anchal.
Her father, P. T. Sunil Kumar was part of the Special Protection Group (SPG) between 2004 and 2010. He was also in the security team protecting former Prime Minister Manmohan Singh.
He took voluntary retirement from service in CRPF to assist his daughter to achieve her dream.
In 2008, when she was 14 years old, Sushree once got an opportunity to present a bouquet to the then Prime Minister Manmohan Singh and his wife Gurcharan Kaur.
She had a brief interaction with Mr. Manmohan Singh wherein he asked her about her dreams.
She replied that she wants to become a civil servant. He blessed and motivated her.
In that event, she also got a chance to interact with several higher officials, including IAS and IPS.
Sushree says she was mentored by N Ramachandran, former DGP of Assam and Meghalaya.
She says her source of motivation for cracking the civil services examination is her father who always motivated her to excel.
Sushree's ambitious father who was also her mentor prepared timetable and study plan for his daughter.
Her hobbies are drawing, writing and reading short stories in English.
S. Sushree qualified the UPSC Civil Services exam in her first attempt and secured 151st rank without the support of any coaching institute.
On 11th November 2019, Sushree has joined Odisha cadre.
P. T. Sunil Kumar burned like a sun for her daughter to shine like a sun. Let's congratulate them for their dedication and determination.
All parents must learn from S. Sushree's father how to help children to choose the right career of their passion and support them to achieve success in their goals.
One In Millions – Mock Interview
For the benefit of candidates appearing for the final Personality Test after clearing the UPSC Prelims Test and Main Exams Amrita Civil Service Academy is conducting a programme called One in Millions. One in Millions is a highly popular and exclusive interview series telecast by Amrita TV. This is a professional recording of UPSC model interview training. A series of amazing and real-life UPSC model interviews – truly unique and a must-watch for all aspiring civil servants.
S Sushree IPS Kerala Girl – One In Millions
In this video, Sushree is appearing in the Mock Interview in One in Millions
If you are an aspirant for UPSC Civil Services, don't miss watching this video. At the end of the video, the interview panel gives many good suggestions which you can learn about your preparation.
How To Choose The Right Career Best For You?
Many students are facing the problem of choosing the right career as per their choice and interest. Some parents think that only a handful of jobs are good for the bright future of their children. So, they force the children to study a course as per their choice of career and ignore the passion and dream of the children.
Since there is no other option than to obey the parents, children study the subject. But even after passing the exam, they find it difficult to concentrate and do their job successfully. I know some cases like this.
Parents should identify the passion and dream of their children and help them to achieve success.
Just think like this. Can you enjoy eating something which you don't like? In the same way, allow your children to select their choice of career and enjoy the career and make it successful. You may like to read How To Choose The Right Career Best For You? 
S Sushree IPS – Career Message For The Youth
If you have a dream, never lose your self-confidence. Have a strong self-confidence that you can achieve your dream. You may have to face many challenges, obstacles and failures. Many people, even your parents and relatives may discourage you. Remember, failure is not the end but failures are lessons. Learn to overcome obstacles and move forward fearless of failures. Take everything as positive, never think as negative. Treat failures and challenges as the fuel to move forward. Once you achieve success, all the pains and struggles will wash away from your mind.
Related Posts
A mother has to face many struggles and a lot of pain for 10 months, but when she sees the face of the baby all her pain convert to happiness. If you have any doubt, ask a mother. She will explain this to you well about this. Remember, pains are nothing, but the path to happiness.
25-Year-Old S Sushree IPS Takes Charge As DCP Traffic
As per Report Ommcomnews
S Sushree, a 2018-batch IPS officer took charge as DCP Traffic of Bhubaneswar – Cuttack on Tuesday. Upon assumption of charge, Sushree said that she would coordinate with officials and personnel of her department and chalk out a strategy to improve the traffic situation of the Capital City.
"I am new to the city and Commissionerate of Police. I will discuss with our department personnel and work under the guidance of my seniors to make the traffic situation better in Bhubaneswar and Cuttack," she said.
Conclusion
S. Sushree's success story teaches that the first step to success is dreaming big. Do you know The Power Of Dreaming Big For Success In Life?
Life is filled with struggles, pain and happiness. All successful people have faced a lot of struggles in their life. This young girl from Kerala proved that if you have a will and a goal, you can achieve success.
Inspiring Success Stories Of UPSC Exam
I thought it is good to give you a few links to the inspiring success stories of people who have cracked the prestigious UPSC exam. Don't miss reading their motivational success stories which prove their hard work and dedication helped to achieve goals. Among them, Sreedhanya Suesh is a poor tribal girl and Pranjal Patil is a Visually Challenged Woman.
What are the points that attracted you to the success story of S. Sushree IPS, the young girl from Kerala?
Are you an aspirant of UPSC?
If you found this post useful, please recommend and share it to help others find it! You can easily share by clicking on the share buttons. Remember"Sharing is Caring!"
Leave your thoughts in the comment box below.
Disclaimer – Above information is collected from the internet. In case of any errors, kindly inform through comment or contact page.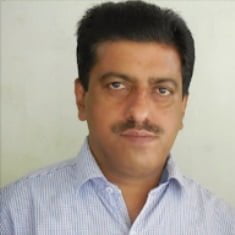 Mathukutty P. V. is the founder of Simply Life Tips. He is a Blogger, Content Writer, Influencer, and YouTuber. He is passionate about learning new skills. He is the Director of PokketCFO.
He lives with the notion of "SIMPLE LIVING, CREATIVE THINKING". He Believes – "Sharing is caring." and "Learning never ends."