(Last Updated On: September 12, 2023)
Have you had the privilege of hearing the remarkable tale of Sreedhanya Suresh? It's a story that has ignited a sense of pride and admiration, particularly among the people of Kerala, India. At just 26 years old, Sreedhanya Suresh, a tribal girl hailing from Pozhuthana panchayat in Wayanad District, has achieved an extraordinary feat – she has successfully cleared the UPSC Civil Services Examination. This achievement is not only a testament to her personal determination but also a source of inspiration for countless others who dare to dream against all odds.
Who Is Sreedhanya Suresh IAS?
It's a prevailing belief among many that securing a prosperous future necessitates attending prestigious, often costly, English-medium institutions. This prevailing notion often leads people to assume that quality education, promising careers, and esteemed administrative positions are exclusively within reach of the affluent or select groups.
Enter Sreedhanya Suresh, a young woman hailing from the tribal heartland of Wayanad in Kerala, India. In a groundbreaking achievement, she not only shattered these stereotypes but also defied all odds by clearing the UPSC Civil Services Examination, earning herself a national rank of 410.
Sreedhanya Suresh's inspiring journey is a testament to the power of determination and unwavering goals. She not only secured an exceptional rank but also became the first individual from Wayanad's tribal community to conquer the UPSC exams.
Her remarkable success story serves as a beacon of hope, especially for tribal women, inspiring them to confront challenges head-on and forge their paths to a successful life. Despite the existence of various government initiatives aimed at uplifting tribal communities, some tribal areas continue to grapple with backwardness. Sreedhanya's achievement is a reminder that with determination, barriers can be overcome, and dreams can be transformed into reality.
Kerala Governor Felicitated Sreedhanya Suresh
What Is Civil Services Examination (India)?
The Civil Services Examination (CSE) is a nationwide competitive examination in India conducted by the Union Public Service Commission for recruitment to various Civil Services of the Government of India, including the Indian Administrative Service (IAS), Indian Foreign Service (IFS), and Indian Police Service (IPS).
Also simply referred to as the UPSC examination, it is conducted in three phases – a preliminary examination consisting of two objective-type papers (General Studies Paper I and General Studies Paper II also popularly known as Civil Service Aptitude Test or CSAT), and a main examination consisting of nine papers of conventional (essay) type, in which two papers are qualifying and only marks of seven are counted followed by a personality test (interview)
Source: Wikipedia
Sreedhanya Suresh The First From the Indigenous Tribes Of Wayanad To Crack IAS Exam
What Is The Biography Of Sreedhanya Suresh?
Born and brought up in a Kurichiya tribal hamlet.
She lives in a dilapidated hut at Idiyamvayal in Pozhuthana Panchayat, Wayanad Dist, Kerala State, India.
Her father is a daily wage worker.
Her mother is a worker under the Mahatma Gandhi National Rural Employment Guarantee Scheme.
Studied in Malayalam medium schools all through.
Primary education was at Thariyodu St Mary's UP School, Nirmala High School and Government HSS.
Completed her degree in Zoology from St Joseph's College Devagiri, Kozhikode
Did her postgraduation in Applied Zoology at the University of Calicut.
Worked as a tribal promoter in Wayanad for two years.
She got the inspiration for Civil Services after meeting Sriram Sambasiva Rao, District Collector of Wayanad in 2016.
The power of the District Collector and the respect it earns made her dream of the IAS.
The same year she resigned from her job and enrolled on the training for civil service exams in Thiruvananthapuram.
Bagged the 410th rank in the Civil Services Examination, 2018.
First-person from the Scheduled Tribes in the district of Wayanad to clear the Civil Services exam.
Her parents had no money to send their daughter for the interview.
She reached New Delhi with Rs 40,000 borrowed from friends.
Her house lacks proper electrical wiring.
While trying to charge her laptop at home she touched a live wire. The electric shock threw off her feet and her hand was injured.
This incident happened soon after she returned from the UPSC interview in New Delhi.
Sreedhanya Suresh: Inspiring tale of Kerala's first tribal woman to clear UPSC
This video shows the village, the mud road, and her small house.
How Rahul Gandhi Congratulated Sreedhanya Suresh?
"I am from the most backward district in the state. There are no tribal IAS officers from here even though there is a considerably large tribal population. I hope this will be an inspiration and motivation to the future generations to overcome all hurdles," Sreedhanya Suresh told the media.
How Kerala Governor Congratulated Sreedhanya Suresh?
The significance of a young, impoverished tribal girl assuming an administrative post cannot be overstated. She possesses an intimate understanding of the struggles faced by the underprivileged and the pressing issues that afflict tribal communities.
This firsthand knowledge equips her to focus diligently on addressing the multifaceted challenges of poverty, inadequate healthcare, and limited educational opportunities in her community. Her presence in such a role can be instrumental in facilitating positive changes, such as enhancing healthcare facilities, expanding educational resources, and fostering a culture of learning among children.
Moreover, Sreedhanya Suresh's journey serves as a powerful testament to the potential of women in leadership roles. In Kerala, there is a cadre of young, dedicated, and sincere women IAS officers whose contributions have been well-received and appreciated by the people. Their presence in administrative positions not only brings fresh perspectives but also signifies progress towards a more inclusive and equitable society.
How do parents struggle to educate their children?
The pursuit of quality education is a universal aspiration for many parents, and they often go to great lengths to ensure their children have access to reputed educational institutions. It's not uncommon for parents to work tirelessly or even take out substantial bank loans to finance their children's education.
What's intriguing is that, even with the means to afford it, securing admission to these esteemed schools and colleges can prove to be a formidable challenge. The demand for quality education often far exceeds the available slots, leading to fierce competition and stringent admission criteria.
In this competitive landscape, parents find themselves navigating a complex and often daunting process, driven by the unwavering belief that a good education is one of the most valuable investments they can make in their children's future.
Read Never Forget Parents Struggle And Sacrifice For Your Success
I want to clarify that I'm not suggesting parents should refrain from seeking admission to reputed educational institutions, as they often offer high-quality education.
However, it's worth noting that when we examine the life stories of successful individuals, we discover that many of them attended ordinary schools. Their achievements demonstrate that parental wealth and access to prestigious institutions aren't the sole determinants of success. Instead, it underscores the notion that greatness can be nurtured through ordinary educational avenues, dispelling the myth that costly institutions are the exclusive path to achievement.
Successful persons from a poor background
Dr A. P. J. Abdul Kalam, a newspaper boy from a small village, became the 11th president of India and one of India's top motivational characters.
Sundar Pichai, a small-town boy, from Chennai, became India's Pride, by heading Google, the biggest company in the world.
I have just quoted two famous names, but there are many. If you read the stories of successful persons, you can find most of them struggled a lot to achieve success.
Conclusion
Sreedhanya Suresh's remarkable journey stands as a testament to the unwavering power of dedication and hard work. Her story reminds us that regardless of background or circumstances, anyone, even those from disadvantaged backgrounds, can triumph in competitive exams. They can set lofty goals, achieve success, and turn their dreams into reality, ultimately ascending to the pinnacle of their careers and lives.
Sreedhanya Suresh is a true source of inspiration, particularly for individuals hailing from underprivileged communities. She serves as a beacon of motivation for those who, despite their economic challenges, harbour aspirations to achieve greatness in life. Here's to wishing Sreedhanya Suresh continued success and fulfilment in her journey ahead!
Recommended for reading
Is this story of Sreedhanya Suresh inspired and motivated you to accept challenges and move forward fearless of failures?
Thanks for spreading the love with others. Remember " Sharing is Caring!"
Your valuable suggestions and comments will help to make my effort on this small blog a success. Feel free to share your views in the comment box below.
References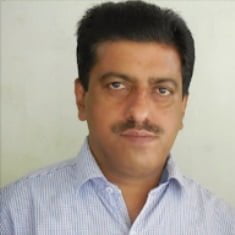 Mathukutty P. V. is the founder of Simply Life Tips. He is a Blogger, Content Writer, Influencer, and YouTuber. He is passionate about learning new skills. He is the Director of PokketCFO.
He lives with the notion of "SIMPLE LIVING, CREATIVE THINKING". He Believes – "Sharing is caring." and "Learning never ends."