(Last Updated On: February 18, 2023)
Have you heard the inspirational success story of Sreedhanya Suresh? It's a moment of pride and glory for the people of Kerala, India. Sreedhanya Suresh, the 26-year-old tribal girl from Pozhuthana panchayat, Dist. Wayanad has cleared the UPSC Civil Services Examination.
Who Is Sreedhanya Suresh IAS?
There is a common thinking among most people that for a bright future it is necessary to study in reputed and costly English medium institutions. Many people think good education, top career and administrative jobs are meant only for the rich and some particular groups.
Shreedhanya Suresh is a poor tribal girl from Dist. Wayanad, Kerala state, India cleared the UPSC Civil Services Examination with a national rank of 410.
Shreedhanya Suresh proved that if there is a will and a goal anyone can achieve success. Let's find her inspirational success story.
She is the first person from a tribal community in Wayanad to crack the UPSC exams, that too with an excellent rank of 410.
The success story of Sreedhanya Suresh will encourage many more women, especially tribal women to face challenges and move forward to a successful life.
Despite several government initiatives to uplift the tribal community members, some tribal areas are still in backwardness.
Kerala Governor Felicitated Sreedhanya Suresh
What Is Civil Services Examination (India)?
The Civil Services Examination (CSE) is a nationwide competitive examination in India conducted by the Union Public Service Commission for recruitment to various Civil Services of the Government of India, including the Indian Administrative Service (IAS), Indian Foreign Service (IFS), and Indian Police Service (IPS).
Also simply referred to as the UPSC examination, it is conducted in three phases – a preliminary examination consisting of two objective-type papers (General Studies Paper I and General Studies Paper II also popularly known as Civil Service Aptitude Test or CSAT), and a main examination consisting of nine papers of conventional (essay) type, in which two papers are qualifying and only marks of seven are counted followed by a personality test (interview)
Source: Wikipedia
Sreedhanya Suresh The First From the Indigenous Tribes Of Wayanad To Crack IAS Exam
What Is The Biography Of Sreedhanya Suresh?
Born and brought up in a Kurichiya tribal hamlet.
She lives in a dilapidated hut at Idiyamvayal in Pozhuthana Panchayat, Wayanad Dist, Kerala State, India.
Her father is a daily wage worker.
Her mother is a worker under the Mahatma Gandhi National Rural Employment Guarantee Scheme.
Studied in Malayalam medium schools all through.
Primary education was at Thariyodu St Mary's UP School, Nirmala High School and Government HSS.
Completed her degree in Zoology from St Joseph's College Devagiri, Kozhikode
Did her postgraduation in Applied Zoology at the University of Calicut.
Worked as a tribal promoter in Wayanad for two years.
She got the inspiration for Civil Services after meeting Sriram Sambasiva Rao, District Collector of Wayanad in 2016.
The power of the District Collector and the respect it earns made her dream of the IAS.
The same year she resigned from her job and enrolled on the training for civil service exams in Thiruvananthapuram.
Bagged the 410th rank in the Civil Services Examination, 2018.
First person from the Scheduled Tribes in the district of Wayanad to clear the Civil Services exam.
Her parents had no money to send their daughter for the interview.
She reached New Delhi with Rs 40,000 borrowed from friends.
Her house lacks proper electrical wiring.
While trying to charge her laptop at home she touched a live wire. The electric shock threw off her feet and her hand injured.
This incident happened soon after she returned from the UPSC interview in New Delhi.
Stereotypes or social taboos can not hamper the growth of a dedicated hardworking person.
Click To Tweet
Sreedhanya Suresh: Inspiring tale of Kerala's first tribal woman to clear UPSC
This video shows the village, the mud road, and her small house.
How Rahul Gandhi Congratulated Sreedhanya Suresh?
"I am from the most backward district in the state. There are no tribal IAS officers from here even though there is a considerably large tribal population. I hope this will be an inspiration and motivation to the future generations to overcome all hurdles," Sreedhanya Suresh told the media.
How Kerala Governor Congratulated Sreedhanya Suresh?
There are many benefits of a poor tribal girl holding an administrative post. She knows the heartbeat of the poor. The real problems of the poor tribal community.
This will help her concentrate well on the problems and find solutions for their poverty, and health facilities, providing more schools in their area and encouraging children to education.
Sreedhanya Suresh is a woman and that is the important thing to note from her success story. There are many young energetic sincere women IAS officers in Kerala. Their services are well appreciated by the people.

How parents struggle to educate their children?
Many parents struggle a lot to earn maximum money or even take huge bank loans. They do this for the education of their children in reputed educational institutions. The interesting fact is even with enough money in hand it is difficult to get admission in such schools and colleges.
Read Never Forget Parents Struggle And Sacrifice For Your Success
I am not saying parents should not do this, because reputed educational institutions will provide a good education.
But if you look at the story of successful people, you can realise that many of them studied in ordinary schools. Their parents were not rich enough to send them to such high-level and costly educational institutions.
Sreedhanya Suresh, the first woman from a tribal community in Kerala to crack the UPSC civil services exams, is all set to join as an assistant collector in the Kozhikode district. The joining date has not been confirmed due to the nationwide lockdown following the coronavirus outbreak. Sreedhanya is now undergoing training at the Lal Bahadur Shastri National Academy of Administration, Mussorie. She will have to reportedly undergo a 14-day quarantine in Kerala before joining. Source: Onmanorama
Successful persons from a poor background
Dr A. P. J. Abdul Kalam, a newspaper boy from a small village, became the 11th president of India and one of India's top motivational characters.
Sundar Pichai, a small-town boy, from Chennai, became India's Pride, by heading Google, the biggest company in the world.
I have just quoted two famous names, but there are many. If you read the stories of successful persons, you can find most of them struggled a lot to achieve success.
Conclusion
The story of Sreedhanya Suresh proves that with dedication and hard work anyone, even the poor can crack any competitive exams. They can set goals and achieve success, fulfil their dreams and can reach the top of their career and life.
Sreedhanya Suresh is really an inspiration to those who belong to the backward community. She is a motivation for those who are poor but aspirant to be something in life. All the best to Sree Dhanya Suresh!
Recommended for reading
Is this story of Sreedhanya Suresh inspired and motivated you to accept challenges and move forward fearless of failures?
Thanks for spreading the love with others. Remember " Sharing is Caring!"
Your valuable suggestions and comments will help to make my effort on this small blog a success. Feel free to share your views in the comment box below.
References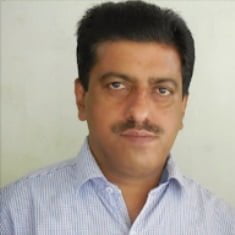 Mathukutty P. V. is the founder of Simply Life Tips. He is a Blogger, Content Writer, Influencer, and YouTuber. He is passionate about learning new skills. He is the Director of PokketCFO.
He lives with the notion of "SIMPLE LIVING, CREATIVE THINKING". He Believes – "Sharing is caring." and "Learning never ends."