(Last Updated On: July 1, 2021)
Are you a bright student wishes to achieve a successful top career like IAS or other professions? Do you think such top careers can't fulfil because your poor parents can't manage the cost required for such studies? Ansar Shaikh IAS, son of a poor auto driver proved that everything is possible if you have a desire and dedication to hard work.
Ansar Shaikh IAS – All India Rank Of 361 In 2016
We know the UPSC civil service exam is considered as one of the toughest exams in India. Lakhs of people prepare for many months and take the exam but only a few hundred make the cut in the end. Only a proper combination of guidance, tenacity and dedicated hard work can help UPSC aspirants crack the IAS exam. He said, "poverty and success have no correlation. All you need is hard work and determination."
Ansar Shaikh, a young man from Maharashtra made headlines after he cracked the competitive UPSC examination in his maiden attempt. He passed this difficult exam at the tender age of 21 and secured an All-India Rank of 361 in 2016. Ansar Shaikh is the first graduate in his family. He is the first civil servant and one of India's youngest IAS officers.
About Ansar Shaikh
Ansar Shaikh IAS date of birth: June 1, 1995
Native place: Jalna, Maharashtra
Ansar Shaikh's father Yonus Shaikh Ahmad is an autorickshaw driver from Jalna's Shedgaon village in the Marathwada region of Maharashtra.
Ansar Shaikh's mother Azamat Shaikh worked in fields.
His sisters were married off as young as 15.
Younger brother Anees is dropped out of school in class VII. He worked in a garage in a bid to support the family and also to help his elder brother prepare for the IAS exam.
Education was not a priority in his family.
Ansar Shaikh studied until class 12 in Marathi-medium.
When he was in class four, his parents approached his teacher and said that they wanted their son to drop out.
As per the advice and motivation from his teacher, Purushotham Padulkar, his parents decided to give education and Ansar a chance.
Ansar proved his merit by scoring an exceptional 91 per cent in his Class 12 boards.
Even though Ansar's poor family struggled to make ends meet, he remained a bright student throughout.
Earned a Bachelor's Degree in Political Science at Pune's renowned Fergusson College.
His father kept sending small amounts from his savings to help Ansar Shaikh survive in the city.
His brother Anees deposited money in Ansar's account to fund his academic dreams.
In 2012 when Ansar Shaikh first entered Fergusson College, all he had was a pair of chappals and two pairs of clothes. He used to wear that alternatively.
Since he came from a vernacular medium school and wasn't fluent in English that created an inferiority complex.
During his first year of study in the college, his teachers exposed him to UPSC.
He approached Unique Academy's Tukaram Jadhav and requested him for admission to the course.
The big question before him was how he would arrange the UPSC coaching fee which was to the tune of Rs 70,000.
After hearing Ansar Shaikh's background, Tukaram Jadhav was gracious enough to accept him into the course with a 50% concession.
Since he was the youngest, only 19-year-old, he would often get intimidated and found it difficult to interact with other students.
As the course continued, Ansar started becoming curious and began interacting with others.
Ansar Shaikh hard-worked 12 hours a day for three years to achieve his IAS dream.
Medium of Mains and Interview: Marathi
Age when cleared the UPSC Civil Services Exam: 21
Read 7 Amazing Success Habits You Must Adopt To Achieve Success In Life
Read 35 Most Common Job Interview Questions | How To Answer Them?
Ansar Shaikh's Success Strategy For UPSC CSE/IAS Preparation
In the first six months of preparation, Ansar Shaikh concentrated on his optional subject preparation which was political science. It was also his graduation subject.
In the second six months, he focussed on the general studies papers.
In the next three months, he completed his revision and also the remaining portions of the UPSC mains papers.
In the next 9 months, Ansar Shaikh did his prelims exam preparation.
After the prelims exam, he studied for his mains in the next 100 days.
Finally, he prepared for his UPSC personality test in the last 40 days.
Ansar Shaikh normally studied for 10 – 12 hours per day.
For the mains exam, Ansar Shaikh put in 14 – 15 hours on a daily basis.
Success Stories Of UPSC Exam
Conclusion
It is the positive attitude that sets Ansar Shaikh apart from others. He proves that your attitude to never back down, face challenges fearless of failures and be steadfast in achieving your goal will lead you to success. Believing in oneself is one of the great ways to outsmart challenges. If you ask successful persons about secrets of success, they would simply reply there are no shortcuts to real success. The only secret is you should learn how to handle life for success and happiness.
Are you an aspirant of UPSC Exam?
Could you find any useful points or success tips for your career success?
Let me know your thoughts and suggestions in the comment box below.
If you liked this article, kindly share it with your friends, relatives, and social media to help them to read.
References: The Better India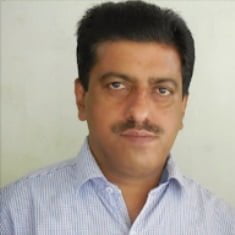 Mathukutty P. V. is the founder of Simply Life Tips. He is a Blogger, Content Writer, Influencer, and YouTuber. He is passionate about learning new skills. He is the Director of PokketCFO.
He lives with the notion of "SIMPLE LIVING, CREATIVE THINKING". He Believes – "Sharing is caring." and "Learning never ends."