(Last Updated On: September 26, 2021)
Do you know the secret mantra behind the success story of Akhand Swaroop Pandit, ex-IES Officer? Akhand Swaroop Pandit not only cleared the UPSC Indian Engineering Services (IES) examination but also cleared 8 Government examinations successively? Continue reading and watching the video to know about his success secrets.
How Akhand Swaroop Pandit Cleared UPSC Exam?
Many people think their dreams are too high and beyond their capacity. Are you one of them? If yes, remember that life always has something good to offer you. No matter what your dream is, stick to it, work hard with dedication, and one day it is yours.
Dreams never come for free, be ready to pay the price through hard work and dedication
Click To Tweet
You may find it difficult to believe. After reading this post and listening to Akhand Swarup's story, you will believe.
Akhand Swarup Pandit was an average student who hates studies as many other students. But something changed this man to inspiration to lakhs of people.
An IES Officer
The Founder of the Catalyst group
Won two-time National Power-Lifting Championship

From Failure to Success – Akhand Swarup Pandit IES
You must be thinking and wondering how a person who was never interested in studies changed into someone that is an IES Officer who cleared the exam on UPSC.
In the below video talk, he takes you through a journey to understand how he transformed into this.
My Journey of Clearing UPSC – Akhand Swarup Pandit IES
Akhand Swaroop Pandit's quotes from the video
We imagine a lot of things. We envision a lot of things, that we'll do that, we'll do thisBut when it comes to implementation, there is a huge gap between the thinking, the idea and the implementation of that idea.
One thing we should always remember is that Failures, frustrations, all these things are a part of our success path. All these are sort of ingredients to our success if we mix them all. Without them, you will not be able to enjoy success.
Without failure, without overcoming frustration we will never feel that we have achieved something. For that feel, you have to undergo these emotions.
We should fix small goals. We should never fixate a big goal. That I fix a big goal that today I will become a successful man.
If you fix a big goal and you face frustration and failure, then you will not be able to deal with it.
Read How To Set Goals To Become Who You Were Meant To Be
Fix goals every day – Akhand Swaroop Pandit
You have to fix your goals on a daily basis, a monthly basis, on a weekly basis. Because if you will complete those goals, you will feel satisfied. And on completing a single goal you will get an idea for a second goal. Because if you want to reach that level, you have to move, one step by another step.
Those steps are our goals. We have to conquer those small goals first. Keep doing them, one by one.
Read How To Set Effective Goals And The Science Of Achieving
Keep getting an idea – Akhand Swaroop Pandit
You will keep getting an idea. If we talk about an idea, there is one thing that is very important is that whenever you want success, you should find an idea.
Idea means you should find a reason behind your motivation. Without reason, you'll never get motivated.
No motivation without a reason – Akhand Swaroop Pandit
There's no motivation without a reason. If I tell you I'm motivated, you'll ask me for a reason.
If you have a solid reason, then whenever you face failure, you'll never give up.
You'll say I want to do it for a reason.
Reason can be anything. Reason can be power. Reason can be respect. Reason can be money. Reason can be anything. Reason can be anything. Reason can be that I'll make my parents proud. I will make my family proud. I'll do this. I'll do that. Reason can be anything but it should have a solid foundation. It should have a solid base. Without base reason is nothing. It's nothing.
There's no motivation without reason. You can never become successful without motivation. No one has ever become successful without motivation. This is one fixed point. Which is very clear.
Read 15 Habits That Destroy Motivation
Nothing can ever fail you, unless and until you fixate yourself on failure. You declare to yourself, that you have failed.
No matter what happens, you have to make yourselves believe, you have to make yourselves understand that today is your day, every day is your day.
Nobody can snatch your growth, your success, your desire from your hand.
You only have to work hard. Hardships will come, failures will come, but you don't fall.
You have to work hard continuously. Anytime, anywhere you might face failure, you will feel embarrassed, you will feel broken.
But just accept that failure and rebound quickly, you will be at the top finally.
Without failure, without overcoming frustration, we will never feel that we have achieved something.
Learn To Face Challenges Fearless Of Failures
End of quotes
Related How To Find Your Passion With The Secret Formula

The Catalyst Group – Akhand Swaroop Pandit
Akhand struggled a lot, travelling across cities with little money in his pocket for achieving the milestones. Today, he is the founder of The Catalyst Group. The Catalyst is one of the best and popular online Education Management company, paving the path for aspirants of Civil Engineering, IES, SSC JE, GATE and many more government examinations. The main faculty is Akhand Swaroop Pandit, an Ex-IES officer with competitive teaching experience for many years. Find Online Courses in Catalyst
Answer Writing | The Secret Ingredient to clear UPSC CSE
Conclusion
Many people carry the burning desire to achieve extraordinary success in life. But they do not realise the fact that there can be no troughs of success without crests of failure in life. The life journey is from failure to success. At a struggling point, you may feel like giving up. But you can develop an attitude where you tell yourself 'I will never give up'. This positive attitude and powerful knowledge is the secret mantra of success in life.
Related UPSC success stories
Are you preparing for the UPSC or any other competitive exam?
How do you prepare for the UPSC exam?
What did you learn from the story of Akhand Swaroop Pandit?
Feel free to share your thoughts in the comment box below.
If you found this post useful, would you mind to share it? Just click on the handy social media sharing buttons. Thanks!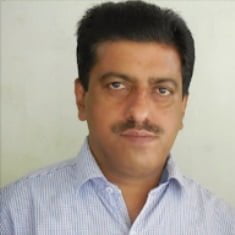 Mathukutty P. V. is the founder of Simply Life Tips. He is a Blogger, Content Writer, Influencer, and YouTuber. He is passionate about learning new skills. He is the Director of PokketCFO.
He lives with the notion of "SIMPLE LIVING, CREATIVE THINKING". He Believes – "Sharing is caring." and "Learning never ends."