(Last Updated On: November 13, 2022)
The life journey is mixed with happy moments and tough times. We wish that tough times never happen. Getting through difficult times can strain us out.
The inability to cope with life problems can lead to depression, but many times we misunderstood this as life problems cause depression.
Remember tough times are only temporary and if you face it with a strong mind more happiness will come into life. So, don't get depressed in bad times, make use of tough times to become mentally strong to face challenges.
Even when all the doors close, one perfect door will open and that will bring unexpected changes and happiness in your life. You must have heard the old saying: "After a hurricane, there is always a rainbow"
Tough Times Can Make You Stronger
Tough times can help you think more and provide clues to your subconscious mind about the new abilities and hidden skills.
Strong mind people ignore life problems and move forward to success. They treat bad times are opportunities to learn new things.
If we have only happy moments and no tough times, we will never learn how to face tough times. Life is a journey and has to face struggles, tough times, challenges.
These are just part of our journey. It is up to us how we accept and handle it. Just like an expert driver knows how to drive on the bad road and bad weather.
A skilled driver has the willpower and knows how to handle the situation. Otherwise, he will be stuck in the middle of the road or even cause danger to himself and others along with him.
Never give up, and be confident in what you do. There may be tough times, but the difficulties which you face will make you more determined to achieve your objectives and to win against all the odds.

Marta
Many times somehow you overcome one struggle and another one comes. You think why struggles always coming in life. Sometimes you think God is punishing you.
You can think in another way that hard times does not come to give you pain or bring you to your knees. But it only comes to make you stronger for the future. Just for purification of your mind to make strong. Think about a hard time in your life, but forced you to become better.
Be grateful for the struggles to ensure your future has much more pleasure than pain.
Click To Tweet
Tough Times And Struggle Makes You Stronger
We don't grow in good times but in tough times.
Click To Tweet
What will you learn from tough times?
How to ask for help
Become strong
Develop compassion and empathy
What matters in life
Coping strategies to face difficulties
Success is about more than money
Seek and become strong with God
Tough times don't last, but tough people do.
Click To Tweet
When we are happy and no struggles, we feel we are self-sufficient and do not require the help of other people. But when we face problems, we look for help.
Sometimes your enemy may be the person help you in trouble. And that occasion force you to forget the past and become friends again.
You may be fearful to face challenges, but when you face the struggle, you will become strong and your fear will disappear.
Money Cannot Buy Everything
Many people think money can buy anything in the world. Our experiences make us think so. But you can't buy everything with money.
In the new technology and busy world, people have enough time for entertainment but do not have time for God.
Many of us do not seek God when happy and have no problems. But when face problems, we seek God. This is a common practice of many of us. So, struggles are good to find a few minutes from daily routine for God. Spirituality is important for a peaceful mind.
I think you need to go through some stuff to really appreciate life and understand what it means to persevere, overcome and have faith. I think those tough times make you a stronger person.

Judith Hill
Tough Times Can Make You Stronger | Shailee Basnet
Shailee Basnet is a Mountaineer turned comedian, a motivational speaker. She is the coordinator of 'Seven Summits Women Team', world's first female team to climb the highest mountain in each continent.
In May 2008, Shailee Basnet climbed the Mount Everest with 'Seven Summits Women Team' making them the most successful all-women expedition to Everest ever.
Shailee Basnet conducts Leadership and Spiritual treks in the Himalayan region. She not only climbed the Mount Everest but also overcame every challenge that life threw at her. She also runs a signature show at Gotham Comedy Club, USA, called 'TOP SHOT COMEDY with Shailee Basnet'.
Shailee shares deep lessons of leadership, team building, motivation, and women power. She uncovers the Myths, Realities and cosmic possibilities of the female mind, body and ability Her speeches have received standing ovations from Nepal to New York.
She takes her audience on a virtual journey of her team's adventures worldwide mountains. Shailee inspires people to believe in their dreams. A path-breaking career in both mountaineering and stand-up comedy, Shailee Basnet's inspiring talk will drive you towards achieving your dreams!
Use bad times wisely and raise your self-confidence with every problem you face.
Click To Tweet
When you struggle, just remember, you are great because you are doing something good for yourself.
Click To Tweet
Conclusion
Without the struggle, you can't grow and without resistance, you can not get stronger. Tough times, struggles, challenges will offer you much more value than happy moments in your life because you become more spiritual, more strong, learn to face challenges and new skills.
You may like to read the inspiring story of Arunima Sinha, the first female amputee in the world to climb Mount Everest in 2013, and the first woman amputee to have climbed Mount Vinson, the highest peak in Antarctica on 4 January 2019.
How do you deal with tough times?
If you found this post useful, please recommend and share to help others find it! You can easily share by clicking on share buttons. Remember"Sharing is Caring!"
Feel free to leave your thoughts below.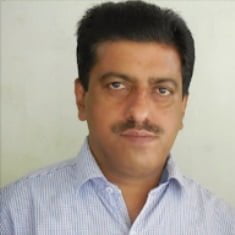 Mathukutty P. V. is the founder of Simply Life Tips. He is a Blogger, Content Writer, Influencer, and YouTuber. He is passionate about learning new skills. He is the Director of PokketCFO.
He lives with the notion of "SIMPLE LIVING, CREATIVE THINKING". He Believes – "Sharing is caring." and "Learning never ends."