(Last Updated On: April 24, 2023)
Have you heard about the inspirational story of the Manasi Joshi Para-Badminton player who won Silver in the Para-Badminton World Championship held in England? Manasi Joshi is a name that has been making waves in the world of Para-Badminton for quite some time now. The 32-year-old Indian athlete has defied all odds and overcomes numerous obstacles to achieve remarkable success in her sport. But her journey to become a world champion has not been an easy one. It is a story of resilience, courage, and determination, and one that serves as an inspiration to people around the world. In this article, we will delve deeper into Manasi Joshi's life, her struggles, and her triumphs, and learn what makes her a true champion both on and off the court.
Manasi Joshi Para-Badminton Player
Manasi Joshi is a name that needs no introduction in the world of para-badminton. She is a living example of how one can overcome any obstacle with determination and hard work. Her inspiring journey from a young girl with a passion for badminton to an international-level para-badminton player is a story of resilience, courage, and determination.
Early Life And Passion For Badminton
Manasi was born on June 11, 1989, in Ahmedabad, Gujarat, India. She was brought up in a family that had a deep-rooted love for sports. Her father, a mechanical engineer, was a state-level cricketer, while her mother, a homemaker, was an avid badminton player. It was her mother who introduced her to the sport when she was just six years old. At the tender age of six, Manasi Joshi picked up a badminton racquet and started playing with her father. Since then, badminton became an integral part of Manasi's life. She continued to hone her skills in the sport as a hobby, even participating in a few district-level matches. Manasi has always been inspired by her father, who works as a scientist at Bhabha Atomic Research Centre.
Manasi was a promising badminton player since her childhood. She participated in various state and national-level tournaments and won several accolades. Her hard work and dedication towards the sport earned her a scholarship to study engineering at the Savitribai Phule Pune University.
Living in Mumbai, Manasi always had a keen interest in science and engineering. After completing her Bachelor's degree in Electronic Engineering, she developed a fascination for software development and landed a job as a senior software engineer at Atos India.
The Turning Point
In 2011, tragedy struck when Manasi met with a road accident while on her way to work. The accident caused severe injuries to her left leg, and despite undergoing several surgeries, the doctors had to amputate it below the knee. The incident shook Manasi's world, and for a while, she lost all hope of ever playing badminton again.
However, her indomitable spirit and the support of her family helped her overcome the trauma. She soon realized that the loss of her leg did not mean the end of her dreams. She began exploring para-sports, and after some research, she found that para-badminton was a sport that could be played by people with disabilities.
The Story Of Triumph Over Adversity
Manasi Joshi shared that she was commuting to work on a two-wheeler when a truck collided with her, resulting in a crushed leg. She clarified that the accident was not the truck driver's fault, as a pillar obstructed their vision. Joshi was immediately taken to the hospital, but despite the accident occurring early in the morning, the medical team did not operate on her until late in the afternoon. The doctors attempted to save her leg, but unfortunately, it became infected and had to be amputated. Joshi expressed her surprise to the doctor, questioning why the operation took so long when she had already suspected that amputation may be necessary.
The key to getting through the ordeal was acceptance of her situation. She believed that she had two choices: to wallow in self-pity or to face the challenge head-on. Joshi chose the latter and opted to take it all in stride with a positive attitude. Even when visitors came to see her in the hospital and became emotional, Joshi lightened the mood by sharing jokes to make them laugh.
After the amputation, Joshi underwent physiotherapy to re-learn how to walk. Despite facing difficulty with walking, her biggest fear was not being able to play badminton, a passion she had since childhood. However, Joshi was surprised to discover that she could still play badminton despite her amputation. In fact, playing badminton helped her regain her confidence and allowed her to focus on her abilities rather than her disability.
Encouraged by friend
Encouraged by one of her amputee friends, Joshi began participating in corporate badminton tournaments, and she emerged victorious in several of them. Spurred on by her success, she decided to take her skills to the national level, where she continued to excel and won multiple medals. In 2019, Joshi won a silver medal at the Para-Badminton World Championship held in England, cementing her status as a world-class Para-Badminton player.
Joshi is a true testament to the power of determination and hard work. Despite the challenges she faced after her accident, she continued to push herself and pursued her passion for badminton. She trained tirelessly for five hours a day, all while balancing her job as a software engineer. Not content with just excelling in her sport, Joshi also pursued other interests, such as completing her scuba diving training and exploring India through her travels. When asked how she manages to accomplish so much, Joshi has a simple response: "What's stopping you?"
Rising From The Ashes – Manasi Joshi Para-Badminton Player
After her accident, Manasi Joshi's first competitive match was in August 2012, which was a company-level badminton championship organized by Atos. Despite her physical setback, she competed in the women's singles event and emerged victorious, clinching the first position.
Despite going through rehabilitation and learning to walk again with a prosthetic leg, Manasi Joshi continued to pursue her passion for badminton. It wasn't easy, as she had to use crutches for support for eight months after getting her prosthetic leg, and it took several months of hard work before she could play at higher-level tournaments. In June 2014, Manasi started working out to get fit again, setting daily targets and focusing on weight training and walking. Her efforts paid off when she got the opportunity to represent Maharashtra at the selection trials for Asian Games 2014 in August 2014, although she didn't get selected. Nevertheless, that match marked a new beginning for her.
In December 2014, Manasi participated in her first national-level tournament and was able to win a silver medal. The tournament held a special significance for her because she got the opportunity to compete against the renowned Arjuna awardee Parul Parmar. Moreover, she also secured her place in the fifth Spanish Para-Badminton International Championship, scheduled to be held in March 2015.
Manasi Joshi's dedication to her sport was evident in the amount of time she put into her training. In preparation for her first international-level game at the Spanish Para-Badminton International Championship, she practised for two hours every day during weekdays and increased her training to four hours a day during the weekends.
She won several state and national level tournaments, and her hard work and d
Manasi Joshi Para-Badminton Player – Achievements
Manasi's passion and hard work paid off when she won the bronze medal in the women's singles SL3 category at the championships. This was just the beginning, and in the following years, she continued to rise and become one of the top para-badminton players in the world.
In 2018, she won the bronze medal at the Asian Para Games held in Jakarta, Indonesia, and a year later, she won the gold medal at the Para-Badminton World Championships held in Basel, Switzerland.
Manasi never let the lengthy recovery period affect her confidence and mindset with negativity.
Manasi recalls one of her most memorable badminton matches was a mixed doubles game where she and her partner Rakesh Pandey played against former world champions. This match helped them recognize their true potential and inspired them to continue pushing forward.
Manasi Joshi Para-Badminton Player Inspiration To Others
Manasi's story is a testament to the power of resilience and determination. Despite facing a life-changing setback, she did not let it define her or her dreams. Instead, she embraced her disability and turned it into an opportunity to pursue a new sport and achieve success in it.
Today, Manasi is not just an international-level para-badminton player, but also an inspiration to millions around the world. She uses her platform to raise awareness about para-sports and disability rights and to encourage others to pursue their dreams, no matter what obstacles they may face.
Let's all salute Manasi Johsy's unwavering spirit, indomitable determination, and positive attitude, which have the power to inspire people across the world.
Conclusion
The inspirational story of Manasi Joshi Para-Badminton Player is one of resilience, perseverance, and determination. Despite facing a life-altering accident, Manasi refused to let her disability define her and instead used it as an opportunity to pursue her passion for badminton. Her achievements at both the national and international levels are a testament to her hard work and positive attitude. Manasi's story serves as an inspiration to anyone who may be facing adversity, reminding us that with the right mindset and determination, anything is possible. Manasi's story is a reminder that the human spirit is resilient and that it is never too late to pursue your dreams.
Recommended for further reading
Thank you for your visit.
Don't forget to share it.
Leave your thoughts in the comment box below.
Chat
Connect With Mansi Joshi: Facebook LinkedIn Twitter: joshimanasi11 Insta: joshi.manasi
References: Better India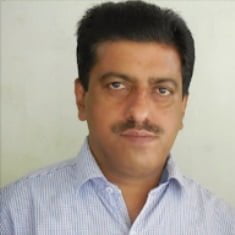 Mathukutty P. V. is the founder of Simply Life Tips. He is a Blogger, Content Writer, Influencer, and YouTuber. He is passionate about learning new skills. He is the Director of PokketCFO.
He lives with the notion of "SIMPLE LIVING, CREATIVE THINKING". He Believes – "Sharing is caring." and "Learning never ends."