(Last Updated On: September 15, 2023)
Are you familiar with the remarkable journey of Manasi Joshi, the Para-Badminton player who clinched a Silver medal at the Para-Badminton World Championship in England? The name Manasi Joshi has been resonating throughout the Para-Badminton world for a significant period. This 32-year-old Indian athlete has defied formidable odds, surmounting countless obstacles to attain remarkable success in her sport. However, her path to becoming a world champion was far from smooth. It's a narrative steeped in resilience, bravery, and unwavering determination—a story that resonates as a beacon of inspiration worldwide. In this article, we will delve deeply into the life of Manasi Joshi, exploring her challenges and triumphs, and discovering what sets her apart as a true champion, both on and off the badminton court.
Manasi Joshi Para-Badminton Player
Manasi Joshi is a renowned figure in the realm of para-badminton, a name that resonates without the need for a preamble. Her life serves as a living testament to the indomitable spirit that can conquer any impediment through unwavering determination and relentless effort. Her inspiring odyssey, tracing her evolution from a young enthusiast of badminton to an accomplished international para-badminton athlete, epitomizes a narrative characterized by resilience, valour, and unyielding resolve.
Early Life And Passion For Badminton
Manasi Joshi, born on June 11, 1989, in Ahmedabad, Gujarat, India, grew up in a household deeply passionate about sports. Her father, a mechanical engineer and a state-level cricketer, and her mother, a dedicated badminton enthusiast, laid the foundation for her sporting journey. At the tender age of six, Manasi's mother introduced her to badminton, and she eagerly embraced the sport. With a racquet in hand, she began playing alongside her father, marking the commencement of her enduring relationship with badminton.
Badminton soon became an integral part of Manasi's life, initially pursued as a hobby, with occasional participation in district-level matches. Her father, a scientist at the Bhabha Atomic Research Centre, remained a steadfast source of inspiration throughout her journey.
From an early age, Manasi displayed immense promise as a badminton player. She actively competed in various state and national-level tournaments, amassing a collection of prestigious awards. Her unwavering commitment and diligence on the court led to a scholarship opportunity, enabling her to pursue engineering studies at Savitribai Phule Pune University.
While residing in Mumbai, Manasi nurtured her passion for science and engineering. Following the completion of her Bachelor's degree in Electronic Engineering, she found herself drawn to the world of software development. Eventually, she secured a position as a senior software engineer at Atos India.
This marks the beginning of a turning point in Manasi's extraordinary journey.
The Turning Point
In the year 2011, a devastating tragedy befell Manasi. While en route to her workplace, she was involved in a harrowing road accident. The collision inflicted severe injuries upon her left leg, and despite undergoing numerous surgeries, medical professionals ultimately had to amputate it below the knee. This life-altering incident sent shockwaves through Manasi's world, leaving her momentarily devoid of hope and casting a shadow over her cherished dream of playing badminton.
Yet, in the face of adversity, Manasi's unyielding spirit and the unwavering support of her family emerged as guiding beacons. Gradually, she came to a profound realization that the loss of her leg need not signify the end of her aspirations. With remarkable resilience, she embarked on a journey of exploration into the realm of para-sports. Through diligent research, she uncovered para-badminton, a sport tailored to individuals with disabilities, offering her a new avenue to pursue her passion.
The Story Of Triumph Over Adversity
Manasi Joshi recounted the fateful day when she was commuting to work on a two-wheeler, only to be met with a life-altering collision with a truck. The accident left her leg crushed, and she was quick to clarify that it was not the fault of the truck driver, as a vision-obstructing pillar played a role in the unfortunate incident. Following the accident, Manasi was swiftly transported to the hospital, though, surprisingly, despite the early morning timing of the accident, the medical team postponed her surgery until late in the afternoon. The doctors initially attempted to salvage her leg, but regrettably, it became infected, necessitating its eventual amputation. This decision left Manasi in a state of surprise, as she had already sensed that amputation might be the only recourse.
The turning point in her recovery was marked by her unwavering acceptance of her altered circumstances. She recognized that she had two choices: to succumb to self-pity or confront the challenge with unwavering determination. Manasi steadfastly chose the latter, embracing her ordeal with a resolute and positive attitude. Even as visitors came to offer their support and emotions ran high, Manasi lightened the atmosphere with her humor, sharing jokes that brought laughter into the room.
Post-amputation, Manasi embarked on a rigorous journey of physiotherapy, aimed at relearning the art of walking. Though she faced formidable challenges in regaining her mobility, her deepest fear was not losing the ability to walk but rather losing her cherished connection with badminton—a sport she had adored since childhood. To her astonishment, she discovered that, despite her amputation, badminton remained accessible to her. In fact, playing badminton emerged as a means to rekindle her confidence and redirect her focus towards her abilities rather than her disability. It became a profound source of strength and inspiration in her remarkable journey of resilience.
Encouraged by friend
Encouraged by a fellow amputee friend, Manasi Joshi ventured into corporate badminton tournaments, and her journey in this arena was marked by resounding triumphs. She emerged as the victor in several of these competitions, fueling her determination to take her badminton skills to the national stage. At the national level, her prowess continued to shine brightly, resulting in the acquisition of numerous medals. The pinnacle of her achievements came in 2019 when Joshi secured a silver medal at the prestigious Para-Badminton World Championship held in England, firmly establishing her as a world-class Para-Badminton player of extraordinary caliber.
Manasi Joshi's narrative stands as an unwavering testament to the potency of determination and diligent effort. Despite the formidable challenges that followed her accident, she steadfastly pursued her passion for badminton. Remarkably, she committed to rigorous training sessions that spanned five hours each day, all while balancing her demanding role as a software engineer. Yet, her ambitions extended beyond the realm of sports; she also pursued diverse interests, including completing her scuba diving training and embarking on exploratory journeys across India. When asked about her remarkable accomplishments and the ability to manage it all, Joshi offers a simple yet profound response: "What's stopping you?" This encapsulates the ethos of her extraordinary journey—a resolute determination to transcend limitations and embrace life's boundless possibilities.
Rising From The Ashes – Manasi Joshi Para-Badminton Player
After her life-altering accident, Manasi Joshi made her triumphant return to competitive badminton in August 2012, entering a company-level badminton championship organized by Atos. Remarkably, despite the physical adversity she faced, she fearlessly entered the women's singles event and emerged victorious, securing the coveted first position.
Manasi's journey to reclaim her badminton prowess was marked by unyielding determination. She persevered through the rigours of rehabilitation and the challenging task of relearning how to walk with a prosthetic leg. This uphill battle saw her relying on crutches for support for an extended eight-month period after receiving her prosthetic leg. It took several more months of unwavering commitment before she could confidently compete at higher-level tournaments.
In June 2014, Manasi embarked on a fitness regimen aimed at regaining her physical strength. She set daily targets, with a focused emphasis on weight training and walking. Her tireless efforts bore fruit when she earned the opportunity to represent Maharashtra at the selection trials for the 2014 Asian Games in August 2014, even though she didn't ultimately make the cut. Nevertheless, this experience marked a significant turning point in her journey.
December 2014 witnessed Manasi's debut in national-level competition, where she clinched a silver medal. This tournament held profound significance for her as it provided an opportunity to compete against the esteemed Arjuna awardee, Parul Parmar. Additionally, she secured her spot in the fifth Spanish Para-Badminton International Championship, scheduled for March 2015.
Manasi's dedication to her sport shone through in the rigorous training hours she committed to. In preparation for her first international-level appearance at the Spanish Para-Badminton International Championship, she devoted two hours to practice every weekday, intensifying her training to a demanding four hours daily on weekends. This unwavering dedication underscored her remarkable journey of resilience and resurgence.
Manasi Joshi Para-Badminton Player – Achievements
Manasi's unwavering passion and relentless dedication bore fruit when she clinched the bronze medal in the women's singles SL3 category at the championships. This victory marked only the beginning of her remarkable ascent, as she continued to ascend the ranks, ultimately becoming one of the premier para-badminton players on the global stage.
In 2018, she added another accolade to her impressive list of achievements by securing a bronze medal at the Asian Para Games held in Jakarta, Indonesia. A year later, Manasi achieved the pinnacle of her career, winning the coveted gold medal at the Para-Badminton World Championships hosted in Basel, Switzerland.
Throughout her extensive recovery period, Manasi remained steadfast in maintaining a positive mindset and unwavering confidence.
Reflecting on her journey, one of Manasi's most memorable badminton moments was a mixed doubles match in which she and her partner, Rakesh Pandey, squared off against former world champions. This intense encounter served as a catalyst for them to recognize their true potential and fueled their determination to persistently push their boundaries and achieve greatness.
Manasi Joshi Para-Badminton Player Inspiration To Others
Manasi's journey stands as a resounding testament to the extraordinary power of resilience and determination. Even in the face of a life-altering setback, she refused to allow it to dictate the course of her dreams. Instead, she embraced her disability, transforming it into an opportunity to venture into a new sport and achieve remarkable success.
Today, Manasi is more than just an international-level para-badminton player; she is a true source of inspiration for millions across the globe. She leverages her platform to advocate for para-sports and disability rights, passionately encouraging others to relentlessly pursue their dreams, regardless of the obstacles that may stand in their path.
Let us all salute Manasi Joshi for her unwavering spirit, indomitable determination, and unwaveringly positive attitude, which possess the profound capacity to inspire individuals far and wide.
Manasi Joshi's commendable career imparts several invaluable lessons:
Unyielding Resilience: Manasi's ability to triumph over a life-altering accident and subsequent amputation showcases the profound strength of resilience.
Championing Inclusivity and Advocacy: Manasi's relentless efforts to raise awareness about accessibility and inclusivity for individuals with disabilities underscore the crucial role of advocacy for positive change. Her activism serves as a resounding call to action to create a more inclusive world for everyone.
A Beacon of Inspiration: Manasi's personal journey serves as a profound source of inspiration for individuals facing adversities. Her story reminds us that with the right mindset and unwavering determination, we can overcome obstacles and achieve greatness.
The Empowering Force of Sports: Manasi's journey highlights the transformative power of sports, showcasing how engagement in physical activities can foster personal growth, improve mental well-being, and nurture a stronger sense of self.
Living Life to the Fullest: Manasi's zest for life and her refusal to let her disability limit her experiences underscore the significance of embracing life to its fullest.
In essence, Manasi Joshi's life imparts profound insights into embracing challenges, pursuing passions, and advocating for inclusivity. Her journey exemplifies the incredible potential that resides within each individual to surmount adversity and make a lasting impact on the world.
Conclusion

In conclusion, the remarkable journey of Manasi Joshi, the Para-Badminton Player, is an embodiment of resilience, unwavering perseverance, and indomitable determination. Confronted with a life-altering accident, Manasi refused to be defined by her disability; instead, she seized it as an opportunity to chase her passion for badminton. Her accomplishments, both on the national and international stages, stand as a testament to her tireless effort and unyielding positivity.
Manasi's story transcends the realm of sports; it is a profound inspiration for anyone grappling with adversity. It serves as a potent reminder that, armed with the right mindset and unwavering determination, there are no limits to what one can achieve. Manasi's narrative is a testament to the enduring resilience of the human spirit, reaffirming that it is never too late to pursue one's dreams, regardless of the challenges life may present. Her story echoes the sentiment that the human spirit is, indeed, unstoppable.
Recommended for further reading
Thank you for your visit.
I appreciate your visit. I trust you found the post enjoyable.
Remember, Sharing Is Caring! Feel free to share this post on your social media and other networks to help others discover it.
Please share your thoughts and insights in the comment box below.
Connect With Mansi Joshi: Facebook LinkedIn Twitter: joshimanasi11 Insta: joshi.manasi
References: Better India Read more about her awards and tournaments on Wikipedia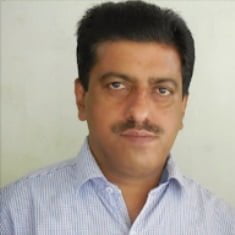 Mathukutty P. V. is the founder of Simply Life Tips. He is a Blogger, Content Writer, Influencer, and YouTuber. He is passionate about learning new skills. He is the Director of PokketCFO.
He lives with the notion of "SIMPLE LIVING, CREATIVE THINKING". He Believes – "Sharing is caring." and "Learning never ends."