(Last Updated On: November 20, 2022)
Have you heard the inspirational story of Alapati Tejasvi disabled girl with three developmental conditions, Microcephaly, Cerebral Palsy and Autism, has entered the India Book of Records in March for floating on water for 33 minutes and 42 seconds? As we all know, many of us often deem disability as a handicap in our society. But Alapati Tejasvi (8) in Nanganallur is fighting stereotypes and earning accolades. Although Alapati Tejasvi is barely aware of her abilities and achievements, she is an inspiration for other children and a motivation to parents who are sad about their disabled children.
Tejasvi Disabled Girl
Since her birth, Tejasvi disabled girl showed symptoms of Microcephaly (a condition that causes abnormal brain development), Cerebral Palsy (a collective disorder that impacts locomotion, muscle tone and posture) and Autism (neurodevelopmental disorder affecting communication and behaviour).
Tejasvi was a premature baby. She had her first seizure attack when she was just 10 months old. Since then, her parents had been pursuing different treatments, both in the city and also in Kerala.
Speaking to DT Next, her mother Alapati Naga Sowjanya said, "Teju's condition completely restricts her movement and speech. She cannot sit by herself, communicate, understand, command or even recognise her own parents. But once she's in the pool, she is at ease and her movements seem effortless, which is a miracle for us and even the coach."
Her mother Sowjanya claims through years of Ayurveda and acupuncture treatments led to many behavioural changes, Tejasvi achieved a milestone when she started aqua therapy in November 2021. According to her mother, she has difficulty in understanding commands, but she explored the water by herself and started floating.
S Natara, her Aqua Therapist said that due to body deformity, breathing is a real challenge for children like her. "But Tejasvi is a natural. She could effortlessly hold her breathing for 20 seconds. This motivated me to see if she can manage to float. To everyone's surprise, she managed back floating by concentrating and bringing her breathing under control. It's remarkable considering how much people struggle to do this," said Nataraj.
As Tejasvi can now sit by herself and even stand with some help, Nataraj says he'd be training her to walk in the near future.
Source and Featured Image: DTNEXT
Tejasvi Disabled Girl – Health Problems
What Is Microcephaly?
Microcephaly is a condition where a baby's head is much smaller than expected. During pregnancy, a baby's head grows because the baby's brain grows. Microcephaly can occur because a baby's brain has not developed properly during pregnancy or has stopped growing after birth, which results in a smaller head size. Microcephaly can be an isolated condition, meaning that it can occur with no other major birth defects, or it can occur in combination with other major birth defects. – Source: CDC
What is Cerebral Palsy?
Cerebral palsy (CP) is a group of disorders that affect a person's ability to move and maintain balance and posture. CP is the most common motor disability in childhood. Cerebral means having to do with the brain. Palsy means weakness or problems with using the muscles. CP is caused by abnormal brain development or damage to the developing brain that affects a person's ability to control his or her muscles. Source: CDC
What Is Autism?
Autism, also called autism spectrum disorder (ASD), is a complicated condition that includes problems with communication and behavior. It can involve a wide range of symptoms and skills. ASD can be a minor problem or a disability that needs full-time care in a special facility. People with autism have trouble with communication. They have trouble understanding what other people think and feel. This makes it hard for them to express themselves, either with words or through gestures, facial expressions, and touch. Source: WebMD
A note about this post
I found this news cutting on my friend's WhatsApp status and I thought it would be good to share this inspirational story with the visitors to my site. There are other such stories published on this site. Many times, a thought comes into our mind: what is the reason for parents getting disabled children? Many people believe the reason is a curse or punishment from God. Whatever the reason may be, only the parents of such children know the struggle to take care of them. While these children are tiny, it is not much difficult, but once they grown up, it is really difficult to handle them depending on their status. Only these parents know the stress and sadness in their minds. It is really sad that even today, some people make fun of disabled children and also look at their parents with a fresh eye.
A precious comment from the mother of Tejasvi
Dear Mathukutty sir,
This is Sowjanya (mother of Alapati Tejasvi). First of all, my heartfelt thanks to you for posting our daughter's achievement and apologize for my late comment as I came across this article today only. The way you articulated regarding the children with disabilities, how they and their parents are treated in the society is very appreciable.
As parents of Tejasvi, we accepted her as a precious gift from the God. We are very proud to be special parents and we are very thankful to God for trusting us to take care of his beautiful creation. Tejasvi's arrival into our life made us complete and took us into a different world of happiness. She made us to realize our strengths and in fact turned us as better human beings. We tried to understand the purpose of her arrival into our lives. We started spreading the acceptance and awareness regarding special need children in our family, friends, and society. We always believe that special children are beautiful creation in God's workshop. When God himself accepted them, who are we not to accept them. Every creature has its freedom to live on this earth. Then why should we put them in closed rooms? Let them enjoy every creation of this nature. And we always believe that miracles do happen but just need to wait till our turn comes. Until that time, need to do our duty sincerely by keeping faith on ourselves and on the God.
We are enjoying every moment of our life with Tejasvi. We try to give the best life to her until our last breath. We are very proud that our daughter stood as inspiration to many people and proved that limitations are only to the human body, but spirit is boundless.
Thank you so much once again to you sir, for all that you do to spread the awareness regarding special need people and to share their inspirational stories to many other people in the society.
Related Posts
Anju Rani Joy is a paraplegic woman, multi-talented and world record winner for the longest time lifting two glass jars (1kg each) upside down with two fingers of each hand. Read more about Anju Rani Joy
Remya Ganesh is always in a wheelchair, but today she is a wheelchair model, dancer, and also motivational speaker. Remya Ganesh proves that if you have self-confidence, a positive attitude, courage, and support from others, no power in the world can stop you from achieving success. Read more about Remya Ganesh
Conclusion
Although Tejasvi disabled girl can't communicate or is barely aware of her abilities and achievements, there may be inner happiness in her mind. We must congratulate the parents of Alapati Tejasvi for helping their child to achieve success. We must also congratulate the therapists who identified her skill and helped her to make it successful. It is not a simple job to train such a child to float in the water. But they trained Tejasvi disabled girl, who can't understand the commands or can't walk and made her float in the water for over 33 minutes. That's really a challenge and dedication to their work. We need more and more sincere health workers to uplift such children. We need such parents to accept challenges to help and motivate their children and not reject or put them in closed rooms to hide their disabilities. Remember, children are gifts from God and he has his own plans. It is the duty of the parents to take care of their children.
Recommended For Further Reading
Thank you for the visit. Hope you enjoyed your reading.
Kindly share this article on your network and help others to read it.
Leave your thoughts and suggestions in the comment box below.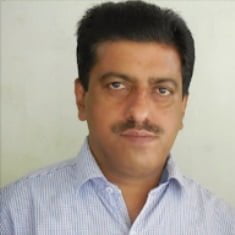 Mathukutty P. V. is the founder of Simply Life Tips. He is a Blogger, Content Writer, Influencer, and YouTuber. He is passionate about learning new skills. He is the Director of PokketCFO.
He lives with the notion of "SIMPLE LIVING, CREATIVE THINKING". He Believes – "Sharing is caring." and "Learning never ends."