(Last Updated On: July 1, 2021)
If you look at successful people what they do, you can find they all have a morning routine like meditation, exercises, morning walk and so on. If you learn and follow good morning routines, you have a good chance of becoming successful like them. Simple morning routines will help to get maximum energy into the mind and body needed for hard work on the day time.
What Are The Simple Morning Routines That Will Transform Your Life?
5 Simple Morning Routines
Stick with a routine
Get rid of your phone
Get more sleep
Schedule everything
Win the morning
10 Simple Morning Routines
1. Make a To-Do List
In the morning when you get up you should have a goal for the day, a list of work you will do.
If you don't have that list, then you will go through the day aimless.
Before going to bed make a To-Do list for the next day.
Click To Tweet
It doesn't mean you will do only from the list. But keeping a list is always good for the easy flow of the day and also helps not to miss things you might accomplish.
2. Wake up early
It is important to get enough sleep at night.
Many people are lazy to wake up early in the morning.
Waking up early in the morning will boost your personal productivity.
Click To Tweet
Waking up early gives you the extra time of your day to get more done. Make it an essential routine.
3. Energize yourself
After wake up early in the morning, energize yourself.
Click To Tweet
This could be anything from going for a run, a morning walk or any kind of exercise to get your heart rate up.
A shower will refresh your body and mind.
Starting the day with prayer and meditation will help to Stop Dwelling On Negative Thoughts. This will also help to Make Your Mind Calm And Peaceful to face any challenges.
Read How to Feel Energetic Every Day
4. Schedule your day
Make the schedule for each work on the To-Do list. You can make it by adding the required time for each work.
5. Affirmations and  visualisation
It is important on affirmations not to be negative. Fill your brain with positivity. Positive attitude and optimism are important for success.
Start your day with a dream, something that helps you move forward to success and manifest in this world.
Read The Secrets To Sound More Confident
6. Gratefulness
Gratefulness is the foundation stone of a great day.
Click To Tweet
If you start your day in the morning with a grateful mind, you will have a wonderful day.
You should try to put your brain always in the gratefulness position.
Try to fill your brain with positivity and overtime success will follow you.
7. Bond with someone early
8. Clean up from the night before
Some people work late night to complete their tasks and sleep tired leaving the room and table uncleaned. Keep your table clean in the morning. That will give a good impression of your discipline to visitors.
9. Silence
Sit in silence for a few minutes.
Silence in the morning helps a lot to clear your thinking, dream and understand the work get done through the day.
10. Read about what happened last
Many things might have happened when you were sleeping.
It is good to know and review those things.
Ignore the negative and accept the positive happenings.
Simple Morning Routines – Habits of Successful People
Found this online video course, Habit Harvester, created by Practical Psychology to help you identify, remove, and create habits in all aspects of your life.
In this video, you can learn 10-morning routine habits that many successful people have. You can try to implement them in your life for better results.
How do you start your day? Do you have any simple morning routines?
Thanks for sharing the post on your network. "Sharing is Caring!"
Let me know your morning routines in the comment box below.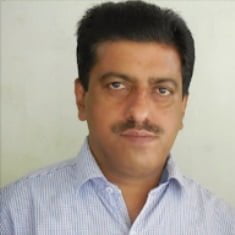 Mathukutty P. V. is the founder of Simply Life Tips,  a passionate Blogger, Content writer, Influencer, YouTuber. Lives with a notion "SIMPLE LIVING, CREATIVE THINKING". Believe – "Sharing is caring."  "Learning never ends."