(Last Updated On: December 18, 2022)
Do you teach kids kindness is important to make the world? One of the best activities you can teach your kids is acts of kindness. Make them understand no matter how big or small, any act of kindness can make a difference and help to make the world better.
Teach kids kindness
Every day when you wake up look in the mirror and say, "Today, I am going to make the world better than I did yesterday."
Click To Tweet
Why teach kids kindness?
Kindness takes a ton of bravery. There was a little girl. Every single day she would come to school wearing a necklace. This was an important necklace given to her by her great-grandma. One day she walked into a tiny lunchroom and she gets her lunch tray. She takes off her necklace sets it down next to her lunch and begins to eat her lunch. Then the bell rang this time to clean up. So she cleans up her mess leftovers in the trash and turns around to walk outside to go up to recess. But right before she gets outside the door she stops and she feels her neck. What she had just done? She accidentally threw the necklace away. She looks over at the trashcan and instantly she starts to cry because she cared about this necklace so much. She walks over to that trash can crying taking up pieces of trash to find the necklace that her great-grandma gave her.
Her classmate boy saw this from across the way that she was digging through the trash. So he walks over to help her. When he was a few feet from her he stopped thinking that if he help her all his friends might laugh and tease him for digging through the trashcan. They may make fun of him for doing something nice and kind to a girl. He had a choice he could either do the right thing if he may get made fun of or he could play it safe and walk away.
If he ended up walking away was that really brave and kind? No. If you want to be a world-changer you have to be braver. You have to learn kindness.
Kindness story – Ticket without a seat
Look at the way they exchange kindness and how they spread it out. Watch the video until the end and you will be surprised and totally moved. It is human nature to make others happy.
There is nothing called small or big in Kindness. It is a heartfelt expression of our love, affection and compassion. It could be as simple as sharing a sandwich with an unfortunate or as complicated as saving a life in an accident. Let us continue to make the world beautiful.
Be Cautious About These Child Behaviours Dangerous To Ignore
Conclusion
There is too much negativity in this world right now. Kids need motivation and inspiration in life. Teach kids that it is our responsibility to make the world better. Being kind to others can do wonders for their own health and well-being too. As a parent, you are the first and best teacher for your kids. Children listen, watch and follow the words and actions of their parents and elders in the family. So, be careful in your words and actions. Be kind to others and help others. If each of us does a simple act of kindness every day, we can make the world wonderful. Teaching kids kindness is very important for making others happy.
If you find this post useful, please recommend and share it to help others find it! "Sharing is Caring!"
Feel free to leave your thoughts below.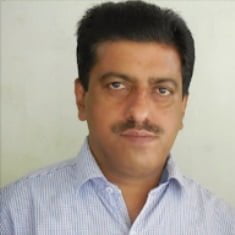 Mathukutty P. V. is the founder of Simply Life Tips. He is a Blogger, Content Writer, Influencer, and YouTuber. He is passionate about learning new skills. He is the Director of PokketCFO.
He lives with the notion of "SIMPLE LIVING, CREATIVE THINKING". He Believes – "Sharing is caring." and "Learning never ends."