(Last Updated On: September 29, 2021)
Do you have the fear of public speaking? Many people are suffering from the problem of fear. Fear to face the audience, fear to face challenges, fear of public speaking and fear about failures. Some have the talent of a good speaker, but they can't speak because of the fear to face the audience. Let's find how Rinku Sawhney overcame the fear of public speaking and turned her life into success?
Public Speaking Fear
You are a loser.
You can never utter a single English word properly.
You are considered a liability. 
These are some of the words Rinku Sawhney heard in her childhood.
Who Is Rinku Sawhney?
Rinku Sawhney is a life coach and motivational speaker. She is changing the lives of hundreds of people through public speaking and motivational speeches. But the public speaking stage was not given to her from the beginning.
She was born in a Punjabi middle-class family in Kashmir. Since she was the firstborn, her parents were expecting a son. Her parents were disappointed to see a girl.
Rinku Sawhney's childhood and education
As you know the middle-class background family wants their children to get good schooling and learn good English. For this, they do their best and also encourage and even force the children to study well.
This happened with Rinku Sawhney also. She became a subject of ridicule during a class recitation and hence developed stage fear or stage fright.
In her childhood, it was told that she could not speak English and hence would never get success in public speaking.
After completion of her engineering, she took up a job. But her fears never left but followed her. Apart from the fear she also developed anxiety.
Read How To Cope With Anxiety And Depression?
But then one fine day, she decided not to allow fears to overpower her and to overcome the fears of all norms.
I used to wonder, why is a girl not celebrated? Why is she not welcome when she is born? Why she is considered a liability?
Technology is improving day by day. Still, the mindset of some people is not changing. They celebrate the birth of a son, but they are sad when a girl child is born. They don't realise the fact a woman is required to give birth to a child. A girl child is required to become a woman. These people need a growth mindset.
Rinku Sawhney motivational speaker
Being a motivational speaker herself, she tells us how we can overcome our fears?
In a very brief manner, she explains that we can achieve success through self-improvement and boosting self-confidence.
Are you are worried about how to speak English? In her talk, she explains how one can learn and start speaking English.
Her motivational talk will also help us understand the value of personal development. She also tells how we can improve communication skills, and hence our overall personality.
How Rinku Sawhney overcame public speaking fear?
Watch the video and listen to her inspiring talk explaining about her own story of success. Her talk will surely motivate and encourage you to face challenges and overcome the public speaking fear.
Be ready to face these challenges
People around you might tell you that you can't be successful in life.
You might get knocked down in life.
You might face many difficulties and rejections in life.
There may be none to support you, not even from your family and friends.
Read Easy Self-Development Tips to Grow Yourself Every Day
More About Rinku Sawhney
Rinku firmly believes that we are all born to be successful. Each and every human is unique and special. The only thing that breaks and stops from success is our own beliefs and fear about what's possible and what's not?
Rinku has helped thousands of people from different walks of life to overcome fears and create massive transformations in their personal and professional lives.
Rinku Sawhney helps us understand how we allow our fears to stop us from achieving all that we want from our lives.
Are you ready to overcome the public speaking fear?
Many of us are chasing happiness in life, but not ready to overcome fear. To achieve success and happiness in life, you should be fearless of failures. That will help to improve your personal and professional life.
Believe that you are the leader of your life. That self-confidence will help you to overcome your fears and live a happy and successful life. You will become the best version of yourself. Never Stop Believing In Yourself Even For A Second.
Conclusion
Rinku Sawhney's journey proves that you can overcome your public speaking fear. No matter what the world might tell you and discourage you. Don't worry about how many obstacles you might have in life. In a life journey, you have to face many challenges. If you have a positive attitude and optimism, you can overcome obstacles and move forward to success.
Related posts for your reading
Kindly share the post on your social media and network. Help others to read.
Do you have a fear problem? How do you overcome fear?
What are the points you picked from the talk of Rinku Sawhney?
Let me know your thoughts in the comment box below.
Featured image photo credits: Rinku Sawhney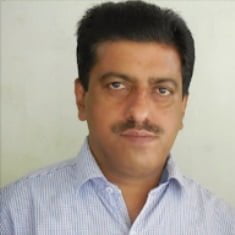 Mathukutty P. V. is the founder of Simply Life Tips. He is a Blogger, Content Writer, Influencer, and YouTuber. He is passionate about learning new skills. He is the Director of PokketCFO.
He lives with the notion of "SIMPLE LIVING, CREATIVE THINKING". He Believes – "Sharing is caring." and "Learning never ends."