(Last Updated On: September 27, 2021)
Have you ever heard the sweet voice of 20-year old Maithili Thakur, the famous Indian singer trained in Indian Classical music? Do you know this little angel, daughter of Bihar, started learning music from the tender age of three years? Today, she and her two younger brothers are the sensations of the people of all ages and rocking on stages in India and abroad. Continue reading to know more about this inspirational girl and also watch her amazing singing videos.
Who Is Maithili Thakur?
20-year-old Maithili Thakur is an Indian singer trained in Indian Classical music. She is the loving daughter of Pt. Ramesh Thakur and Bharti Thakur of Bihar. We must congratulate her proud and lucky parents who have a daughter like her. They identified the talent of their daughter and gave full support for her success. They never found the girl child as a burden. Let's clap hands for them. Her parents are a good example for others who think the girl child is a burden.
Watch this interview, to know about Maithili Thakur in her own sweet voice.
About Maithili Thakur
Maithili Thakur was born on 25 July 2000 in a small town named Benipatti, located in Madhubani district of Bihar, India.
Parents – Pt. Ramesh Thakur and Bharti Thakur.
Her father Pt. Ramesh Thakur is a musician and music teacher working in Delhi.
Her name Maithili is named after goddess Sita and also after her mother tongue.
She has two younger brothers, named Rishav and Ayachi, who also follow her musical journey, by playing the Tabla and accompanying her on vocals respectively.
She started learning music from the tender age of three years.
Realising his daughter's potential and for better opportunities, her father relocated themselves to Dwarka near New Delhi.
Maithili and her brothers studied at Bal Bhavan International School.
Even during their studies, the three siblings were trained by their father in Hindustani classical music, Harmonium and Tabla (In case of Rishav).
Maithili's music journey started in 2011, when she appeared in a reality show titled Little Champs, telecast in Zee TV.
Though she had appeared in many local programmes before, it was through this reality show that she gained recognition.
Four years later, she contested in another reality show, titled Indian Idol Junior, telecast in Sony TV.
She became a national sensation through the reality show Rising Star, in which she ended up as runner-up.
From the early stages of the show itself, Maithili was the most popular contestant, who sang even heavily challenging songs with ease.
She is seen along with her two younger brothers Rishav and Ayachi. Rishav is on the tabla and Ayachi is a singer.
In 2019 Maithili and her two brothers were made the brand ambassadors of Madhubani by the Election Commission.
She won an Indian music show "I Genius Young Singing Star" in 2015.
She has also launched an album, Ya Rabba (Universal Music).
She sings Maithili and Bhojpuri songs including Chhath songs and Kajaris. She also sings a variety of Bollywood covers and traditional folk music from other states.
Her Facebook channel has over 2 million followers and on Instagram, she has over 1 million followers. Source: Wikipedia
Musical Journey
Started learning music at 3 from Grand Father (Shree Shobha Sindhu Thakur) in Bihar
Shifted to Delhi and started learning Classical Music at the age of 6 from Father (Shree Ramesh Thakur)
Participated in a Singing Reality Show
(Little Champs, Zee TV) in 2011 and reached Top 30
Indian Idol Junior (Sony TV) in 2015 and reached Top 20
Won: I Genius Young Singing Star in 2015
Launched an Album (Ya Rabba) from Universal Music in 2016
Awards
Genius Young Singing Stars Season 2 Winner.
Indian Idol JUNIOR 2 top 20.
Rising Stars 1st Runnerup.
5 times winner in the classical music category in Delhi State Level Competition.
Maithili Thakur – Smule Mirchi Music Awards 2020
Maithili Thakur has real courage that she is performing such difficult songs with so much grace before the huge audience. This talent is a God-given gift to her. She took the song in a very flawless way.
Conclusion
Maithili can actually play the harmonium with both left and right hands on the keyboard while singing. It is indeed amazing that apart from great singing abilities she can handle the harmonium same time. She is really an amazing beautiful artist. Her pleasant face and humble smile prove her simplicity and dedication to singing. Wish her all the success in life.
Related Inspiring Stories
Have you ever attended Maithili Thakur's live programme?
Let me know your thoughts and suggestions in the comment box below.
If you liked this article, kindly share it with your friends, relatives, and social media to help them to read.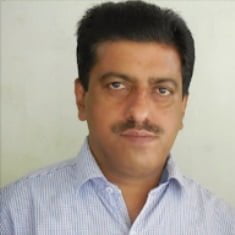 Mathukutty P. V. is the founder of Simply Life Tips. He is a Blogger, Content Writer, Influencer, and YouTuber. He is passionate about learning new skills. He is the Director of PokketCFO.
He lives with the notion of "SIMPLE LIVING, CREATIVE THINKING". He Believes – "Sharing is caring." and "Learning never ends."