(Last Updated On: July 1, 2021)
Life is a journey and you can always expect hard times in this journey. Everyone faces hard times in life. You should learn to handle the situations, need the motivation to overcome hard times. How do you manage hard times in life journey? Do you know how to stay motivated in hard times.
How To Stay Motivated In Hard Times?
Many times when facing failures or unexpected incidents in life, we lose our hope and come under depression. That time good motivation can help us to move forward fearless of failures. We should learn to stay motivated in hard times. Binoli Dodhiwala Jain, a young lady sharing her life journey says that her broken marriage became her biggest strength.
Look up at the stars and not down at your feet. Try to make sense of what you see, and wonder about what makes the universe exist. Be curious.

Stephen Hawking
Binoli Dodhiwala Jain is the founder of a financial advisory firm. She shares the journey that gave her a better understanding as to why it is important for women to be financially independent and most importantly take care of their own financial future.
When her marriage started breaking down and she was faced with a crisis to manage her professional as well as personal front Binoli Dodhiwala took a hold of her life in her own hands. Binoli Dodhiwala setting an inspiring example to take things in your own hands no matter what the situation is.
Do you know how Binoli found the strength and motivation to battle hard times? Watch this motivational video to know her story and maybe you will also find the motivation to fight through the hard times you are facing as well.
Binoli Dodhiwala Narrating About Her Hard Times
Life Journey Of Binoli Dodhiwala Jain
Her journey starts in Mumbai, the city where she was born and brought up. She was born in a joint family where her father was into a family business and her mother was a homemaker.
Like typical households in the country, she grew up seeing her father take all financial decisions. But it was her mother from whom she learned to save and invest. 
Immediately after she finished her tenth standard she started working. She started giving tuitions to cut her free time and this was the first step which she had towards saving. And that journey, that learning, stays with her till today.
Marriage
She finished her post-graduation and simultaneously got married. It was a love marriage. They both were working and doing very good for themselves. But they also had a home loan on their head and it was a very big amount for them.
At that point of time with both of them working they just finished their post-graduation, the salary was very meagre for them to service this loan for another 10 to 20 years. And that is when they thought that they really had to do something to get rid of this loan as soon as they can and live a better life ahead.
So she took that plunge and decided to quit her job and started to do something on herself. And by any chance, if this would not work for her she always had a job to get back to. And that is how she started with her venture. That's when her journey towards her own form began.
Marriage Breaking
When things were looking extremely good professionally there were issues on the personal front. Her marriage was breaking. Few days after she was pregnant she realised that separation was a reality and finally she got separated.
Overcoming Depression
She was extremely anxious and unsure how she is going to take care of this little kid which comes up to her. She had no plan B in place. She was just lost. Parallelly in her new venture was in the very nascent stage.  So the separation, taking care of the baby, and the new venture was too much for her to handle.
She was extremely depressed and didn't know what to do for a few months. Life was going till now according to plan A. She had no plan B in place at all. But this was a turning point in her life. She realised that she had to be strong and work with a plan B in mind for herself and for her daughter.
So her new venture was now a very big responsibility for her. Because that was very important for her to do good in business so that she could take care of her daughter financially. But she was extremely drained out running to the courts, lawyers and also taking care of her venture that she could actually give no time to her daughter.
Experiences Make Us Learn
However, this made her extremely strong as a person as she knew that the only thing that she had in front of her was to just look forward. She had some savings from her earlier days and that was a big saviour in these troubled times. Our experiences make us learn.
Our experiences make us learn

Binoli Dodhiwala Jain
Binoli Dodhiwala Jain realises that at this point of time, time management was extremely important for her. So she had to prioritise her work and shut the noise around. So she had to come out of her comfort zone and do things which she had never done before, like learning how to drive, do all things herself, be as independent as she can, use her time most proactively and in the best way possible.
Read Why Time Is Precious And Priceless | How To Become The Master Of Life?
Her mother kept telling her to get into a proper job so that she can have a stable life, she gets the perks along with it and she works with big brands. Because all this time she was peon and the owner of her firm altogether.
But this is something which was not in her vision. So when they started their new firm they added a lot of products into the basket because now they had scaled to work with. All this time her clients were used to her being there in front of them for every need because she was the only one working.
But now she does not have the time to cater to all of them at the same time. So they started sending representatives to clients. On one incident where one client insisted that only she go to meet him because of this a small error which one of her representatives did.
Prioritise Mental Peace Over Money
At that point of time, she learned that she had to prioritize and focus only on certain segments of clients. She had to say no to certain clients who did not fit into her criteria and that was the first time she learned to say no and prioritise her mental peace over money.
So the formation of her new venture was definitely a highlight in her life. It was her achievement and it's something she extremely proud of.
Slowly business started coming in and she started onboarding new and new clients. A lot of these clients were women. Being a woman and being a single parent she could completely relate to this queries and the doubts because all they wanted to do is build a life for themselves, build a secure future for their children or just be financially independent and take charge of the old finances.
Read Tough Times Can Make You Stronger
Right Advice Secure Future
Something she has learned personally in this complete journey of her is that "right advice can help you not only secure your future but also give you a good life for yourself."
She is telling you this not as a financial adviser but this is something she truly believes in. She explains this with a small incident. 
Lesson Learned From The Maid
One day a housemaid of her came to her with 20,000 rupees and said: "Madam keep this money secure with you because my husband comes daily drunk and take away my whole money".
When this maid came to Binoli crying she saw herself in that maid. It was at one point of time Binoli was also into a bad situation and there were a lot of people over there who advised her. Some advice was something would still stay with her till today. so that is when she thought that she needs to be advised because the advice is necessary for everyone.
So she explained to her that this money need not be parked somewhere but it has to be invested because it will grow rather than just being in a cupboard. She understood this fact. But she came back to Binoli with another query: "If her drunkard husband comes to know that this money is invested somewhere, he will take it. After that, she will not get the money back in her hand and she wants the money after a few years."
Binoli was extremely delighted to know that this woman is thinking of financial security. It's something that even we don't think of many times. It's been a few months that she withdrew this money today because her house is broken down due to the flooding in the Mumbai rains. Binoli is extremely happy to say that this is something which was a saviour.
Learn 7 Important Life Skills That You Never Learned In School
There should always be a plan B
We all have dreams and we have plans how we are going to achieve these dreams but many times the dreams and plans break simultaneously and that point of time it's extremely difficult to have a sudden plan B. Thus in life and also in your finances there should always be a plan B.
Read How To Change Life By Changing Your Thought Process?
Binoli has a 7-year daughter who saves a little bit of money from the allowances she gets from the family members.
We as parents needs to teach our kids to save from day one because personal finance is something which is just not taught in schools.

Binoli Dodhiwala Jain
Financial independence to her means taking complete responsibility for all life decisions. Because every woman some way or the other in her life has to manage your own money due to some pleasant or unpleasant circumstances. The key to achieving this is focusing on your goals having a discipline to your investments and making the investment as a habit.
If you go to chase returns you will never be financially independent. So keep focusing on your goals. 

Binoli Dodhiwala Jain
Source: YouTube
Conclusion
The life journey of Binoli Dodhiwala Jain is really an inspiration to many women. She gives the message to all the women about the importance to become financially independent for a successful life. Today the world has changed a lot, for silly matters marriages are breaking. At that time women should have an earning and saving to manage their life. Stay motivated, face challenges fearless of failures and achieve success in life. You need motivation and a strong mind to overcome hard times.
Related Posts
What do you do when hard times comes in your life? Are you able to overcome hard times?
Do you have an inspirational story like Binoli Dodhiwala Jain?
Let me know your thoughts and suggestions in the comment box below.
If you liked this article, kindly share it with your friends, relatives, and social media to help them to read.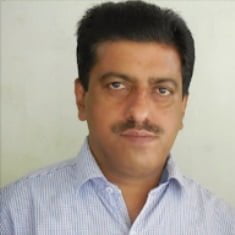 Mathukutty P. V. is the founder of Simply Life Tips. He is a Blogger, Content Writer, Influencer, and YouTuber. He is passionate about learning new skills. He is the Director of PokketCFO.
He lives with the notion of "SIMPLE LIVING, CREATIVE THINKING". He Believes – "Sharing is caring." and "Learning never ends."