(Last Updated On: September 27, 2021)
Have you heard the inspiring story of 16-year-old Nilofer Muneer, a teen girl from Kakkanad, Kochi, Kerala State, India? After securing a Student Pilot's Licence (SPL) Nilofer Muneer became the youngest qualified pilot from Kerala. Nilofer has proved that impossible is possible with determination and efforts. Let's find how she achieved this success and listen to her own inspiring words about her journey.
Inspiring story of a 16-Year-Old Girl Nilofer Muneer
Earlier days only men were selected as pilots and other challenging jobs because the thinking was females have not enough courage and strength to do challenging jobs. But today many female pilots are flying commercial flights all over the world.
Usually a student go for pilot training after 12th Class, but this 16-year-old brave girl, Nilofer Muneer decided to join the flying class after passing 10th Class. She has become an inspiration to many young girls to choose challenging career and make life successful.
Nilofer Muneer's message to children
According to a news came in The Times Of India, Women pilots' percentage in India is twice that of global average.
Do you know the job of a pilot?
Many of us have travelled by flight many times. But how many of us have seen the cockpit and how a pilot operate the Flight? Not only flight, many of us don't know how an Engine driver runs a train. We purchase tickets, sit on our seat, take rest and sleep, enjoy music using headset, read books, drink coffee and enjoy our journey.
But ever thought about the person operate the flight up in the sky looking on the weather conditions and as per directions from control room in every seconds to reach us the destination safely? We paid for the journey, so we don't even bother to thank him.
When we drive on the road, if we find something wrong with the vehicle or if someone comes in the front unexpectedly, we can put the brake in action and stop the vehicle. But it is not possible up in the sky. If the pilot feel something wrong, he has to use his brain and also has to follow the advice from the control room.
So, imagine how difficult is this job? The pilot has to think about him and the passengers on board. Of course, pilots are well trained to face challenges and control their mind on difficult situations. The training is not easy, but it is a challenge and a matter of self-control and dedication.
Who Is Nilofer Muneer?
Nilofer Muneer is the only daughter of Muneer Abdul Majeed and Uzaiba, Trinity World, Kakkanad, Ernakulam, Kerala State, India.
She studied upto 10th class in Indian High School, Dubai.
The Inspiring Journey Of Securing Pilot Licence
When she told her ambition to become a pilot, her parents did not take it seriously. Because her parents thought she was influenced by the famous Malayalam movie 'Uyare' in which the lead character Pallavi Raveendran becomes a pilot. (Uyare means High)
It did not take long for her parents to realise that she is saying her stable decision and not the words came out from just influence from the movie.
Niloufer's father Muneer Abdul Majeed a businessman in Dubai, enrolled his daughter for Orient Flight Aviation Academy in Mysuru.
They learnt that Nilofer, now 16, if clear the tests for SPL could enter the cockpit in six months.Also learnt that a candidate with 40 hours of flying experience could gain a Private Pilot Licence (PPL).
In the Mysuru academy, she underwent rigorous physical tests and a tough two-and-a-half-month course to clear the test for SPL. Her hard work during the last six months gave her good results. Niloufer cleared the exam to become the youngest SPL holder from Mysuru academy.
The next step for her is to secure a Private Pilot License (PPL). To get PPL, she has to attend simulation training which lasts five hours. This learning sessions includes controlling an aircraft in artificial conditions similar to a cockpit on the ground.
A student has to study and train for two-and-a-half years to secure PPL.
After securing PPL she would be able to fly small private aircraft meant for leisure and tourism purposes.
In order to become a full-fledged pilot flying big aircraft Commercial Pilot Licence (CPL) is required. CPL is given only to aspirants holding a Plus-Two certificate along with PPL. For this, Niloufer has joined for higher secondary programme through open education.
Her dreams have already taken off. CPL Let's wish her all the success to secure CPL which would allow her to fly the big commercial aircraft that take passengers around the world.
Interview with Nilofer Muneer – Youngest Qualified Pilot From Kerala
Watch News Kerala interview with Nilofer Muneer. The interview is in Malayalam, mother tongue of Kerala.
Translation of the interview with Nilofer Muneer
Q. Was it your childhood dream to become a pilot?
Ans. Yes, this was my childhood dream to become a pilot. We were frequent travellers and hence I wished to choose travelling as my career. From childhood I read many books related to Flights, Aeroplane and Aviation and that increased my interest. Like that I took a decision to become a pilot after the 10th class and started the same.
Q. How your parents reacted on your decision?
Ans. When I told my decision to become a pilot after 10th class, first they were shocked to hear. Because normally students go for pilot course after 12th class only. Nobody go for pilot course after 10th class. But parents didn't object, they supported and encouraged to move forward.
Q. What was the first step after getting permission from parents?
Ans. First step was to find a best and suitable flying school. I searched Indian and International schools. Then I chose India because they offered to secure student pilot licence at the age of 16. I chose Orient Flight Aviation Academy in Mysuru. There I had some steps of documentation, police clearance, medical tests etc. After clearing all, I joined on July 8th and started flying career.
Q. When hear about a girl pilot normally people may have a doubt about what kind of flight will be flying. What you have to say about this?
Ans. Now I am a student pilot. Student pilot start flying with small flights Joy Ride in Cessna 172 / 152 . After gaining hours in that, they allow to use multi engine flight.
Q. When watching your interview, many young children might be inspired to choose this career and wish to know more about this career. What do you like to tell them?
Ans. Usually girls don't choose this career, but now they are interested. I think after my success, many young girls are inspired and they are asking many questions. So I feel happy about this because I am an inspiration and giving motivation to them.
My message to them is, if students have interest, pilot is a very good career. Aviation is a very interesting subject to study. So, if they are interested, move forward.
Q. Usually people go for this course after 12th. But you done it after 10th. How do you feel on this success?
Ans. First time, I had some difficulty in merging with the college because I had joined after 10th only. After meeting with friends I could manage and reached the level of college life. Now I am very happy and enjoying the study because this subject is of my interest. After starting flying I am in very excitement.
Q. Now you are a small celebrity. How friends and relatives are approving and supporting you now?
Ans. Actually friends never knew about this. They came to know from the news only and after that they were shocked and reacted "is it Nilofer? There is no chance that a girl like her become like this." Teachers also had same impression.
I think now they are proud to say that 'My friend is a pilot, my relative is a pilot. I know that girl, she is a pilot." So, I feel proud and happy now.
Q. When was this dream started? Is it from childhood or after a certain age?
Ans. Actually I had no such dream from small age. From class 5th I got attraction with aviation. When enter in a flight my attention used to go inside the cockpit. Slowly that interest came and in 10th class that interest increased. So I informed parents about my ambition to become a pilot after 10th. So, it was a childhood dream.
Q. How was your career journey till now?
Ans. There was no objection from the family. After joining the flying school, my instructors were great support to secure this licence. This journey was very good. I took student pilot licence now. That was one and a half month studies. After that I took FRTO Licence. That was about 2 weeks duration. After that started flying.
Usually nobody, specially girls, from my muslim community choose this career. All have a myth in their mind that this career is meant only for men and only they can fly. In my batch only 3 girls were there, rest all were boys.
So, I think this gives a motivation to many of them and this is a proud moment for many and for the state.
Q. What are your future plans?
Ans. Now I have a Student Pilot Licence. Within 5 to 6 months I have to take Private Pilot Licence. After that I will take Commercial Pilot Licence. So, my future plan is to become the youngest CPL holder. After that I have to join a good Airlines.
Conclusion
This teenage girl Nilofer Muneer proved that if you have a strong mind and dedication to your goals, no obstacles can stop you from achieving success. She also proved that it is time for people to remove the year long myths from their mind. Allow and encourage all children irrespective of gender to improve their God given talents and skills to make life successful. In that way, they can build a better world filled with happiness and prosperity.
What is your favourite career?
Do you like to choose any challenging career?
Handpicked success stories you may like to read
If you liked this article, kindly share with your friends, relatives and on social media to help them to read this inspiring story.
Let me know your thoughts and suggestions in the comment box below.
References: Bignewslive Manoramaonline YouTube News Kerala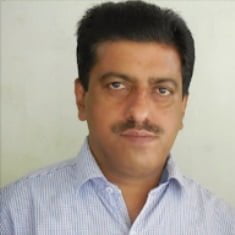 Mathukutty P. V. is the founder of Simply Life Tips. He is a Blogger, Content Writer, Influencer, and YouTuber. He is passionate about learning new skills. He is the Director of PokketCFO.
He lives with the notion of "SIMPLE LIVING, CREATIVE THINKING". He Believes – "Sharing is caring." and "Learning never ends."