(Last Updated On: September 27, 2021)
Have you heard the inspiring story of Mansi Mehta, a 15-year old student, poetess, and a column writer from Surat? If not, you can find some inspirational information about her.
Who Is Mansi Mehta?
Mansi Mehta is the Founder of an NGO known as ' Kishori Foundation". She is working for Girls' empowerment through Life skills, Education, Gender Equality and advance her dream of a literate country.
Mansi Mehta has published a collection of poems under the title "I AM ME" dedicated to Nobel Laureate Malala Yousafzai.
She is highly inspired by Malala Yousafzai, Sudha Murthy and Dr. Swaroop Raval for their noble tasks for society.
Mansi Mehta has been awarded the Garima Award by Gajera Trust for her work.
Mansi Mehta truly followed the quotes from Mother Teresa and Napoleon Hill. As a small girl, she may not be able to do great things, but she is doing small things in a great way with great love.
Great change comes in small steps – Mansi Mehta
She is one of the few to join the prestigious league of teenage TEDx speakers in India. Mansi takes inspiration from personalities like Sudha Murthy & Malala Yousafzai.
Mansi preaches the idea that people need to accept the social disparity between genders, for the society to collectively move forward.
She is the youngest speaker to express her activities on TEDxDumas.
Don't miss to listen to her real story. This story is really inspiring.
How Mansi Mehta Started Her Success Journey?
My journey begins with a very unlikely meeting. A few years back I read in my history book about Poornima Ben Pakvasa. She was a freedom fighter at the age of 18 who taught Kasturba Gandhi how to read and write when they were inmates in prison.
Well, family trip to Saputara I recalled that the institution was named Ritambhara Vishva Vidyapeeth.Being a sixth standard old kid has not even knowing what I'm going to talk to her about but I had the strong desire to meet her.
Related 16-Year-Old Girl Nilofer Muneer Becomes Youngest Qualified Pilot From Kerala
The story that inspired Mansi Mehta
So me and my parents went to visit the Art Institute which was located in the Saputara itself where she has been transforming the lives of thousands of girls since 1956.
But towards great sadness the watchmen wouldn't let us in. I had this strong desire just to meet her. It was not even you know properly knowing what what what I'm going to talk to her. But I had the strong desire and so I sat down on the road across the street and stared down at the watchman until he let me in.
And after 30 minutes of staring at him continuously he let me in and there she was. About 100 years old very lin hampton but her eyes defied the illusions of body created her aura was enchanting. By talking to her I found out that she is very generous in humble women personality.
It was 7th of September 2013, no it was 7th of October 2013 when she wrote a message in my diary that read Dear Mansi, get well-educated and educate your sisters.
Overwhelm with happiness it took it as a blessings and when I was about to move she said something very unexpected.
She said "I'm passing it to you this legacy of getting educated and to educate."
Although I understood what she meant I was too young to fully comprehend the meaning of it. And little did I know was that her words will take a form of Lakshmi and will come back in my life again.
The Story of Lakshmi
Lakshmi was there sitting near a garden gate watching everything curiously. She was a figure. She was just like me even we both used to have a same haircut. My van used to pass from that garden road every day and I used to see at all. Because there was something about her, something so different, something so similar.
So I wave. But she was indifferent to me. And after weeks and weeks and weeks and weeks weeks and weeks waving one day she waved back. And I went home smiling. And then began the friendship with no words were exchanged.
And after some time she disappeared and I was just reckless. After an entire month of passing through that street not getting a glance of her I decided to find out on source.
And so I requested watchman uncle to make let me have her whereabouts and he said he she is just insane she got no brain. It's better for you not to waste your time.
And I was just stunned. And he also added that she has been married off at an adolescent age to some person who abused her physically.
An adolescent girl of my age in an abusive marriage. I was simply not knowing what should I do. Her misery made me angry. And so I decided to give myself some time.
And while I was just fumbling out with all this stuff something struck me and that was how many of girls are suffering from this? Not in the city, in this our world, in our country. Not only abused but also for education, like it happened in the case of Malala yousufzai.
You tell me one thing. Does a girl need to be shot thrice in the head for making the world realise what is actually girls education?
We simply don't care to ask, we don't care.
This girl whom I named Lakshmi because it was not knowing her real name became my inspiration to write poems. And thereafter my collection of poems got published.
I was just completely in a disabled sorrow because I felt my poems were not enough. So what should I do? And I really wanted to answer this question.
While still figuring out the things, something happened. Something so ordinary that it would have happened to you even before you came here.
Related How Naina Jaiswal Became PhD Student At 16 And Table Tennis Star
How Mansi Mehta Started Kishori Foundation?
My maid auntie came with her eight-year-old daughter at my home. Her daughter set on the kitchen table watching everything curiously. So I talked to her and casually I asked her,
what you want to do in your life Vaishali? To which without even a single thought she replied oh I want to work as a maid in big bungalow.
This made me sad. No more Lakshmi's I said. So what should I do?
I requested my maid aunty to help me to find out some girls to whom I can teach
whatever I have. Because I realized that I wanted these kinds of girls to think big, be positive and understand the value of life through education.
So she helped me out to find four girls from that slum area. And with four girls I started my Kishori foundation in my parking lot.
Now looking at her enthusiasm my parents have helped me to develop a proper classroom where I teach them about life skills, health and hygiene, personal creativity, dance, music and whatever else I could think of.
And I am happy that I have got 15 girls now. And much happier that my two younger sisters have joined me in this mission.
View photos of Kishori Foundation

Conclusion
Mansi Mehta is a good example and her inspiring story will encourage many young children to accept challenges and move forward to become great persons.
Read the news about her in Times of India Teenager dedicates her book of poetry to Malala
Recommended Success Stories for reading
Feel free to share your views in the comment box.
"Sharing is Caring!" Share this inspiring story on your network.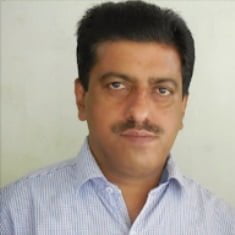 Mathukutty P. V. is the founder of Simply Life Tips. He is a Blogger, Content Writer, Influencer, and YouTuber. He is passionate about learning new skills. He is the Director of PokketCFO.
He lives with the notion of "SIMPLE LIVING, CREATIVE THINKING". He Believes – "Sharing is caring." and "Learning never ends."