(Last Updated On: September 27, 2021)
Have you heard the recent inspirational news came in the media about 96-Year-old Karthyayani scored 98 in Kerala Literacy Mission test?
Like this? Why not Pin it?
How 96 Year Old Karthyayani Scored 98 In Kerala Literacy Mission?
You must have heard the saying "A true learner always looks for gaining knowledge at any age.' 96-year-old Karthyayani Amma proved this saying is correct.
At the age of 96, she has cleared a test under Kerala's literacy programme with a whopping score, 98 out of 100 marks in the 'Aksharalaksham' literacy programme.
In this exam reading, writing and basic mathematical skills are tested. She was the oldest student among her classmates.
Age is Just a Number! Meet 96-year-old Student From Kerala Who is Not Too Old to Study.
Click To Tweet
About Karthyayani Amma
96-year-old Karthyayani Amma from Cheppad, Kerala State, India is the oldest student in Alappuzha (Alleppey).
5 times a week her tutor comes home for lessons which include learning tables and the Malayalam alphabet.
She used to work at Temples. She married early and could not study.  7 decades later, she was inspired to study when her 60-year-old daughter passed class 10.
Today Karthyayani Amma's family helps her with this dream. Her great-grandkids teach her. Her daughters buy her books and her neighbours study with her.
Source: The News Minute Published on 18 Jun 2018
96 Year Old Karthyayani – Never too old for school
When reporters asked her what inspired her to study at this age, she replied "Seeing my grandchildren study at home made me wish for a chance to study. So when they asked me during the literacy mission survey whether I would like to join their course, I went for it,"
She received a merit certificate from the Kerala Chief Minister at the certificate distribution ceremony in Thiruvananthapuram.
Nothing can pose as an obstacle to anyone if you are determined to achieve the goal.
Click To Tweet
I did not copy from anyone, rather I let others copy from me. I told them what to write : 96 year old Karthiyani Amma of Alappuzha who scored 98/100 marks in 'Aksharalaksham' literacy program of Kerala State Literacy Mission pic.twitter.com/NeUmcpsIsY

— ANI (@ANI) 1 November 2018
It is a fact that many people could not complete their studies or even never went to school due to many reasons. Some are illiterate and do not know to write and read.
After a certain age even if they get chances to study they feel shy to go to study centres because they are afraid of the unnecessary judgements from other people.
What Is The Real Value Of Parents And How To Treat Them?
In today's world, many children do not take care of their aged parents. They have many reasons, some are genuine and some are not. Some of them keep their aged sick parents in old age homes.
Some aged parents are staying alone in their homes and cooking a little food themselves in whatever way possible for them. Nobody is there to care for them. No entertainment, no grandchildren to talk and enjoy with them.
Appreciate her family
But Karthyayani Amma's family, children and even great children are taking care of her, teaching and giving all the needed support to her. This is the reason behind her happiness, energy and courage helping her to overcome obstacles and move forward to success at this old age.
96 year old Karthyayani Amma Interview
The reporter asked her can she sing a song? Without wasting a second she replied 'yes' and started singing a famous old film song. That is the spirit and courage. No shy at all.
You can notice the reporter actually thought she would end singing. But then she went on reciting the entire poem. She was enjoying singing.
Some young students can't even remember 4 lines of a poem. This lady deserves a standing ovation.
Malaranikkadukal Thingivingi – Malayalam Song
The song "Malaranikkadukal Thingivingi"  is an old film song. This proves her memory power of remembering lyrics of a film song of 1967.
Film – Ramanan – Year 1967,  Lyricist -Changambuzha Krishna Pillai, Singer(s) K Radha, Kottayam Santha
The Malayalam film 'Ramanan', released in 1967 was the screen adaptation of the most celebrated poetical work of the renowned poet, Changampuzha Krishna Pillai, which was first published in 1936.  You can read more about this film in the article published in The Hindu on April 17, 2010.
What is the secret behind Karthyayani Amma's energy?
At her age, many people are bedridden or not able to move without others help. Most people can't read without spectacles. I could not find any spectacles on her eyes, she is reading and writing with naked eyes. She has no hearing problem.
What may be the secret of all these? Maybe her simple food habit, daily routine of hard physical work for living, humble and spiritual life.
The most important thing is the happiness in her eyes and the beautiful smile on her face. Amazing energy and the power in her words while talking to reporters and in the certificate distribution ceremony. There is no doubt that Karthyayani Amma is really beautiful without any make-up.
Kerala Literacy Mission
Kerala launched the continuing education endeavour on 26th October 1998 propagating the slogan "Education for all and Education forever". Six years after it bagged the envious title of total literacy.  Source: Kerala State Literacy Mission Authority
We should appreciate the role of the grassroots literacy crews of the Kerala Literacy Mission and the Kerala government.
Their programme, inspiration and dedicated hard work giving wings to the dreams of many people who for various circumstances could not pursue the education in their young age.
How Karthyayani Amma Received A Laptop?
Her dream does not end here. Karthyayani Amma has been expressing her ambition to learn computer to everyone she met since her big win at the literacy test.
In the award ceremony, Karthyayani Amma said she wants to learn to use a computer. She would like to own one so that she can use it in her free time.
Kerala Education Minister chose the precious gift of a laptop and gifted her on Wednesday, November 07, 2018.
Karthyayani Amma was excited to see the gift and asked the minister to switch on the device so that she could type something.
They opened a fresh Word Document and helped Karthyayani Amma to type her name by exploring the keyboard and pressing the keys carefully with her finger, one after the other. She is now learning the laptop.
Nari Shakti Puraskar
Karthyayani Amma received the Nari Shakti Puraskar award from Ram Nath Kovind, the President Of India, on International Women's Day.
Nari Shakti Puraskar is the highest civilian honour given for women in the country. This award is given for women and organisations that are working towards women empowerment.
Karthiyani Amma Interacts With PM Modi After Receiving 'Nari Shakti' Award
Conclusion
At age 96 Karthyayani Amma is not just the oldest student in the state. With her passion and willingness to study, she is nothing short of a superstar among the people of Cheppad.
Cheppad is in equal parts stumped and proud of her. She is the superstar who proves that age is just a number. Her success story proves that nothing can pose an obstacle if you are determined to attain a goal.
This is real empowerment. Hope her story inspires many more aged people to think as to how to use their energy at an old age.
What do you think about this success story?
Do you think the Kerala Literacy Mission is an inspiration to other states?
Do you encourage your aged parents and grandparents to be always happy?
How do you make them feel that you are always with them to love and care?
Feel free to share your thoughts in the comment box below.
If you found this post useful, would you mind to share it? Just click on the handy social media sharing buttons. Thanks!
Please Note
I do not know her personally. Information shared in the post is collected from the media. If you found any discrepancy, kindly let me know through an e-mail to pvm@simplylifetips.com to correct or remove any wrong information.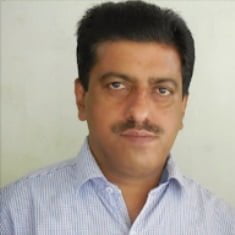 Mathukutty P. V. is the founder of Simply Life Tips. He is a Blogger, Content Writer, Influencer, and YouTuber. He is passionate about learning new skills. He is the Director of PokketCFO.
He lives with the notion of "SIMPLE LIVING, CREATIVE THINKING". He Believes – "Sharing is caring." and "Learning never ends."