(Last Updated On: September 18, 2023)
Have you heard the inspirational news about the remarkable story of a 96-year-old woman named Karthyayani? She achieved a staggering score of 98 in the Kerala Literacy Mission test, defying expectations and inspiring us all. This heartwarming tale serves as a powerful reminder that age is never a barrier when it comes to learning and achieving one's goals. In this blog, we delve into the incredible journey of Karthyayani, explore the significance of lifelong learning, and draw valuable lessons that can inspire us all to pursue our dreams, regardless of our age or circumstances. Join us on this inspiring journey as we uncover the secrets to lifelong learning and the boundless possibilities it can unlock.
Like this? Why not Pin it?
How 96-Year-Old Karthyayani Scored 98 In Kerala Literacy Mission?
You must have come across the timeless saying, "A true learner always looks to gain knowledge at any age." This adage finds its living embodiment in the remarkable story of 96-year-old Karthyayani Amma, who has unequivocally validated its truth.
At the impressive age of 96, she achieved an astonishing feat by taking a test administered under Kerala's literacy programme, scoring an incredible 98 out of 100 marks in the 'Aksharalaksham' literacy initiative.
This exam rigorously evaluates reading, writing, and basic mathematical skills. What makes her accomplishment even more exceptional is the fact that she was the eldest student among her classmates, proving that the pursuit of knowledge knows no age limits.
Karthyayani Amma, a remarkable 96-year-old from Cheppad, Kerala State, India, has become an inspiring symbol of lifelong learning. She holds the distinction of being the oldest student in Alappuzha (Alleppey).
Five days a week, Karthyayani Amma's tutor visits her home to provide lessons that encompass subjects such as learning multiplication tables and mastering the Malayalam alphabet.
Her journey into education began late in life. She had previously worked at temples and, due to early marriage, was unable to pursue formal education. However, seven decades later, she found her inspiration to study when her 60-year-old daughter successfully completed class 10.
Today, Karthyayani Amma's dream of learning is supported by her loving family. Her great-grandchildren play a role in her education, helping her with her studies. Her daughters contribute by purchasing books, and even her neighbours join her in the pursuit of knowledge. Her story serves as a testament to the enduring power of education and the transformative impact it can have, regardless of age or circumstances.
Source: The News Minute Published on 18 Jun 2018
96 Year Old Karthyayani – Never too old for school
When reporters inquired about her motivation to pursue studies at her age, Karthyayani Amma responded with heartfelt simplicity, saying, "Seeing my grandchildren study at home made me wish for a chance to study. So when they asked me during the literacy mission survey whether I would like to join their course, I went for it."
Her dedication and determination bore fruit as she received a well-deserved merit certificate from the Kerala Chief Minister during a certificate distribution ceremony held in Thiruvananthapuram. This recognition serves as a testament to her remarkable achievement and unwavering commitment to learning, inspiring countless others along the way.
I did not copy from anyone, rather I let others copy from me. I told them what to write : 96 year old Karthiyani Amma of Alappuzha who scored 98/100 marks in 'Aksharalaksham' literacy program of Kerala State Literacy Mission pic.twitter.com/NeUmcpsIsY

— ANI (@ANI) 1 November 2018
It is undeniable that numerous individuals have been unable to finish their formal education, and some have never had the opportunity to attend school due to various circumstances. This has resulted in a significant portion of the population being illiterate, lacking the ability to read and write.
Furthermore, even when presented with opportunities to pursue education later in life, many feel hesitant to enrol in educational programs or learning centres. This hesitation stems from the fear of facing unwarranted judgments and societal pressures, making it a significant challenge for adult learners to take that step towards furthering their education.
What Is The Real Value Of Parents And How To Treat Them?
In the contemporary world, a notable number of children find themselves unable to provide adequate care for their elderly parents. The reasons behind this phenomenon vary, with some being valid and others less so. Regrettably, certain individuals opt to place their elderly, ailing parents in old-age homes.
Consequently, some elderly parents are left living on their own in their homes, where they manage to prepare minimal meals in whatever way they can. They endure a life of solitude, devoid of companionship, entertainment, and the joy of interacting with their grandchildren.
Appreciate her family
In contrast to the previously mentioned challenges faced by many elderly individuals, Karthyayani Amma is fortunate to have a loving and supportive family. Her children and even her great-grandchildren are actively involved in her care, providing her with the necessary support and education. This unwavering familial bond is the driving force behind her happiness, vitality, and resilience, enabling her to surmount obstacles and achieve success in her later years. Karthyayani Amma's story serves as a heartening example of how a strong support system can make all the difference in an individual's life, regardless of their age.
What is the secret behind Karthyayani Amma's energy?
The secret behind Karthyayani Amma's remarkable energy and vitality at her age is indeed a source of wonder and inspiration. Unlike many individuals of her age who may be bedridden or reliant on assistance for mobility, she defies these norms. Notably, she doesn't require spectacles for reading and writing, and her hearing remains unaffected.
Several factors may contribute to her exceptional well-being. Her simple and nutritious food habits, along with a daily routine of physically demanding work for her livelihood, likely play a crucial role. Her humble and spiritually enriched life may also contribute to her overall health and vigor.
However, the most striking aspect of Karthyayani Amma's vitality is the unmistakable happiness radiating from her eyes and the genuine smile gracing her face. Her energy and the power in her words, evident in her interactions with reporters and during the certificate distribution ceremony, are truly remarkable.
In essence, Karthyayani Amma's beauty doesn't rely on cosmetics but on her inner spirit and the zest for life, she exudes. Her story serves as a poignant reminder that the fountain of youth can often be found within, nurtured by a positive outlook, a simple lifestyle, and an unwavering commitment to lifelong learning.
Kerala Literacy Mission
On October 26, 1998, Kerala initiated its continuing education endeavour with the resounding slogan "Education for all and Education forever." Six years following its launch, Kerala proudly earned the prestigious distinction of achieving total literacy. This achievement underscores the state's unwavering commitment to providing education opportunities for all its citizens and its dedication to the lifelong pursuit of knowledge. Source: Kerala State Literacy Mission Authority
It is imperative to extend our heartfelt appreciation to the grassroots literacy crews of the Kerala Literacy Mission and the Kerala government. Their tireless efforts, inspirational programs, and unwavering dedication have breathed life into the dreams of numerous individuals who, due to various life circumstances, were unable to pursue education during their youth. Their commitment to eradicating illiteracy and fostering a culture of lifelong learning is a testament to the transformative power of education and the positive impact it can have on individuals and communities.
How Karthyayani Amma Receive A Laptop?

Karthyayani Amma's dreams are far from being fulfilled. Since her remarkable achievement in the literacy test, she has consistently expressed her ambition to learn how to use a computer. Her desire is to not only acquire this skill but also to own a computer so that she can use it during her free time.
In a heartwarming gesture, the Kerala Education Minister presented her with the precious gift of a laptop on November 7, 2018. The excitement on Karthyayani Amma's face was palpable as she eagerly asked the minister to switch on the device. With assistance, they opened a fresh Word Document, guiding Karthyayani Amma as she carefully explored the keyboard, pressing each key with her finger, one after the other. This experience marked the beginning of her journey into the world of computing, where she is now determined to learn and excel. Karthyayani Amma's unwavering spirit of learning continues to inspire us all.
Nari Shakti Puraskar
Karthyayani Amma's incredible journey of learning and resilience was further celebrated when she received the prestigious Nari Shakti Puraskar award from Ram Nath Kovind, the President of India, on International Women's Day.
The Nari Shakti Puraskar holds the distinction of being the highest civilian honour presented to women in the nation. It is bestowed upon both individual women and organizations that have made outstanding contributions to the cause of women's empowerment. Karthyayani Amma's recognition of this award not only highlights her remarkable personal achievement but also underscores the significance of lifelong learning and the empowerment of women, inspiring others to follow in her footsteps.
Karthiyani Amma Interacts With PM Modi After Receiving 'Nari Shakti' Award
Conclusion
At the age of 96, Karthyayani Amma stands as more than just the oldest student in her state; she is a true superstar among the people of Cheppad. Her unwavering passion and commitment to learning have left her community both astounded and immensely proud.
In Cheppad, she symbolizes the indomitable spirit that teaches us age is merely a number. Her inspiring success story is a testament to the idea that determination knows no bounds and that obstacles can be overcome with the right mindset.
Karthyayani Amma's journey is a vivid example of real empowerment. Her remarkable story is a beacon of hope, showing us all how to channel our energy and aspirations, regardless of age. May her story continue to inspire countless others to explore their potential and embrace the joys of lifelong learning.
What do you think about this success story?
Do you think the Kerala Literacy Mission is an inspiration to other states?
Do you encourage your aged parents and grandparents to be always happy?
How do you make them feel that you are always with them to love and care?
I appreciate your visit. I trust you found the post enjoyable.
Remember, Sharing Is Caring! Feel free to share this post on your social media and other networks to help others discover it.
Please share your thoughts and insights in the comment box below.
Please Note
I don't have a personal connection with her. The details in the post have been gathered from various media sources. If you come across any inaccuracies or inconsistencies, please don't hesitate to reach out via email to [email protected]. Your feedback is invaluable in ensuring the accuracy of the information provided, and any necessary corrections or removals will be promptly addressed.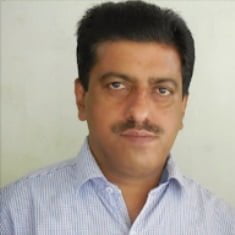 Mathukutty P. V. is the founder of Simply Life Tips. He is a Blogger, Content Writer, Influencer, and YouTuber. He is passionate about learning new skills. He is the Director of PokketCFO.
He lives with the notion of "SIMPLE LIVING, CREATIVE THINKING". He Believes – "Sharing is caring." and "Learning never ends."