(Last Updated On: July 5, 2022)
One of the most anxiety-producing issues of 21st-century life is Smartphone addiction. Small kids are addicted to using smartphones for playing video games and other entertainment. Abnormal usage of screen time will affect their health and brain development. Many parents don't realise the fact that this is more dangerous than drug addiction.
Is Smart Phone Addiction Really Dangerous Than Drug Addiction?
Emerging Mobile Technology
One platform that really emerged in the past recent years is mobile technology. Day by day technology in this field is improving. Mobile manufacturers fill up the market with the latest and more advanced technology on smartphones and tablets.
With the improvement in technology software developers are developing advanced apps and entertainment games. In the past, ordinary mobile was a dream for the common man. But today, smartphones have become an important and affordable thing even for low-income people.
Why Smart devices are popular?
The market for smartphones and tablets became very big in a matter of years. What is the reason behind this boost in the smart device market? Smartphones and tablets are easy to carry anywhere. Smart smartphones and tablets can function, work and also provide convenience more than desktop computers.
Technology improvement is good and meant for the benefit of humans. Unfortunately, some people are misusing and also addicted to technology. That is the real problem.

Why Smartphone Addiction Is Dangerous Than Drug Addiction?
World Health Organization Guidelines
Recently, The World Health Organization issued strict new guidelines on the usage and risks of smartphone addiction among kids. According to WHO, is never for children in their first year of life and rarely in their second. Those aged 2 to 4,  should spend no more than an hour a day in front of a screen. Kids should be allowed to watch only knowledge-sharing videos and that also should be in the presence of the parents.
Dr. Fran Walfish, a Los Angeles-based child and family psychotherapist says, "We have a lot of 2-year-olds using tablets now, and I see 3- and 4-year-olds that are already addicted," "It's mind-blowing and a little scary."
Are the above guidelines practical today?
What is your opinion? Are the above guidelines practical? You may say 'NO'. Because today many of us are addicted to smartphones and age is not a barrier to this.
We can find people are busy with their smartphones everywhere. While travelling by train, bus, and while walking on the busy road everywhere.
Some people while driving a four-wheeler or even a two-wheeler use only one hand on the steering and keep talking on mobile another hand.
At this time, their vehicle moves slowly and that creates a traffic block. If a vehicle overtakes or unexpectedly enters from the side road or from the opposite side, they may lose control of the vehicle causing an accident. But, interestingly, these people are bothered about none of these problems.
Smartphone addiction has become more dangerous than drug addiction.
Click To Tweet
WHO considers video game addiction as a disorder
In July 2018, The World Health Organization (WHO) included a section in the 11th revision of the International Classification of Diseases (ICD) about "Gaming Disorder." What is this section focused on? This section focuses on disorders caused by the excessive playing of video games (addictive nature) regardless of system or platform.
We all are aware of the fact that due to the emergence of technology, the demand and popularity of mobile video gaming in the past recent years and up to this day have increased a lot. This can be the reason for The World Health Organization considers video game addiction as a disorder.
Some parents find the smartphone as a tool to make their little kids below 3 years not cry or disturb them with their household work. If you are one among them, are you aware of the bad effects on the mental and physical health of your kids? 
We can't blame only kids for video game addiction because many adults are also addicted to this. While travelling or in their free time they are wasting their valuable time on these mobile games which could be used for creative or knowledge-boosting work.
Parents Should Be Careful
This Is Dangerous Than Drug Addiction – Gopinath Muthukad
This video talk by the famous magician and motivational speaker, Gopinath Muthukad is in the Malayalam language. I know most people may not understand the talk. Hence I have included the contents in this post. Actually, this video found on YouTube inspired me to write a small post on this topic.
Kids' smartphone addiction effects
Some parents give mobile phones to small kids to play and divert their minds. This technique they use to feed kids or make the kids sit calmly without disturbing their work.
Parents of toddlers are worried about their weight. So, they try to feed them using this kind of wrong technique. Parents should realise eating more will not make a healthy child, but have to give vitamin and protein-rich foods. Here are 5 Foods To Increase Weight In Toddlers.
Many parents give smartphones to tame toddler tantrums. But these parents don't realise they are doing a mistake and inviting danger to the life of their kids.
It doesn't mean you restrict everything to your kids. Remember, Overparenting damage the future of children.
Free mobile games
The availability of a wide variety of free-to-play games on the mobile platform is one of the things that invite kids to play games on smartphones. You might have found when you visit your friends or relatives, kids ask for your smartphone and search for any new game. Once they are interested in a game, that becomes a cycle and a habit. It becomes similar to other addictions in terms of what it does to the brain.
Parents should Avoid Teaching Children Bad Lessons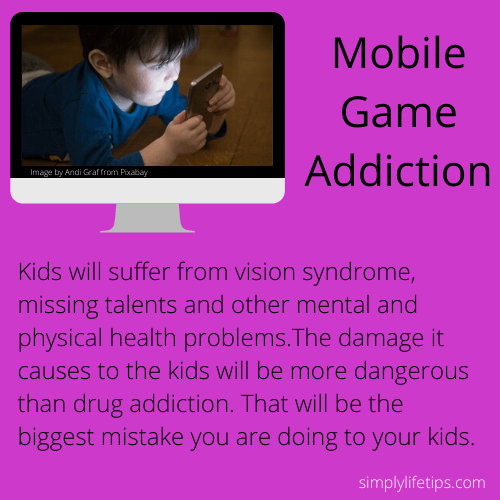 These kids will suffer from vision syndrome, missing talents and other mental and physical health problems. The damage caused to the kids will be more dangerous than drug addiction. That will be the biggest mistake you are doing with your kids.
Many parents are worried about the activities of teenage children. They shout and give punishment. They don't realise teenager is a sensitive stage and hence their anger can create problems for the child. Parents should learn how to deal with teenage addictions.
How Can Help Kids?
4 Proven Tips To Reduce Your Child's Smartphone Addiction
As a parent, what can you do to get rid of smartphone addiction in your children?
Vidya, a psychologist and a learning and development specialist explains about 4 proven tips to reduce your child's smartphone addiction. She names it BATS.
What is BATS?
B – Boredom
A – Alternatives
T – Time
S – Support and surroundings
Watch the video and learn the simple ways from her talk.
Read Awesome Tips To Become A Better Parent
How to Protect Kids from Smartphone Addiction?
How does technology stimulate and affects the brain in possible negative ways? How parents can help protect children from too much screen time?
Answers to the above and other related matters are explained in this video of The Doctors, an Emmy award-winning daytime talk show.
Today, some parents feel happy and enjoy it when their little kids play with smartphones. They treat it as the smartness of their little kids playing songs, videos and games on smartphones.
Why parents are happy? Because these parents started using the smartphone a few years back only and still many parents do not know well to use all the features of smartphones. So, they are happy when they see their little kids using smartphones.
Conclusion
Parents should change their minds and follow the guidelines of WHO to save their little kids from smartphone addiction. They should avoid giving smartphones to little kids, and there should be parental control over the time and contents. As mentioned, parents should realise that smartphone addiction is more dangerous than drug addiction.
Think and act from today. Save your kids.
Recommended articles for your reading
Please share the post on your social media and other networks. Help others to save their kids from this dangerous problem.
Are you aware about smartphone addiction is more dangerous than drug addiction?
What is your opinion about the long-term effects on mental and physical health?
What are your thoughts on young children using so much technology?
Let me know in the comments below!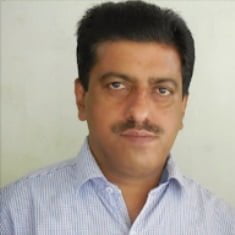 Mathukutty P. V. is the founder of Simply Life Tips. He is a Blogger, Content Writer, Influencer, and YouTuber. He is passionate about learning new skills. He is the Director of PokketCFO.
He lives with the notion of "SIMPLE LIVING, CREATIVE THINKING". He Believes – "Sharing is caring." and "Learning never ends."