(Last Updated On: July 17, 2022)
Do you exercise regularly or find excuses for not exercising enough? Are you aware of the importance of exercise in your physical and mental health? How many times has your Doctor advised you to maintain regular exercise and reduce medication for better health? Do you encourage your relatives and friends to regular exercise for a healthy life?
Importance Of Exercise
Women and men need to exercise regularly to stay healthy. However, when it comes to working out, some people use any excuse to avoid it. The health repercussions of not exercising are just too costly and exacerbate health issues. Men and women who need to find their motivation again can read through the 7 top excuses for not exercising enough.
Read Simple Morning Routines That Will Transform Your Life
The 7 Top Excuses for Not Exercising Enough – Importance Of Exercise
1. You just don't have enough time for exercise
A major misconception related to exercising is that it must be time-consuming to be effective. This just isn't true. With the age of technology, there are many apps showing different types of exercise that take just a few minutes each day and provide proven results. If you aren't sure what exercises are right for you, a personal trainer at the local gym can give you insight. The trainer evaluates your health and fitness goals to create a fast workout that addresses all your concerns and helps you look your best in a short time.
2. You're just too tired to exercise
This is one of the most common excuses for refusing to exercise enough and get the full benefits of working out. The truth is the exact opposite. Exercise doesn't make you tired once you get used to doing it. In fact, you can increase your energy levels and endurance the more you work out. Studies show that individuals who work at for at least ten minutes a day increase their energy levels dramatically and improve their health.
Read How To Manage Workplace Stress With Physical Exercises?
3. People at the gym are too judgmental about your exercising
If your excuse is that you're afraid of judgmental people, it's time to release yourself from the prison of others' thoughts. Everyone is self-conscious about some aspect of their body, and their own negative thoughts make them fearful about exercising in front of other people. Regardless of your weight, age, or if you don't look like Angelina Jolie, you can find the confidence you need by starting an exercise routine. The right gym prevents others from harassing you and making you uncomfortable. Some gyms enforce these rules and give everyone a chance to get the exercise they need without those people.
Read Simple Tips To Feel Energetic Every Day And Win The Day
4. You have small children
Busy parents of small children often find themselves gaining weight at a steady pace. Even if they are active and running after their small children, the parents just aren't getting the right amount of exercise to keep them healthy. A great strategy for getting more exercise is to utilize the babysitting services at your local gym. The programs allow you to get adequate exercise, and your kids are entertained by a licensed professional.
5. The cost of a gym membership is too high
For a lot of men and women, a gym membership is too high and unaffordable. Unfortunately, they aren't finding the best packages to allow them to pay for these memberships. Careful research helps consumers find a better price, and some mobile phone apps connect them to gyms that have promotional offers.
6. Exercise is just too boring
A common excuse for not exercising is that the routines are often boring and don't keep you motivated. The solution to this problem is to find a routine that changes each day to prevent boredom. Several programs introduce new steps each day to prevent the routines from becoming stale.
Read If You Walk Every Day What Will Happen To Your Body?
7. You'll ruin your makeup with exercise
Exercise doesn't have to ruin your makeup. In fact, there are several workout routines in which you will never break a sweat but you get the full benefits of working out. Reviewing non-strenuous workouts is beneficial for women who don't have the time to reapply for their makeup.
Importance of exercise for students
In the present world, even school students have to study a lot. Most students are on restricted time and tight budgets. They have no time for relaxation or even for a good sleep. Hours-long study burns mental energy.
If you are a student, both your body and mind need physical exercises to function properly. Physical exercise can help you with concentration, focus on study and your mental health.
Take a study break and go for a walk and get some fresh air.
Go for a jog or walk with a friend around the park during your study break.
Start with simple bodyweight exercises at home.
What are the benefits of exercise?
Exercise offers incredible benefits that can improve your physical and mental health. Exercises help to increase your immunity power against diseases.
It helps to increase the production of hormones that make you feel happier.
Help you with weight loss
Strong muscles and bones
Increase your energy levels
Make you feel always happier
Reduce your risk of chronic disease
Better skin health
Improve your brain health and memory
Relaxation and better sleep at night
Reduce muscular and joint pain
Conclusion
Exercise is a vital part of staying healthy and living a longer and happier life. However, some individuals just aren't having it and can find any excuse to avoid it. By finding a better routine that saves time and offers great health benefits, consumers can get the exercise they need without it taking over their lives.
You can help others by spreading awareness about the Importance Of Exercise for good physical and mental health.
Do you have a daily routine of exercise?
How do you start your day? Do you spread awareness of the Importance Of Exercise?
If you found this post useful, please recommend and share it to help others find it! You can easily share by clicking on the share buttons. Remember"Sharing is Caring!"
Let me know your thoughts in the comment box below.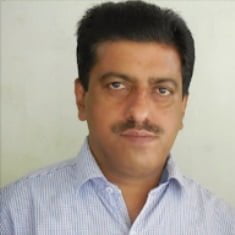 Mathukutty P. V. is the founder of Simply Life Tips. He is a Blogger, Content Writer, Influencer, and YouTuber. He is passionate about learning new skills. He is the Director of PokketCFO.
He lives with the notion of "SIMPLE LIVING, CREATIVE THINKING". He Believes – "Sharing is caring." and "Learning never ends."