(Last Updated On: August 26, 2022)
How do you feel throughout the day? Energetic or stressed? Being energetic is a state of happiness. Do you like to feel energetic every day and dramatically improve your quality of life?
Simple Tips To Feel Energetic Every Day
Do you feel lazy to wake up in the morning? How do you start your day? Do you know starting the day right is important to win the day? A good sleep at night refreshed your mind and body relieving all the stress and pain. What to do next? You must make your body and mind ready for the day. A good start is important for a successful day.
You don't need to do any hard work for this. You can follow simple morning routines which will help you to energise your body and mind. That will help you to complete all the work of the day full of energy and win the day. Let's find out what are those simple tips.
You should make it a goal to feel energetic every day.
Click To Tweet
7 Tips To Feel Energetic Every Day
Find a few simple tips which may help you to feel energetic throughout the day.
Stop all the negative thoughts and points. Highlight only the positive points and thoughts. A positive attitude is very important for a successful life.
Identify the fighter in you. Ensure that the fighter in you is always energetic. While watching a cricket match or any other game of your interest you encourage the players with applause and voice. Encourage yourself in the same way.
Always Motivate and appreciate yourself. Boost self-confidence.
Keep and follow good habits only.
Do regular exercises for your body and mind. Meditation is very good for your mental health. You can do meditation at home.
Listen to good music for 10-15 minutes.
Keep good body language while speaking, walking, etc. Keep a smile always on your face.
Watch the video for a detailed explanation of the above points.
Simple Tips To Feel Energetic Every Day
Have good sleep without any tensions, fears, and anxieties.
Expose yourself to the sun in the morning, or nature daily or when possible.
Walking daily, playing games, and simple exercises will help you feel energetic and maintain good health.
Drink enough water daily and see the change.
Avoid processed foods and eat protein, fresh vegetables, salads, and fruits.
Engage with good people who are happy, energetic, and positive.
Laugh and have fun often or at least when possible.
Do love someone more than you.
Help people who are in need. Helping others will brighten your life.
Always appreciate people for their words and good deeds.
Do not insult or be rude to people.  Do not hurt anyone with words or deeds. Find How To Be Assertive Without Being Rude
If someone insults you, simply leave the place and avoid the person who has insulted you.  Read How To Deal with Rude People
Do not lose your temper. Control your anger.
Always bring positive thoughts to your mind. Stop Dwelling On Negative Thoughts
Enjoy the good music. Music relaxes, soothes, and provides a way to energize and inner heal the mind. Make Your Mind Calm And Peaceful
How to Feel Energetic Every Day
You can make it a goal to feel more energetic every day and can fulfil it in a few different ways. You can feel energetic with changes in diet, exercise, and more. If you build endurance and stamina, you can wake up feeling more refreshed.
If you feel energetic every day, you can improve the quality of your life.
Click To Tweet
Avoid processed foods
Today, many people are more interested in eating ready-made junk foods. Avoiding processed foods will help you maintain a healthy diet and have more energy. Wholesome foods are a better choice than processed foods because they contain more nutrition and healthy vitamins. Wholesome foods are natural without chemicals, they allow the human body to glean more energy.
Maintain a balanced diet
Keep in mind the importance of wholesome foods and make sure your diet is well-balanced. Quality and well-balanced food are more important than the quantity or number of times you intake food.
A balanced diet will promote optimum nutrition and help you feel more energetic every day.
Click To Tweet
Be careful not to overeat
While it is important to ensure you are eating a balanced diet of wholesome foods, it is also important to control your portions when you eat. Overeating makes you feel tired and listless.
Avoid false energy
Many products claim to give you energy. But when you consume them you realise that they do not always deliver as promised. You also realise that the effects of the energy they provided are often short-lived. Many of these products may have negative effects. So it is better to avoid such products.
Consider herbal teas and supplements
You can find many herbal teas and supplements which help you to feel more energetic.
Exercise daily
Sometimes you may feel too tired to exercise. But if you get active, you can get more energy. If you have difficulty doing exercises, even walking daily will give you a boost and get you feeling more motivated and energetic. Do you know the benefits of walking daily?
Listen to music
Doing exercise with music can help you to develop calm energy. Listening to good music will help for the relaxation of the mind.
Know your limits
Seek expert advice and guidance and never try to do exercises beyond your limit.
Eat fruits
Fruits have many health benefits to the body and mind. Including some that work well in tandem with exercise.
Drink water to stay hydrated
Keep yourself hydrated by drinking enough water throughout the day. This is an important way to avoid fatigue and feel more energetic.
If you are not in the habit of drinking enough water throughout the day, you risk being fatigued.
Click To Tweet
Regular sleep schedule
You should maintain a proper sleep schedule because good sleep is very important to have sufficient energy throughout the day. Your sleep schedule should be more like a sleep pattern. You should train your body to feel awake and tired at the right times.
Get help if you feel fatigued
If you feel fatigued even after regular sleep patterns, you may need to seek the help of an expert or Doctor. Speak to them about your sleep issues.
Schedule your daily activities
Keep your life organized. Discipline is essential to feeling energetic. This will help to reduce stress and you will use more time to focus on other fun activities.
Avoid overextending your availability
Sometimes you may feel like stopping work because you realise you don't have enough time to do everything.  Don't fill every free moment with an engagement or meeting. Try to allow yourself free time to reduce stress.
Conclusion
Finally and more importantly, trust and believe that you have layers and layers of energy in you. If one layer of energy is used, and if you stick and wait expectantly, another layer of energy opens and gives the energy to you. Boost self-confidence, be always positive, help others, Feel Energetic Every Day and make life happy and successful.
Related articles for your reading
What do you do for feeling energetic every day?
Please share this post on your social media network.
Feel free to share your views in the comment box below.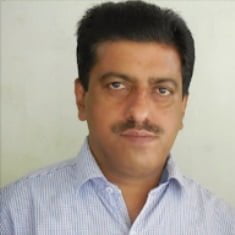 Mathukutty P. V. is the founder of Simply Life Tips. He is a Blogger, Content Writer, Influencer, and YouTuber. He is passionate about learning new skills. He is the Director of PokketCFO.
He lives with the notion of "SIMPLE LIVING, CREATIVE THINKING". He Believes – "Sharing is caring." and "Learning never ends."