(Last Updated On: July 1, 2021)
Do you know who is the first woman pilot of Indian Navy? Have you heard the inspirational trending news in the media and social media about Lieutenant Shivangi, a girl from Bihar? Yes, she has raised the name of Bihar in history by becoming the first woman pilot of Indian Navy. Shivangi will join naval operations on completion of operational training on December 2, 2019. Let's find her inspiring success story.
This post is updated on 03/12/2019 with the news she earned her 'Wings' at a ceremony at INS Garuda in Kochi on Monday, 02/12/2019.
The First Woman Pilot Of Indian Navy – Bihari Girl Shivangi
You might have heard many times the phrase 'Bihari'. Some people of other states use this phrase in meaning that people of Bihar is not as intelligent as people of other states of India.
As part of my job, I stayed in Bihar for many years and I will never agree for such meaning about the phrase 'Bihari'. The ancient universities like Nalanda and Vikramshila are in Bihar which proves that Bihar was a place for a good education in ancient time not only for Indians but also for other countries.
Today there are several top-level English medium schools in Bihar and the standard of education in these schools are very high. But still, people are not much happy with the Govt. Schools that are the only affordable medium for poor village people.
Not only in Bihar but in many states, Govt. Schools are not up to the standard. If concerned authorities take necessary measures to improve and control the system of Govt. Schools, that will help the poor children to get a good education. Once they are well educated, that will help the improvement of their life.
The First Woman Pilot Of Indian Navy
The world has changed a lot, technology is improving day by day, many Indian women have come out from their home and handling many jobs. Today there are many Indian women entrepreneurs. Some women are holding top-level chairs in multinational companies and Govt. administration office.
Have you read the inspiring success story of Sheela Kochouseph Chittilappilly, a House Wife Turned Woman Entrepreneur?
Some people are still thinking that women are not brave enough to handle some jobs. Are you also one of them?
If yes, you are wrong. Shivangi from Bihar proved that if chance and support are given, Indian women can conquer everything. They can make the impossible to possible.
Inspiring Success Story Of Shivangi
Lieutenant Shivangi is from Muzaffarpur in Bihar.
Shivangi is a regular mofussil girl born to a school teacher and a housewife.
She has done her schooling from DAV Public School, Muzzafarpur.
Graduated B.Tech in mechanical engineering from Sikkim Manipal Institute of Technology.
M.Tech from the Malaviya National Institute of Technology, Jaipur.
While in college, a naval presentation made as part of a university entry scheme stoked the latent desire in her to fly.
In 2018, she attended SSB in Bengaluru and made the cut.
Inducted into Indian Navy as SSC (Pilot) as part of 27 NOC course in Indian Naval Academy, Ezhimala.
Six-month-long Naval Orientation Course at the Indian Naval Academy at Ezhimala.
She spent another six months getting the hang of flying on a Pilatus basic trainer at the Air Force Academy (AFA).
The last six months were with the Kochi-based Indian Naval Air Squadron 550, known as 'Flying Fish', the alma mater of naval aviation in India.
There she learnt to fly the Dornier Maritime Reconnaissance Aircraft.
Sub Lieutenant Shivangi will earn her 'WINGS' on December 2, 2019.
Going down in history as the first-ever woman to steer an Indian naval aircraft to the skies.
As part of the course so far she has logged some 100 flying hours, with over 60 on the Dornier.
This will be followed by another six months of mission-based flying to learn to exploit the aircraft for its operational role.
Also, Read 16-Year-Old Girl Nilofer Muneer Becomes Youngest Qualified Pilot From Kerala
Proud Moment For Bihar – Shivangi Becomes The First Woman Pilot Of Indian Navy
Message For The Youth
Shivangi's success story gives a message to all the youth that never mind about what people talk about you or your location. Ignore all the baseless comments and move forward fearless of failures. Work hard with dedication and determination to achieve your dream. If you have self-confidence and support from your parents, none can stop you from climbing the success ladder. Do you know Habits That Drag You Down From The Success Ladder?
Related Posts
Updated on 03/12/2019
A Proud Moment – Sub Lieutenant Shivangi Earned Her 'Wings' On 02/12/2019
She earned her 'Wings' at a ceremony at INS Garuda in Kochi on Monday. Trained to fly the Dornier 228 by the Indian Naval Air Squadron (INAS) 550, the oldest such squadron in the Navy, Sub Lt Shivangi said, "I cannot express my happiness in words."
"My father is a teacher. My grandfather was a farmer. No one in my family has ever joined the defence forces. My parents have always supported me in whatever I wanted to do, whether it was pursuing Mechanical Engineering or joining the Indian Navy," the pilot told NDTV, sitting inside the cockpit in front of an array of flight instruments.
"We come from very humble backgrounds. Our daughter has made us famous. I am very proud of her. I believe daughters must be encouraged to do whatever they want to," the pilot's father Haribhushan Singh told NDTV.
Source: NDTV
Sub-Lieutenant Shivangi Becomes Indian Navy's First Woman Pilot
Conclusion
Shivangi, a girl from Bihar, daughter of normal income parents, achieved her dream and made a record in the Indian history written with golden letters. Her success story proves that the location or status of your parents can never stop from achieving success. Your positive attitude, dedicated hard work focusing your goal will surely help to achieve your dreams.
Let us congratulate and also wish her to achieve the bigger dream to qualify to fly the P8I Long-Range Maritime Recce Aircraft.
If you are a student, what is your dream in life?
If you are a parent, will you allow your children to choose the right career of their dream?
Be a proud Bihari, a proud Indian to share this success story with the world?
If you liked this article, kindly share with your friends, relatives and on social media to help them to read this inspiring story.
Let me know your thoughts and suggestions in the comment box below.
Do you like to publish your success story on this site? Send your story to [email protected] with links of relevant sites, YouTube video and images. If approved, it will be published free of cost with no-follow links. Credits to images will be given. Images should not be copyrighted.
Featured Image Credits and References – The Hindu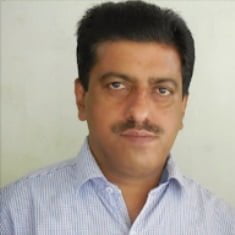 Mathukutty P. V. is the founder of Simply Life Tips. He is a Blogger, Content Writer, Influencer, and YouTuber. He is passionate about learning new skills. He is the Director of PokketCFO.
He lives with the notion of "SIMPLE LIVING, CREATIVE THINKING". He Believes – "Sharing is caring." and "Learning never ends."