(Last Updated On: October 19, 2021)
You might have heard about Pankaj Bhadouria, a small-town girl who became the winner of India's first Masterchef. In this article, you can find more about her success story. In the video, she says this story is not about how she became Masterchef, but the story is about second chances passion combined with preparation is what you need so that when life gives you a second chance and you want to go out and grab it you are prepared for it. So be prepared to be alive. God knows when life might give you that second chance to make your life successful.
Pankaj Bhadouria – India's First Masterchef
Do you remember when was the last time you thought that your circumstances can never allow you to be successful in life? Have you ever got a second chance to follow your passion and make your life successful? Many people are fearful of failures. But when you look at successful people you can find that failures have always been a stepping stone for success in their life. You can have 2 options in tough times, either to crib about failing or taking it as a motivation for success and never give up. Never Stop Believing In Yourself Even For A Second. That is the secret to success.
The story of Masterchef Pankaj Bhadouria​ is one such inspirational story. In spite of living an ordinary life till 38, Pankaj Bhadouria worked her way up the world and devised her own secret recipe for success. Till the age of 38, from going to a hotel school to living an ordinary life and then clutching on to the second chance that she got, Chef Pankaj encountered many moments of despair but she rose against all the obstacles in life.
Stuffed Green Chili Pickle I Oil Free Pickle – Pankaj Bhadouria
Here is the recipe for the easiest and the best Stuffed Green Chili Pickle. The pickle takes only 3-4 days to mature and can be kept for more than a year as it dies not spoil.
Recipe: Stuffed Green Chili Pickle Preparation Time: 60 minutes Ingredients: 1/2 kg Bhavnagari Green Chilies 1 cup Black Mustard Powder 1/4 cup Salt 1/4 cup Dry Mango Powder 1 tbsp Turmeric Powder 1/4 cup Vinegar Method: Wash and wipe dry the Green Chilies. Cut off the stem and deseed the Green Chilies. Mix together the mustard powder, salt, dry mango powder, turmeric powder well. Add in the vinegar and mix well. Fill in the mixture into the hollowed green chiles and push into the chili to stuff the chili well Fill all Chilies and place in a clean glass container. Cover and keep it mature for 3-4 days. The pickle would be ready to eat.
About Pankaj Bhadouria
Born on 14 July 1971 in New Delhi to Vinod Khanna and Priya Khanna.
Pankaj is the elder of their two children with one younger brother.
She lost her father at the age of 13 years and her mother when she was 22.
She did her schooling from Kendriya Vidyalaya, New Delhi and finished her higher education in Lucknow.
She did her bachelor's degree in English, Master's degree in English literature from Lucknow University,
Also did her bachelor's degree in education from Lucknow University to prepare herself for her chosen career.
She is married to Charu Samarth and has two children, a daughter, Sonalika Bhadouria and a son, Siddhant Bhadouria.
Pankaj Bhadouria – Television Shows
Masterchef India Season 1 -Star Plus (2010)
Chef Pankaj Ka Zayka – Star Plus (2011)
Rick Stein's India, Episode 6[11] -BBC2, TLC, Discovery (2012)
Sales Ka Baazigar – ETV (2013)
Kifayati Kitchen – Zee Khana Khazana(2014-2015)
Rasoi Se – Pankaj Bhadouria ke Saath ETV (2015)
3 Course with Pankaj- Zee Khana Khazana (2015)
Just Like That – Living Foodz (2015)
Health In 100 – Living Foodz (2016)
Dream Kitchen – Living Foodz (2017)
Pankaj Bhadouria – Endorsements
Pankaj Bhadouria's passion for cooking has made her a personality of choice for many a brand.
She is a part of the Microsoft Lumia 535 Digital Campaign where she encourages people to follow their dreams in an inspiring film titled "Ashaiyen"
The face of the Brand Knorr- Cup a soup, Soups and Noodles and has shot an extensive TV Campaign and Print Campaigns for Knorr.
The Brand Ambassador for Masterchef Travels Cox and Kings Worldwide.
She also endorsed Eastern Masalas, a leading Spice Brand in Southern India.
She was also the face of Taaza Tea, HUL, activity- Huunar Apka, Pehchaan Hamaari, an effort to recognise the hidden talents in women from small towns in Uttar Pradesh.
Pankaj Bhadouria is chosen by the Spanish Government as an Ambassador for the promotion of Olive Oil in India for the campaign called Olive Oil Revolution.
Her other Brand Associations include Samsung Smart Oven, Kent Juicer & Pasta Maker, Sensodyne, Reliance Fresh, Kelloggs, and Tefal.
Pankaj Bhadouria – Awards and recognition
Masterchef India Winner (Season 1)
Featured in the list of: 9 People Who Made It Big After Participating In Reality Shows -by Indiatimes
Rated as one of the few TV Chefs with a great deal of integrity for her thoughtful and meticulous recipes on TV shows – Indian Express
Co hosted the Knorr (brand) Master Class, with Masterchef Australia Judge Chef Gary Mehigan at the World on a Plate Food Festival, Bangalore, June 2016
Winner of Outlook Social Media Award- OSM Kitchen King/Queen of the Year Award by Outlook Magazine, 2016
Felicitated by the Honorable President of India, Shri R. N. Kovind as 'First Ladies' – an award given by the Ministry of Women & Child Development, Govt. of India.
Also read Sheela Kochouseph Chittilappilly House Wife Turned Woman Entrepreneur
How important it is to be prepared to follow your passion? – Pankaj Bhadouria
Back in the 80s when Pankaj Bhadouria was growing up in Delhi, the middle class in Delhi was a very conservative class. The profession of a chef was not considered to be a respectable job for a girl. She lost her father at the age of 13. By that time she had not discussed what career to choose. She didn't even know there was a profession as a chef for a girl also in fact hospitality industries. It was only in class 11 and 12 that she got to know more about different careers, alternate careers that there was something other than banking, government job, engineering or becoming a doctor.
Her mom was very progressive wanted her to do whatever she wanted to do in life. She went to IHM Pusa to do a one-year diploma course in food preservation and canning technology which was a very very different field altogether. That made her an opportunity to learn whatever she could learn about cooking in a very professional way. That was the Institute of hotel management and she had a lot many friends doing the same course who helped her to improve her skills.
One thing that her mother had always emphasized was the importance of formal education. Her mother was not even a graduate when she got married and so after her dad passed away she could not get a decent job in her dad's office. So she had seen mother had gone through the trauma of not being well educated enough.
Also read How To Choose The Right Career Best For You?
After did a one year course she went on to finish her Bachelor's in English and then Master's in English. But as she was doing her Masters in English unfortunately lost her mother as well. At that point of time this little bit of formal education helped her to get a decent job in a school. It was now a matter of not only earning own bread but making it to and eating it too all on her own.
Also read 5 Mistakes That Could Destroy Your Career
She knew that if she had to rise in her profession she needed to be well qualified for that and despite having a Master's she needed to do a beard as well and that's what she did. As a result, in two years she was promoted to be teaching the senior most classes in the school 11th and 12th. She taught them English and she went on to teaching for 16 years and then Masterchef happened.
So this was her second chance. There was this ad on television that invited her to audition for Masterchef and she auditioned. As auditioned for Masterchef and cleared one round after the other she reached what was called the boot camp. At this point of time in her career, she was faced with a dilemma. She qualified in the boot camp. She would then make it to the top twelve. If she did not, she would be back home in six days but then she needed leave for three months. So she approached her school authorities for leave. Of course, it was denied. Leave the dreams that was there in the eyes of a 38-year-old.
Pankaj Bhadouria was a mother of two kids. She had responsibilities at home. She was a teacher. She had responsibilities towards her job as well which she understood very clearly. So despite making all arrangements for somebody well qualified to take over her place. If she needed to go out for three months that leave did not come to make matters. Even worse she was told in very caustic terms that she was not going there for her love for food but because she was attracted by the glamour of the television world.
Mind you a mom of two, glamour. That hurt her bad, hurt her very deeply. She took the decision of quitting a 16-year-old and the only very stable job. She was not prepared for living with regret. She quit her job and ended in Masterchef. She went with the dreams of a teenager, a strong belief in her abilities, capabilities, and the urge that fire to prove herself.
Read Manya Singh D/O An Auto Driver Crowned Miss India 2020 Runner-Up
What it needs is not around you, it is within you. So let us live within you, let it stay alive, and please follow your dreams and your passions.
In the Josh Talk video, you can find how Chef Pankaj Bhadouria worked hard to get the second chance to follow her passion to make her life like a blockbuster movie. The inspirational success story of knowing how one can follow their passion to become successful. This story is a must-watch for anyone who needs the motivation to succeed and turn failure into success.
Also read Don't Worry About Failures Better Result Is Awaiting For You
Books – Pankaj Bhadouria
MasterChef India Cookbook
MasterChef India Cookbook, her first book, the first-ever official cookbook by any MasterChef winner worldwide was released in November 2011. MasterChef India Cookbook is dedicated to all the small towns housewives to experiment with varied Indian and International recipes using locally available limited exotic ingredients. In the very first month, 10000 copies of this book are sold and became an instant bestseller.
The Secret's in the Spice Mix – Fifty Unique Homemade Spice Mixes with Recipes
India is world famous for the production of spices. In any Indian kitchen and markets you will find curry powders and garam masalas. Across the length and breadth of India, each community and each region have their own special traditional blends of spices to add unique flavours to their food.  Indian masalas seem no less than a genie in a bottle, which when opened, enables you to create magic! This book The Secret's in the Spice Mix explaining all about Indian masala.
Top 100 Recipes – Cook Desi
This book includes top 100 Handpicked recipes of Chef Pankaj Bhadouria. Each recipe is containing its Nutritional value along with servings and Chef's special tips(Wherever required). All the recipes are very simple preparations and contains ingredients that all Indian kitchens have essentially. This book is revised by adding some exclusively new recipes of Chef Pankaj .
Conclusion
The Masterchef show made her a household name in the country. Her charm and passion for cooking opened varied avenues around the world. Pankaj Bhadouria's inspirational story proves that you should never miss opportunities. Age is just a number, but not a barrier to learning and taking new steps for following your passions and achieving success in life. There are many people, especially women who have skills but could not fulfill their passion in life. There can be many unavoidable reasons for this. Don't worry about your age and problems, whenever you get the chance follow your passion at any age and achieve success and happiness in life. Never stop learning. Always update your knowledge. Be an inspiration to others and help others to achieve success in life.
Do you have any unfulfilled passion?
Thank you for the visit. Hope you enjoyed your reading.
Kindly share this article on your network and help others to read.
Please leave your views about this article on the comments box.
References: Wikipedia Pankaj Bhadouria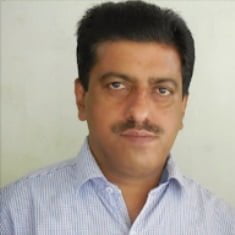 Mathukutty P. V. is the founder of Simply Life Tips. He is a Blogger, Content Writer, Influencer, and YouTuber. He is passionate about learning new skills. He is the Director of PokketCFO.
He lives with the notion of "SIMPLE LIVING, CREATIVE THINKING". He Believes – "Sharing is caring." and "Learning never ends."