(Last Updated On: July 7, 2022)
Are you struggling to choose the right career for your future? Don't feel bad about this because many people are worried and find it difficult to make the right decision. Let's try to find easy solutions to this problem.
How To Choose The Right Career Best For You?
Choosing the right career path is a big decision to make. So don't take decisions in a hurry or just move forward as per the wishes of your parents or friends. Take your time to consider all the options carefully.
When choosing a career, there are many things to take into account, such as your concentration power, competitive strength, attitude, skills, and interests. It's important to see the big picture and make well-informed decisions.
Many working people say that they do not feel fully satisfied with their current jobs. If you find yourself in that position, you may want to consider a new career path.
A beautiful quote from Abdul Kalam
Climbing to the top demands strength, whether it is to the top of Mount Everest or to the top of your career. A. P. J. Abdul Kalam
Tips To Choose The Right Career
Find answers to the below points, that will help you to choose the right career.
Understand yourself
What are your interests?
Which subjects do you like?
Get to know your skills
Feel good about yourself
Who would you like to work with?
Where would you like to work?
Choose substance over status
Embrace adventure
Compare different careers
Make a shortlist
Find out about employers
Get inspired by people
What qualifications do you need?
Choose A-Levels or apply for training courses
Is there more than one way to get there
How can you keep your options open?
Get some work experience
Make a CV
Get more work experience
Build your soft skills
Always evaluate
What do you like?
What is tough?
How can you build your skills and improve?
If something is not working, don't be afraid to make changes or go back to your shortlist
"Life has been kind to me. I am happy with the love and appreciation that I have been getting throughout my career. I feel blessed." Vidya Balan
How to choose a career? – Brian Tracy
This is a very good talk by Brian Tracy, the famous motivational speaker and author of many bestsellers.
"There is no real limit to how much better a person who really commits to getting better can get. Every manager has the potential to become an excellent manager for the rest of his or her career." Brian Tracy
Read Brian Tracy's inspiring success story and top rules for success.
What to do to select the right career?
1. Become a self-expert and understand yourself
[bctt tweet="If you don't know what you are looking for, then you are never going to find it.  " username="simplylife_tips"]
Remember that no one is going to do this for you. Your teachers or friends can not make you a self-expert.
"Passion is what gives meaning to our lives. It's what allows us to achieve success beyond our wildest imagination. Try to find a career path that you have a passion for." Henry Samueli
Have the confidence to take control of your career, and you will be one step closer to finding a job that is perfect and successful for you.
You should realize that finding the right career is not a quick fix. It does take time.
The bigger or more drastic change that you are going to make the longer you are going to need to prepare.
[bctt tweet="One thing that is critical is to keep your mind focused and to keep your mind in a good space." username="simplylife_tips"]
"The only way to do great work is to love what you do. If you haven't found it yet, keep looking. Don't settle."Steve Jobs
2. Love what you do
Do you really love what you do? You have to love what you do. It solves a lot of problems when you love what you do.
Sometimes you may get into career ruts. When this happens you don't feel as confident or good as you should be.
You can do some online research and take some career quizzes, reading good articles on career guidance which will help to properly assess your skills.
"Knowledge is power. You can't begin a career, for that matter even a relationship, unless you know everything there is to know about it." Randeep Hooda
3. Feel good about yourself
Prepare yourself to start feeling good about yourself. This will help you to take action and to realize that you are not only a success, but also you are going to be an incredibly valuable person.
[bctt tweet="You need to condition your mind and realize that you are a valuable asset." username="simplylife_tips"]
In order to feel good about yourself something that works for a lot of people is to volunteer. You may be thinking about how it is related to choosing the right career.
Your thinking is correct as it has absolutely nothing to do with your choosing the right career. But it has to do with you feeling good about yourself.
4. Select the right career for your skills and ambitions
What happens to a lot of people when they are figuring out what they should do with their life?
They listen to their parents' suggestions to become a Doctor, Engineer or such career. Their parents think that is a great job and so prestigious to make good earnings.
Many people do it because it is a smart and safe thing to do. They end up hating their jobs and hate their lives.
That may give you a higher status but you may not have real satisfaction and happiness in your career. Because you studied something which is not of your interest and skill. It doesn't mean that you should not be a Doctor or Engineer.
Do not choose a career just because of the status of the job. You should have the highest level of curiosity that you need to really thrive in whatever you do.
5. Make a framework
You should understand that you need a framework. You need a way to navigate through this.
Find out what are your unique strengths, what are the things that you love to do.
You will always have ups and downs in your life and your career, but just stay positive and go for it. Angelique Kerber
6. Identify your interests
You learn many things every day every minute about what you love, what you hate, what is good, and what is terrible.
If you don't spend time paying attention to that and assimilating that learning and applying it to the rest of your life, that is all for nothing.
You should spend some time just reflecting on what went right and what went wrong. You can start a diary and write down the daily happenings like what you want to repeat, and what can you apply more to get success.
Whatever you take note of will become a repository of things that you can use to apply to your life.
It will also help to have a more passionate existence and make a better impact.
When you start to put these things together you can then define what it is success actually means to you.
7. Don't put unnecessary pressure
[bctt tweet="Some people put a lot of pressure on themselves to find the right career and often way too early." username="simplylife_tips"]
What will be the effect of the pressure you put on yourself or the pressure other people put on you?  You will get yourself locked in a career which is not give satisfaction.
It takes a lot of courage to jump off one path to go for something else especially when you don't know how it is going to work out.
If you find yourself going to work every day and hating what you are doing then you have to change what you are up to.
8. Start small
Start small
Do little tests,
Identify what makes you come alive
Find what feels good and gives you energy
Then continue to find ways to do that over and over again.
The staircase will appear with every step that you take.
[bctt tweet=" You can do anything, but select the right career which will do best for your quality of life." username="simplylife_tips"]
Conclusion
Try to reevaluate what is going to really make you fulfil and what is your God-given gift. Find the talent that can produce something no one else produces a skill or a product or a service. You may have many skills but the critical question is which one really fulfils your ambitions and will give you satisfaction and success in life.
Are you satisfied with your career or still studying and confused about how to choose the right career?
Share your views in the comment box below.
"Sharing is Caring!" Don't forget to share this article on your network.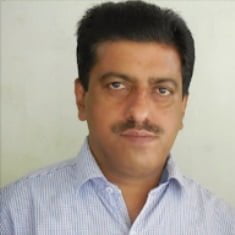 Mathukutty P. V. is the founder of Simply Life Tips. He is a Blogger, Content Writer, Influencer, and YouTuber. He is passionate about learning new skills. He is the Director of PokketCFO.
He lives with the notion of "SIMPLE LIVING, CREATIVE THINKING". He Believes – "Sharing is caring." and "Learning never ends."