(Last Updated On: July 7, 2022)
Are you happy with your career? Many people are not happy with their careers. There are many reasons for their satisfaction. It can be workload, workplace stress, low salary and other facilities. Do you know 5 mistakes that could destroy career? Continue reading to learn how to avoid those mistakes.
5 Mistakes That Could Destroy Career
Did you choose your career as per your interest or as per the wish of parents or friends?
If it is not per your choice, then you may not be happy and satisfied with your job. You should choose your career after doing good homework.
[bctt tweet="Do not choose a career just for money. Make the career a turning point in your life." username="]
What are career mistakes?
A career is one point in life where you must do, what you want to do and not what other people want you to do.
These days education is very costly and many parents find it difficult to give good education to their children as per their interests.
Your parents might not have enough money to spend on a career as per your interest and you had no other option than to choose this career.
Now you have earned some money and might be thinking to go for further study to achieve the career as per your interest for better earning and happiness in life. It happens to many people.
Some parents might have money, but they do not like some careers because of a lack of knowledge or any bad impression about that career.
So they force their children to choose a career as per their wish and the child is unable to concentrate on their studies and not happy with his/her job. Sometimes, it leads to mental pressure and depression in the child.
Read How to cope with anxiety and depression
For success in your career and life, you should set effective goals and achieve it.
Learn some tips and understand what are those 5 things that could possibly destroy career.
Don't destroy the career
Have a deep interest in what you choose to do
Don't ever fake your resume
Career transition is hard to accept – Go where your heart says
Always leave on a good note
Take that time off
How to choose the right career?
Don't choose a career without doing good homework.
Many children are forced to select a career as per the wish and suggestions of their family and friends because they have to obey, respect and satisfy them.
And after that, they are unable to complete the course successfully because they have chosen a subject in which they have no interest.
Read How To Choose The Right Career Best For You
Many people choose their careers without even thinking and considering their own choices and interests.
Always talk about your interests, discuss with experts who have knowledge in that field and take the decision. Otherwise, there is a chance that you will end up in a very difficult situation later.
Don't lie about your qualifications
Never give wrong information about your qualifications to get the job. When you give only correct information, that proves your honesty.
If you give wrong information and later your employer finds out the truth, you will lose the job because you proved that you are a liar and not a trustable person.
Don't get influenced by what other people say. Listen to your own instincts and choose the career that you think fits you best.
Conclusion
You should be happy and satisfied with your career and also at the same time you should be able to make others happy. It would be much better if you can change the world by finding new things beneficial and service to the people. Enjoy your career and have a successful life!
How To Set Goals And Become Who You Were Meant To Be?
Are you satisfied with your career?
Feel free to share your views in the comment box below.
"Sharing is Caring!" Share this post on your network.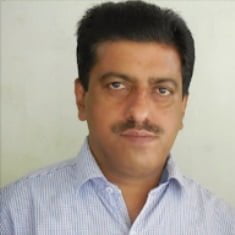 Mathukutty P. V. is the founder of Simply Life Tips. He is a Blogger, Content Writer, Influencer, and YouTuber. He is passionate about learning new skills. He is the Director of PokketCFO.
He lives with the notion of "SIMPLE LIVING, CREATIVE THINKING". He Believes – "Sharing is caring." and "Learning never ends."