(Last Updated On: July 6, 2021)
What do you do when you have to face failures in life? Do you feel sad when the result is not as good as expected? If yes, stop being upset about failures. Don't worry about failures because better chances and results may be awaiting you. In this article, you will find an inspirational story about how a young man who failed in his first attempt became a businessman.
Don't Worry About Failures – JACK CANFIELD Quote
This is a beautiful quote from Jack Canfield. Many of us become upset and depressed when facing failures in life. It can be a failure of study, a job interview or any other matter. You must have realised that the moment you feel depressed, your mind becomes weak and you lose the motivation to try again. Train your mindset for mindset motivation. You should make your mind strong to overcome obstacles and turn failures into success. When you have that spirit in your mind, nothing can stop you from achieving the goal.
Read How To Make Your Mind Calm And Peaceful
Don't Worry About Failures Better Result Is Awaiting For You
A short story of a young man
Once a 23-year-old young man went for an interview in a big company. As part of the interview, the owner of the company gave him the assignment to clean the floor. The owner told him if he cleans the floor neatly, he will surely get the job. This young man cleaned the floor well and made it sparkling. Looking at this, the owner asked him to join the job from the next day.
On the next day, the owner called this young man and asked him to submit his photo, copy of id proof and e-mail id to fulfil the requirements to appoint him to the company. On hearing this, the young man replied, 'Sir, I am a poor man, I don't have a computer and never created an e-mail id."
The owner replied to him, 'ours is a big company and we have to keep the e-mail id of all the employees working here. Without an e-mail id, you have no existence in this digital world. So, we can't keep you in the job'.
He left the company premises with a sad and depressed mind. At that time he had only INR-500 in his pocket. He decided to earn some money from selling vegetables. He purchased tomatoes for INR-500 and started his first sale sitting on the roadside. Surprisingly all the tomatoes sold out within 2/3 hrs. Again he purchased for another INR-500 and that also sold out within hours. Like this, he purchased and sold multiple times. By evening he earned a good amount of money from selling vegetables. After returning home while he was relaxing, a thought came to his mind that by selling vegetables he can earn a good profit. He continued this for 6 months.
When he earned a good amount, he bought a hand cart and moving on the hand cart spread his vegetable sale to other places. After a few months, he started selling vegetables on a mini truck. His small business improved and he started a wholesale shop of vegetables. He delivered vegetables to retailers through 10/15 trucks daily and for this, he employed a few workers. After a few years, he became famous in the business.
One day he thought to insure his business and called an insurance agent. The insurance agent asked him for his e-mail id for taking the insurance policy. He replied he doesn't have an e-mail id. The agent asked with surprise, 'How is it possible that you have such a big business and you don't have an e-mail id? Do you know what would have been your status now if you had an e-mail id?'. 
After a few seconds of silence, the young man replied, "if I had an e-mail id, I would have been a peon (small job) in a company.' 
The insurance broker might not have understood the meaning of his reply, but surely you understood well. 
What is the story tell you?
This story tells you that don't become upset or worried about something that happened not as good as expected. Maybe much better results are waiting for you in the future. You can find new and better paths, better chances in your life journey.
Conclusion
The above short story and paragraphs tell you never to worry about failures. Failure is not the end, but a lesson to learn from your mistakes and weakness. Never stop believing in yourself. Always have a positive attitude and boost self-confidence. Do hard work with dedication and self-confidence for success. Build self-discipline. Avoid negative self-talk.
Learn to overcome self-doubt. Learn to grow yourself every day. Learn to keep your mind free from disturbance. Through the power of positive thoughts unlock the full potential of your mind. Remember, tough times can make you stronger. If you don't face challenges and failures you cannot become stronger. Always dream big. Do you know the power of dreaming big?
How do you face failures?
Kindly share this article with your friends, relatives and on social media to help them to read.
You are welcome to share your thoughts in the comment box below.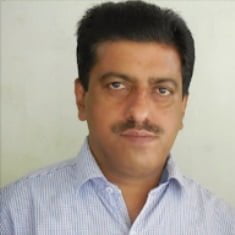 Mathukutty P. V. is the founder of Simply Life Tips. He is a Blogger, Content Writer, Influencer, and YouTuber. He is passionate about learning new skills. He is the Director of PokketCFO.
He lives with the notion of "SIMPLE LIVING, CREATIVE THINKING". He Believes – "Sharing is caring." and "Learning never ends."