(Last Updated On: July 1, 2021)
Have you heard the inspirational success story of 12-year-old girl Kaamya Karthikeyan who became the youngest mountaineer in the world to climb Mount Aconcagua in Argentina? Little Kaamya Karthikeyan is a Seventh Standard student of Mumbai Navy Children's School. Aconcagua is the highest peak outside of Asia, at 6962 metres above sea level. Are you wondering how this little girl achieved this success? Let's find more about her inspirational story.
Kaamya Karthikeyan Becomes The Youngest Girl To Summit Mt Aconcagua
About Kaamya Karthikeyan
Kaamya's father is a commander in the Indian Navy and her mother is a teacher. 
Kaamya's father Karthik, a serving commander in Indian Navy has also been into mountaineering since 2010. He has led an 11 member Indian Navy mountaineering team to the summit of Mt. Kamet in May 2016.
Kaamya Karthikeyan started climbing when she was just three years old. 
Back then with her family, she did a basic trek in Lonavla.
Kaamya Karthikeyan did her first Himalayan trek to 12000 feet high Chandrashila peak at age 7.
She did the popular Har-Ki-Dun, Kedarnath and Roopkund lake treks. All of these are well above 3500-meters high.
At age 10 Kaamya Karthikeyan became the second-youngest girl in the world to climb Everest base camp in Nepal at an altitude of 5346-meters.
In October 2017, Kaamya climbed Mt Kilimanjaro (5895 meters), the highest peak in Africa.
In 2018 she climbed Mount Elbrus (5,642 meters), which is the highest mountain in Europe.
Kaamya Karthikeyan wants to complete the Explorers Grand Slam in 2021. So she will be reaching the North Pole and the South Pole and also climbing the highest peaks of all seven continents in the world.
Kaamya Karthikeyan – Photos Of Summit
Embedded from Facebook
Mount Aconcagua
Aconcagua (Spanish pronunciation: [akoŋˈkaɣwa]) is a mountain in the Principal Cordillera of the Andes mountain range, in Mendoza Province, Argentina. It is the highest mountain outside of Asia (although there are 189 mountains higher than it in Asia), being the highest in both the Southern and Western Hemispheres with a summit elevation of 6,960.8 metres (22,837 ft). It lies 112 km (70 mi) northwest of the provincial capital, the city of Mendoza, about five km (3.1 mi) from San Juan Province, and 15 km (9.3 mi) from Argentina's border with neighbouring Chile. The mountain is one of the so-called Seven Summits of the seven continents.
Aconcagua is bounded by the Valle de las Vacas to the north and east and the Valle de los Horcones Inferior to the west and south. The mountain and its surroundings are part of the Aconcagua Provincial Park. The mountain has a number of glaciers. The largest glacier is the Ventisquero Horcones Inferior at about 10 km (6.2 mi) long, which descends from the south face to about 3,600 m (11,800 ft) in altitude near the Confluencia camp. Two other large glacier systems are the Ventisquero de las Vacas Sur and Glaciar Este/Ventisquero Relinchos system at about five kilometres (3.1 mi) long. The most well known is the north-eastern or Polish Glacier, as it is a common route of ascent.
Source: Wikipedia Aconcagua
Kaamya Karthikeyan Summited Mt. Aconcagua
Mentok Kangri II
Mentok Kangri II is a challenging 6,250 metre peak, in Eastern Ladakh. It lies in the Rupshu plateau, inhabited by the famous Changpa nomads. The trek begins at Tsokhar Lake, crosses over four high passes, and then climaxes with the ascent of Mentok Kangri II, a stunning peak overlooking the vast Tso-moriri lake. The climb is a mix of climbing up icy slopes, traversing snow slopes and crossing boulder fields and the conditions are dynamic depending on the time of the year. Views of Chamsher & Lungser Kangri across the expanse of Tso Morriri is magical, especially on the summit day!
Source: Mentok Kangri II
Kaamya Karthikeyan Summited Mentok Kangri II
Mount Elbrus
Mount Elbrus is a dormant volcano in the Caucasus Mountains in Southern Russia, near the border with Georgia. It can be considered the highest mountain in Europe, taking into account that the Caucasus mountains are at the intersection of Europe and Asia, and it is the tenth most prominent peak in the world.
Elbrus has two summits, both of which are dormant volcanic domes. The taller west summit is 5,642 metres (18,510 ft); the east summit is 5,621 metres (18,442 ft). The east summit was first ascended on 10 July 1829 (Julian calendar) by Khillar Khachirov, and the west summit in 1874 by a British expedition led by F. Crauford Grove and including Frederick Gardner, Horace Walker, and the Swiss guide Peter Knubel of St. Niklaus.
Source: Wikipedia Mount Elbrus
Kaamya Karthikeyan Summited Mount Elbrus
Mount Kilimanjaro
Mount Kilimanjaro or just Kilimanjaro with its three volcanic cones, Kibo, Mawenzi, and Shira, is a dormant volcano in Tanzania. It is the highest mountain in Africa and the highest single free-standing mountain in the world, with its summit of 5,895 metres (19,341 ft) above sea level and at about 4,900 metres (16,100 ft) high from its plateau base. Kilimanjaro is also the fourth most topographically prominent peak on Earth. The first people known to have reached the summit of the mountain were Hans Meyer and Ludwig Purtscheller, in 1889. The mountain is part of Kilimanjaro National Park and is a major climbing destination. Because of its shrinking glaciers and disappearing ice fields, the mountain has been the subject of many scientific studies. Source: Wikipedia Mount Kilimanjaro
Kaamya Karthikeyan Summited Mount Kilimanjaro
Mount Kosciuszko
Mount Kosciuszko (/ˌkɒsiˈʌskoʊ/ KOZZ-ee-OZ-koh, previously spelled Mount Kosciusko) is mainland Australia's highest mountain, at 2,228 metres (7,310 ft) above sea level. It is located on the Main Range of the Snowy Mountains in Kosciuszko National Park, part of the Australian Alps National Parks and Reserves, in New South Wales, Australia, and is located west of Crackenback and close to Jindabyne. Source: Wikipedia Mount Kosciuszko
Kaamya Karthikeyan Summited Mount Kosciuszko
Quote From The Indian Express
On asking Kamya why does she like to climb, the mountaineering enthusiast tells us, "I am sure I will inspire many, but most importantly mountains tell us how small we are. Each time I climb, I get stronger, just like the mountain itself."
When asked if she's afraid of her daughter engaging in such 'risky' adventures, Lavanya says, "See we are cautious but not scared. Initially, she used to go with her father but seeing her enthusiasm I supported her and joined her on treks. This also affects her other activities. She understands the value of time, organizes her schedule accordingly. And of course, there are physical benefits"
Source: The Indian Express
Have you read these inspiring stories?
Conclusion
Let us congratulate Kaamya Karthikeyan and her brave parents who are supporting and encouraging her from childhood.
Dear Kaamya Karthikeyan, All Indians are proud of you. Continue what you love doing the most. Stay safe always. Our prayers and blessings are always with you.
Let me know your thoughts and suggestions in the comment box below.
If you liked this article, kindly share with your friends, relatives and on social media to help them to read.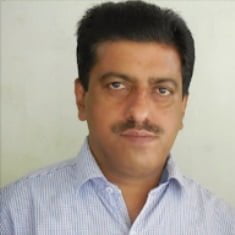 Mathukutty P. V. is the founder of Simply Life Tips. He is a Blogger, Content Writer, Influencer, and YouTuber. He is passionate about learning new skills. He is the Director of PokketCFO.
He lives with the notion of "SIMPLE LIVING, CREATIVE THINKING". He Believes – "Sharing is caring." and "Learning never ends."