(Last Updated On: September 28, 2021)
Have you heard about Aryan Mishra, the 18-year-old Indian astronomer whose curiosity in space led him to discover an unknown asteroid in a nationwide asteroid search campaign? At the age of 18, most children confused about what to study next, which career to choose. But at this age Aryan Mishra is busy scaling the night sky, discovering asteroids and giving inspirational talks worldwide. Let's go through his inspiring story to know how he achieved this success.
Who Is Aryan Mishra?
Aryan lives in a slum colony in New Delhi.
He is son of a newspaper seller.
He is a passionate space enthusiast.
At the age of 11 Aryan was known as a Psycho, people use to call him a mad and crazy child.
At 11, he bought his first telescope by skipping canteen meals and walking to school and started looking at the sky.
He kept his passion hidden from his parents and observed the night sky with his telescope.
Aryan wakes up at 4 o clock every morning and helps to sell newspaper before going to school.
At 14, he discovered a near-Earth asteroid in All India Asteroid Search Campaign.
When discovered an asteroid, he mesmerised with the night sky.
He shared his passion with many students, getting many interested in astronomy.
His humble beginnings did not stop him from pursuing his dreams. 
Sharing his knowledge on astronomy with thousands across the globe through Skype.
His discovery has been designated as 2014 00372.
Look up at the sky! Aryan Mishra | TEDxDelhi
Space has been an unexpected and unfamiliar zone for most of us. It was a curiosity of the unknown that led me to the mystical cosmos.


Aryan Mishra
In the above TedX talk, Aryan Mishra said, "As a child, I used to think that I'm a part of this wonderful planet Earth and when I used to look up at the night sky, I used to wonder what lies beyond the stars the twinkle shiny moon and dark sky. This takes me to the memory of Indian-American late Astronaut Kalpna Chawla as we all know she was a first woman from India in space and she has been the power of two missions of NASA. But she died during the re-entry of Columbia shuttle tragedy on February 1, 2003. "
Your dreams are your wings that help you to fly who face the world and reach for the sky look up. Aryan Mishra
Click To Tweet
Live your dreams – Aryan Mishra
Advice from a newspaper vendor's son Aryan Mishra
His inspiring real story will give you all the motivation to chase your dreams.
He wrote on Facebook
"When I look up at night, I can truly feel my own smallness and insignificance.
Sometimes this makes me feel melancholy because I see that I don't really matter to the universe.
"I believe in the power of stargazing. I use the night sky as a metaphor for life. Life is so full of small bright spots and beautiful surprises, even in the darkest of times." Aspiring Astronaut – Aryan Mishra
What is Aryan Mishra's message for the youth?
In an interview with The Logical Indian, his reply for a question "Do you have any message for the youth?"
"To all the youth out there, I believe that one should always follow their passion, be hardworking. I even tell that one should draw a balance between their studies and ambitions." Never disqualify yourself, belief in yourself. There is a quote I always say at the end of my speeches,"Your dreams are your wings that help you to fly, go face the world and reach for the sky!"
Aryan Mishra – An Event In The Gurukul School Chandigarh
One of the agenda in my life has been getting people outside and show them the stars. Somehow, I have done more than 1k observations with people in more than 100 schools and meeting 200k people. Sometimes I think I should stop but the expressions and excitement after looking through the telescope is something which never stops me to do this. When you reach your goals, come back push others, help them to reach their goals. This is called wisdom. Astronomy is something which has been inspiring so many people to find there passion and peace too. Who doesn't likes to look up the stars!
This picture is from an event I did in The Gurukul School, Chandigarh. (Source of image and caption: Facebook)
Aryan Mishra With Cosmonaut Rakesh Sharma
What an honour to meet the one and only Cosmonaut Rakesh Sharma, first Indian in space.
After a long time met him and it was so beautiful to talk to him. Our meeting was pending from a long time.
He has been a big inspiration for me and from last two years he has been guiding me in my up and downs.
I remember when I was 6 years of age at that I read about him and standing next to him everytime is always thrilling.
Photo and caption source: Facebook
Aryan Mishra with NASA Astronaut Sunita Williams
Aryan Mishra constructed Astronomy Lab in Sonipat school
I have constructed this Astronomy lab in one of the schools in Sonipat where students from 6th to 12th will get an opportunity to explore the universe through various experiments, skywatching through the telescopes. It's my passion to get Astronomy to each corner, look up! ✨ pic.twitter.com/e3oOKxGIlH

— Aryan Mishra (@desiastronomer) October 8, 2019
Conclusion
From a slum in Delhi, being a newspaper vendor's son, to discovering an asteroid, this teen prodigy is inspiring people worldwide.
Aryan Mishra is an inspiration to all the youth. Follow his motivational words "One should always follow their passion, be hardworking. One should draw a balance between their studies and ambitions." "Your dreams are your wings that help you to fly, go face the world and reach for the sky!".
Parents should allow their children to choose right career as per their skill and ambition.
Recommended For Reading
Do you have an inspiring story to share with the world?
Please recommend and share this post to help others find it! You can easily share by clicking on share buttons. Remember"Sharing is Caring!"
Feel free to leave your thoughts below.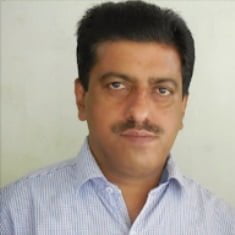 Mathukutty P. V. is the founder of Simply Life Tips. He is a Blogger, Content Writer, Influencer, and YouTuber. He is passionate about learning new skills. He is the Director of PokketCFO.
He lives with the notion of "SIMPLE LIVING, CREATIVE THINKING". He Believes – "Sharing is caring." and "Learning never ends."