(Last Updated On: July 1, 2021)
Many of us search for the source of inspiration in others because we believe we can't become successful without inspiration from others. We often forget that we are the best source of inspiration for our success. Janhavi Panwar, the Wonder Girl of India has a different perception of self-help.
Who Is Wonder Girl Janhavi Panwar?
The talk of the day is women empowerment and equality, but the fact is that some women have reached success above men. If you ask aged parents, they will tell you, their daughters are taking care of them better than their sons. Be happy with your girl children, give good education and make them successful persons in life.
Janhavi Panwar's life success proves how a girl can become wonder girl. Let's find her success story.
Janhavi Panwar is a 14 year girl known as 'wonder girl of India'. At the age of 14 when most students are in school or completing their schooling, Janhavi Panwar is pursuing her graduation second year from Delhi University. But her extraordinary skills do not end here.
Born in the village of Malpur, Haryana to a middle-class family of a teacher and a homemaker.
Besides basic French, basic Japanese, English, Hindi, and Haryanvi language she is mastered nine foreign accents British, American, RP, Polish, Australian, Scottish, Canadian, Norfuk, Cockney.
She is a motivational speaker.
Anchored for BBC and CNN
As a motivational speaker, she has spoken to IAS officers and educational institutes across eight states in India.
She is running a successful YouTube channel 'Wonder Girl Janhavi'
Wonder Girl Janhavi Panwar Covers
Love me Like you Do(Ellie Goulding)
In addition to learning new accents and languages, the young girl has a beautiful singing voice. When she isn't busy reading a complete book in two days, she records song covers.
The Wonder Girl – A 14-Year Old Who Gives Training To IAS Officers
Inspiring Short Story
Everyone has a story behind their success and the story is a great journey. There was a student, who used to stay asleep throughout all classes. He was a lazy student. He used to stay asleep the entire time that the teacher used to teach.
The teacher wrote a problem on the board. He told his students that it was a problem which even he hasn't been able to solve. Since this child was sleeping, he wasn't aware of what the teacher told.
The bell rang, and the child woke up unaware of what had happened. The child thought the problem on the board was for homework.
He didn't know that even the teacher had been unable to solve that problem. So he noted that question as his homework. For him solving the problem was a must otherwise, he would get a scolding from the teacher. So, he did it.
The next day at school, he went up to the teacher, saying "Sir I have solved the question".
Hearing this, the teacher surprised and asked, How did you solve this?".
Because his mind was already conditioned, this is homework for the day. Just like I have to do the homework on other days, I have to finish this too.
The other students had conditioned their minds that if the teacher hasn't been able to do it, how can we solve it? No.
The attitude should be, even I can do it everything in the world is easy. Just the point is that we'll have to think that it is easy. Yes. That's actually easy.
So in criticism what we see is, people, stop us time and again. Hey, this isn't your cup of tea.

Janhavi Panwar's father, Brijmohan Panwar told to Better India

"As busy as most of us are, it is important to give our children the time they deserve. It doesn't matter if they are academically bright or not, believe in them and support them in their dreams."
"When my wife was pregnant, like most families in rural settings, our family thought it would be a son. But Janhavi's birth was celebrated with just as much zeal. I've always maintained that my daughter is my pride. Girls are in no way secondary to boys."
"When she was only one, her vocabulary was equipped with 500-550 English words. When she turned three, she wasn't admitted to Nursery but directly to Senior KG because she had picked most things at home.
As years passed, when we spoke to the school management, they realised Janhavi's potential by looking at her scores, and she was given special permission to clear two classes in the same year."
Credits: Better India
Conclusion
This story of Janhavi Panwar is inspirational and a lesson to all the parents who think a girl cannot achieve success like a boy. Women have reached the moon, many powerful and successful entrepreneurs, holding great positions and controlling big companies and countries. Even today, many people are not happy and do not celebrate the birth of a girl child.
Recommended For Reading
What did you learn from Janhavi Panwar?
Do you like to share an inspirational story like this?
If you found this post useful, please recommend and share to help others find it! You can easily share by clicking on share buttons. Remember"Sharing is Caring!"
Feel free to leave your thoughts below.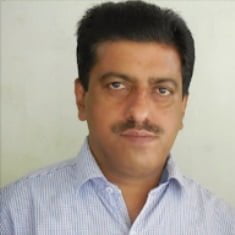 Mathukutty P. V. is the founder of Simply Life Tips. He is a Blogger, Content Writer, Influencer, and YouTuber. He is passionate about learning new skills. He is the Director of PokketCFO.
He lives with the notion of "SIMPLE LIVING, CREATIVE THINKING". He Believes – "Sharing is caring." and "Learning never ends."