(Last Updated On: July 1, 2021)
Many people think people from a poor background or village area can't get a good education and become successful. What do you say about this? Inspiring success secrets of great leaders and successful people prove that strong will power and true passion will help to overcome obstacles in life and become successful.
Let's find a few great persons from a poor background became successful in life.
Inspiring success secrets of great persons
Here is a list of selected people from the small village background and had no facility to get the good basic education became successful with their hard work.
We should try to become successful rather than powerful in life.
Click To Tweet
Dr. A P J Abdul Kalam – Inspiring success secrets
A newspaper boy from Rameswaram, a small village in Tamilnadu, became a great scientist, a great teacher, the 11th president of India and one of India's top motivational characters.
He was a recipient of several prestigious awards, including the Bharat Ratna, India's highest civilian honour.
At a European Union conference, Dr. A P J Abdul Kalam gave the most inspiring and motivational speech ever. He received a standing ovation and loud applause for such an extraordinary speech.
Find inspiring success secrets of Dr. A P J Abdul Kalam and watch the videos.
Sundar Pichai Google Ceo – Inspiring success secrets
Sundar Pichai Google Ceo, a small-town boy, from Chennai, became India's Pride, by heading Google, the biggest company in the world.
Find the inspiring success secrets of Sundar Pichai.
Surabhi Gautam IAS – Inspiring success secrets
Surabhi Gautam, born in an Orthodox village Amdara, in Satna district of Madhya Pradesh, India became an IAS Officer. She is a great inspiration to many students. The books she studied and the method of her study will help you to achieve success.
Find inspiring success secrets of Surabhi Gautam
Sweta Agarwal IAS – Inspiring success secrets
Sweta Agarwal, a grocer's daughter from Bhadreshwar, West Bengal, became the state topper by securing 19th rank in the civil services exam, 2016.
Sweta belongs to a middle-class family. She is the only child of her parents. Although her parents had a limited income, they tried the best they can give to support and educate their child.
Read her inspiring story and talk. She explains how one can become an IAS officer.
Tapasya Parihar IAS – Inspiring success secrets
Tapasya Parihar is a daughter of a farmer from Narsinghpur district in Madhya Pradesh. She bagged the 23rd All India rank in the Civil services examination 2017 conducted by the Union Public Service Commission.
Here is the inspiring success story of Tapasya Parihar.
Akhand Swarup Pandit – Inspiring success secrets
Akhand Swarup Pandit was an average student who hates studies as many other students. But something changed this man to inspiration to lakhs of people.
He not only cleared the UPSC Indian Engineering Services (IES) examination but also cleared 8 Government examinations successively. Today, he is the founder of The Catalyst, one of the best and popular online Education Management company, paving the path for aspirants of Civil Engineering, IES, SSC JE, GATE and other government examinations.
Parveen Singhal Wittyfeed
Parveen Singhal, a village boy created the world's second-largest viral content company Wittyfeed, the world's second-largest content company, established and made in India.
Here is Parveen Singhal's success story.
Ritesh Agarwal OYO Rooms
Ritesh Agarwal, a college dropout who belongs to a small town in Orissa which has a literacy rate of about 20%, is the founder and CEO of OYO Rooms, known as OYO, is a network of budget hotels in India.
Ritesh was the first resident Indian to be awarded the Peter Thiel Fellowship. He proves the old saying that "Hard work can beat Talent". Here is Ritesh Agarwal's inspiring journey to success.
Conclusion
It is a fact that education has become costly and hence parents having limited income find it difficult to meet the expenses to educate their children. But many successful people have proved that if there are passion and strong willpower, children of limited income parents can achieve success in life.
If you found this post useful, please recommend and share to help others find it! You can easily share by clicking on share buttons. Remember"Sharing is Caring!"
Feel free to leave your thoughts below.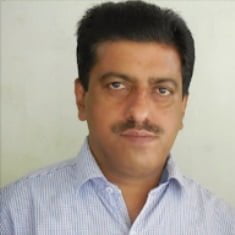 Mathukutty P. V. is the founder of Simply Life Tips. He is a Blogger, Content Writer, Influencer, and YouTuber. He is passionate about learning new skills. He is the Director of PokketCFO.
He lives with the notion of "SIMPLE LIVING, CREATIVE THINKING". He Believes – "Sharing is caring." and "Learning never ends."