(Last Updated On: June 23, 2020)
Do you know how Abdul Kalam, a newspaper boy from a small village, became the 11th president of India and one of India's top motivational characters? Let's find about Abdul Kalam's Success Rules, Biography and inspirational talks.
About Abdul Kalam

Avul Pakir Jainulabdeen Abdul Kalam, better known as A.P.J Abdul Kalam was a career scientist turned statesman.
He was the 11th President of India from 2002 to 2007.
Widely referred to as the "People's President," he returned to his civilian life of education, writing and public service after a single term as President of India.
He was a recipient of several prestigious awards, including the Bharat Ratna, India's highest civilian honour.
Abdul Kalam – Top 10 Rules For Success
Learn how to handle failure
Imagine the outcome
Be righteous
Fight to be you
Breakthrough limitations
Be a teacher
Work with integrity
Follow your dreams
Inspire others
Above details and video source: Youtube
Abdul Kalam – Biography
Abdul Kalam – Earlier life and career
Avul Pakir Jainulabdeen Abdul Kalam was born on 15 October 1931 to a Tamil Muslim family in the pilgrimage centre of Rameswaram on Pamban Island, then in the Madras Presidency and now in the State of Tamil Nadu.
His father Jainulabdeen was a boat owner and imam of a local mosque; his mother Ashiamma was a housewife.
His father owned a ferry that took Hindu pilgrims back and forth between Rameswaram and the now uninhabited Dhanushkodi.
Kalam was the youngest of four brothers and one sister in his family. His ancestors had been wealthy traders and landowners, with numerous properties and large tracts of land.
Their business had involved trading groceries between the mainland and the island and to and from Sri Lanka, as well as ferrying pilgrims between the mainland and Pamban.
As a result, the family acquired the title of "Mara Kalam Iyakkivar" (wooden boat steerers), which over the years became shortened to "Marakier."
With the opening of the Pamban Bridge to the mainland in 1914, however, the businesses failed and the family fortune and properties were lost over time, apart from the ancestral home.
By his early childhood, Kalam's family had become poor; at an early age, he sold newspapers to supplement his family's income.
In his school years, Kalam had average grades but was described as a bright and hardworking student who had a strong desire to learn. He spent hours on his studies, especially mathematics.
After completing his education at the Schwartz Higher Secondary School, Ramanathapuram, Kalam went on to attend Saint Joseph's College, Tiruchirappalli, then affiliated with the University of Madras, from where he graduated in physics in 1954.
He moved to Madras in 1955 to study aerospace engineering in Madras Institute of Technology.
While Kalam was working on a senior class project, the Dean was dissatisfied with his lack of progress and threatened to revoke his scholarship unless the project was finished within the next three days.
Kalam met the deadline, impressing the Dean, who later said to him, "I was putting you under stress and asking you to meet a difficult deadline".
He narrowly missed achieving his dream of becoming a fighter pilot, as he placed ninth in qualifiers, and only eight positions were available in the IAF.
Source: Wikipedia
Mainly worked at the Indian Space Research Organisation.
Came to be known as the Missile Man of India for his work on missile technology.
Played a pivotal role in India's Pokhran-II nuclear tests in 1998.
Elected as the 11th President of India in 2002.
Had the support of both the ruling party and the opposition.
Widely referred to as the "People's President".
Recipient of several awards, including the Bharat Ratna.
While delivering a lecture, he died from an apparent cardiac arrest on 27 July 2015.
Abdul Kalam's speech on EU Parliament
At a European Union conference, Dr. A P J Abdul Kalam gave the most inspiring and motivational speech ever. He received a standing ovation and loud applause for such an extraordinary speech.
"Listen, gentlemen, I'm indeed delighted to be with the honourable members of the European Parliament on the occasion of the golden jubilee year of the European Union.
I am reminded of the dream of an Indian poet KANNIYAN POONGUNDRANAR who articulated in 3,000 years back in Tamil classic "PURANANOORU"
He says you're the ""Yathum oorae yavarum Kaeleer" " which means I am a world citizen every citizen is my own kith and kin.
He said three thousand years back.
As we say in India:
Where there is righteousness in the heart,  where there is righteousness in the heart, there is beauty in the character.
When there is beauty in the character, there is harmony in the home.
When there is harmony in the home there is harmony, there is an order in the nation.
When there is an order in the nation there is peace in the world."
The property left behind by Dr A P J Abdul Kalam was as below
He owned 6 pants (2 DRDO uniforms)
4 shirts (2 DRDO uniforms)
3 suits (1 western, 2 Indian)
2500 books
1 flat (which he has donated)
1 Padmashri
1 Padmabhushan
1 Bharat Ratna
16 doctorates
1 website
1 twitter account
1 email id
He didn't have any TV, AC, car, jewellery, shares, land or bank balance. He had even donated the last 8 years' pension towards the development of his village. This shows his simple life.
Quote from The Hindu
Kalam had advised current DRDO chief to work on reusable missiles
Just a month before his demise, former President APJ Abdul Kalam had advised DRDO chief Satheesh Reddy to work on reusable missiles system that can deliver a payload and launch it, come back and take another payload.
Mr. Reddy was then the Scientific Adviser to the Defence Minister.
"After I became the scientific adviser, I met him [Kalam] at his residence just a month before his demise. He came up with the idea of reusable missile, delivering a payload, coming back, then take another payload and launch it… 'Work on this type of system', he told me," Mr. Reddy recalled.
The meeting was held at the library.
"That is the vision he had," Mr. Reddy added.
Reusable rockets are currently becoming popular. With its Falcon 9, Elon Musk's Space X is also looking at capitalising on this technology. The Indian Space Research Organisation (ISRO) successfully flight tested Reusable Launch Vehicle-Technology Demonstrator (RLV-TD).
Credits: The Hindu
Conclusion
Abdul Kalam Success Rules and his simple and humble life is a lesson for others to live simple and live life to the fullest.
Recommended success stories for reading
What are the rules you will follow from Abdul Kalam Success Rules?
Thanks for sharing the post on your network to help others to read.
Feel free to share your views in the comment box below.
Photo Credits – Ministry of Defence (GODL-India) [GODL-India], via Wikimedia Commons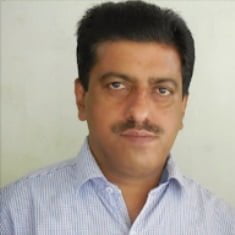 Mathukutty P. V. is the founder of Simply Life Tips. He is a Blogger, Content Writer, Influencer, and YouTuber. He is passionate about learning new skills. He is the Director of PokketCFO.
He lives with the notion of "SIMPLE LIVING, CREATIVE THINKING". He Believes – "Sharing is caring." and "Learning never ends."