(Last Updated On: August 2, 2020)
Have you heard about the success story of Ritesh Agarwal, founder, and CEO of OYO Rooms?"
How Ritesh Agarwal Started OYO Rooms?
Ritesh Agarwal is the person behind the awesome idea of the very famous OYO Rooms, which is a successful start-up.
OYO Rooms, commonly known as OYO, is a network of budget hotels in India, was founded by Ritesh Agarwal, a college dropout who belongs to a small town in Orissa which has a literacy rate of about 20%.
Inspired by his sister he decided at the age of 8 that he wants to grow up and be an entrepreneur.
Today he is not only one of the youngest CEOs in India, but also was the first Asian resident of the Thiel Fellowship Programme, under which he founded OYO.
His journey as an entrepreneur was not a very smooth one; he had to face many failures and difficulties.
He loves to travel a lot and while travelling he discovered the problem in getting good rooms with good facilities at affordable rates. First, he started Travel travels, modelled after Airbnb.
Later on, he launched OYO to eradicate the problems of the availability of the budget rooms in Hotels.
Ritesh Agarwal, OYO Rooms Biography, Success Story
Ritesh Agarwal born and spent his childhood in a small town called Bissamcuttack, Rayagada district in the state of Odisha, India.
He had a tough childhood especially because of the situation town was going through at that time.
He was not one of the usual kids because he couldn't make a lot of friends, couldn't spend a lot of time like a lot of other people did.
His family sent him to a Catholic school where they had to pay a small amount as the fee.
During this period was the first time he heard the word entrepreneur.
This young and talented CEO of OYO rooms has been awarded several recognitions.
Learn How to set Goals and become who you were meant to be
What is full form of OYO Rooms?
Full form of OYO  – On Your Own
OYO Rooms: On Your Own Rooms
OYO Rooms stands for On Your Own Rooms. OYO Rooms is India's largest hotel network which is spread over 199 cities. It is headquartered at Gurugram in Haryana.
How to build your own startup? Ritesh Agarwal
Watch the video to know his success story in his inspiring talk.
You can learn the Techniques for setting effective Goals and the science of achieving 
Ritesh Agarwal, CEO OYO Rooms talks about "Growth and Scaling Up" as part of the fifth lecture at IIM Ahmedabad on How To Start a Startup.
Read Successful Goal setting advice and quotes
Conclusion
Ritesh Agarwal is the man who backs his own decision. He is the true motivation for the young entrepreneurs who are dreaming of a bright future. He is surely a role model for the young generation.
Ritesh was the first resident Indian to be awarded the Peter Thiel Fellowship. He proves the old saying that "Hard work can beat Talent".
Handpicked success stories for reading
What is your ambition in life?
Share the post on your network.
Feel free to share your views in the comment box below.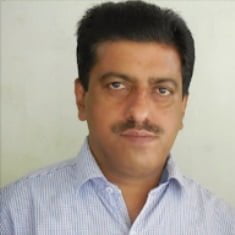 Mathukutty P. V. is the founder of Simply Life Tips. He is a Blogger, Content Writer, Influencer, and YouTuber. He is passionate about learning new skills. He is the Director of PokketCFO.
He lives with the notion of "SIMPLE LIVING, CREATIVE THINKING". He Believes – "Sharing is caring." and "Learning never ends."