(Last Updated On: July 1, 2021)
This article, A COVID-19 Monologue And A Human Response is a guest post written by Augustin Joseph, Teacher, Mount Assisi School Sr. Section, Bhagalpur, Bihar, India. He is a simple and humble person and a great artist.
As we all know, the whole world is under the control of a tiny virus, not visible to human eyes called COVID-19. Human reached beyond the sky limit, developed technology to communicate watching live sitting two corners of the earth. He made equipment to control many things through a switch sitting miles away. But this tiny virus taught many lessons to human all over the world. This article is very meaningful and you might have experienced the same in your life also.
A COVID-19 Monologue – Augustin Joseph
A COVID-19 Monologue And A Human Response
It seems I was born unexpected and uninvited .
My parents were hesitant to accept me.
But today I am known to everyone.
I masked the entire globe
I locked the doors of all religious mentions that minted money
I blocked all celebrations of the prodigal children
I made the world understand that the globe is 'OK' without humans
I made the wild animals leave their wilderness –
And enjoy the parks of humans.
I found happiness in transforming the warring crowd under the same roof into family that prays together
I know I am considered the devil of the millennium.
I doubt, was my gene meant for a genocide?
You man can't defeat me, unless you defeat your ego, false pride;
For vengeance is the venom in your veins
And you forgot you are but one of the creatures.
You licked the shoes of science
And believed you could move mountains, sans faith!
And you assisted me in destruction.
However I know there is still light glowing in the darkness
Your hope against hope will make you happy one day
And that day will be a blessed day, when the first man will successfully be vaccinated and I hear my death knell.
On 11 March 2020, WHO declared Novel Coronavirus Disease (COVID-19) outbreak as a pandemic and reiterated the call for countries to take immediate actions and scale up response to treat, detect and reduce transmission to save people's lives. Source: WHO
COVID-19 Pandemic – Trial for human survival
This covid-19 pandemic has been a time of trial for human survival, to put in a better way, survival of the safest. It has been a time when life turned to be more important than everything else. Even when schools and colleges were shut down, the virtual classrooms opened new horizons of hope. The terms like Lockdown, Quarantine, Isolation and Containment have been sufficient enough to bring new meanings to our life, new hobbies and new culture .We began to find happiness in little things around us. I think the greatest lesson that we have learnt is that life is a gift, rather the most precious one. Everyone is ready to forgo and forget when it comes to threat to life.
Read What Is True Happiness? Is There Any Magic Solution For Happiness?
Important lessons learnt from COVID-19
Another important lesson that we learnt is, there is still hope in humanity. There are still very many good people around us ready to share their time, roof and purses for someone somewhere in need. During these times of trials, homes turned to be place of worship for all religions. I believe that time will cure every wound inflicted by this pandemic on humanity. I have the faith that the whole universe would become a family, loving, sharing and living, leaving the barriers of caste, creed. religion, race, and ethnicity. I too believe that the dreams of the blooming buds of my generation would definitely shine and share the fragrance of greatness and goodness. Of course, it is my strong faith that it too shall pass and a new sun shine will awake when my generation will be vaccinated against it and Covid-19 defeated.
Posts Related To COVID-19
Conclusion
This COVID-19 monologue reminded us about the changes COVID-19 pandemic made in our lives. We learned many new things. In the same time, COVID-19 affected the life of common man. Many people lost their lives, lost their jobs and finding difficult to feed their hungry children. We must thank the health workers and other agencies working continuously to save the life of COVID-19 affected people. This tiny Coronavirus taught human not to be arrogant about his knowledge and skill, but to live as a good human helping others and forgiving others.
Kindly share the post on your network and help others to read.
Feel free to share your thoughts in the comment box below.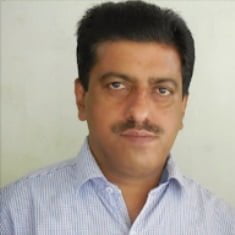 Mathukutty P. V. is the founder of Simply Life Tips,  a passionate Blogger, Content writer, Influencer, YouTuber. Lives with a notion "SIMPLE LIVING, CREATIVE THINKING". Believe – "Sharing is caring."  "Learning never ends."