(Last Updated On: January 27, 2023)
It is a proud moment for all the people in Kerala that Adithya Suresh disabled singer from Kerala has won the Pradhan Mantri Rashtriya Bal Puraskar 2023 (Prime Minister's National Award for Children), announced as part of the Republic Day celebrations. He was selected for this award for excellence in the field of art and culture. By receiving the Prime Minister's National Award for Children, he has not only made his family proud, but also all the people in Kerala are proud of his achievement.
About Adithya Suresh Disabled Singer
You must have heard about the charming Adithya Suresh disabled singer and also watched his many wonderful songs on TV channels. He is a rockstar on TV channels and social media. His success story is really inspirational for all children and parents, especially for disabled children and their parents. It is not magic, but it is self-confidence and hard work by him and also the full support and encouragement from his parents made his life successful.
Adithya Suresh, a 15-year-old, is hailing from 7th-mile, Kadapanad, Kollam, India, Kerala. T. K. Suresh is his father and Renjini Suresh is his mother. He has one brother, Aswin Suresh. He is a Plus One (Class 11) student of the VGHSS Ambikodayam School, Kunnathur in Kollam Dist, Kerala.
Soon after his birth, he was diagnosed with Osteoporosis Imperfecta, also known as Brittle Bone disease at Pushpagiri Medical College, Thiruvalla, Kerala, which made his bones weak. His bones were fragile, and he had his first fracture a couple of days after birth.
His parents immediately sought medical help. That is how my diagnosis happened very early. His parents were worried, but they stood by him and were determined to empower him throughout his journey. His bones have broken many times in the past years. . Bravely enough, that did not stop Adithya Suresh from pursuing his passion for singing.
Adithya Suresh's tryst with music
Since childhood, Adithya Suresh is passionate about music. This teenager is determined to overcome his physical disability to chase his interest. Aditya Suresh's music videos have gone viral and fans love his tunes.
Ever since childhood, he was watching TV shows and movies and used to hum songs. As a child, he couldn't even get up from his bed due to fractured bones. So his primary source of entertainment was watching and listening to music. At the age of four, Aditya was gifted with songs and melodies even before he began to utter words.
While studying in class 5, he started attending music classes. A teacher from nearby his home used to teach him. He loves to sing all kinds of songs, but melodies are most appreciated.
His family comprising his mother, father and brother, always gives immense support in all his musical ventures. They make sure he attends all musical shows. His music journey is amazing and has so much more to achieve and work on.
Adithya Suresh, who reached sitting on the hip of his mother, to take part in the recitation competition at the Kozhikode State School Arts Festival (Kalolsavam), secured an 'A' Grade. Earlier also Adithya Suresh won several awards, including the Kerala state government's Ujwala Balya Puraskaram.
Ethra varnichalum mathi varilla – Adithya Suresh Disabled Singer
Adithya Suresh Disabled Singer Growing Environment
Since he travels a lot to perform for shows, his teachers and friends at school make sure that they help him by writing notes for him. The school also grants him a lot of leaves to help him perform in shows. He loves to study and has performed well academically as well. Even though he has shows lined up, he scores good marks on all the exams.
Adithya Suresh Disabled Singer's success at a young age
After being part of NGO Amritavarshini, which reaches out to people with Brittle Bone disease, he met many disabled people with the same physical condition. That even boosted his self-confidence. His parents are very glad that he is very active and achieves success beyond their imagination.
He loves travelling to perform for his music shows. He has now performed musical shows on over 600 stages across Kerala, and some in other parts of India too. Because of the Coronavirus crisis and lockdown, he couldn't attend the show booked in Saudi Arabia.
"I feel happy when people shower me with appreciation. It is indeed a great feeling. I want to learn more about music and reach bigger heights. I hope to build a career in music too", says Adithya Suresh.
Adithya Suresh Disabled Singer Received Pradhan Mantri Rashtriya Bal Puraskar
Among the awardees was Adithya Suresh who even after being diagnosed with a bone disorder since birth (osteogenesis imperfecta) transformed himself into a singer. This national award for children comprises one lakh rupees, a medal and a citation.
As of now, he has performed at more than 500 singing events including those on different TV channels.
Adithya Suresh was awarded the Rashtriya Bal Puraskar 2023 in the arts and culture category. He was lauded for not giving up in the face of adversity because, even after being diagnosed with a bone disorder at birth, Adithya Suresh pursued his passion for singing and transformed himself into a singer. Adithya Suresh received the award comprising a cash component of Rs one lakh and a citation from the President of India, Droupadi Murmu at a function held in New Delhi on Monday, 24th January 2023.
Adithya Suresh has so far performed in over 500 singing events, including those on TV channels. He is a loving boy to everyone, including the famous judges on TV channels.
The Pradhan Mantri Rashtriya Bal Puraskar (lit. 'Prime Minister's National Award for Children'), formerly called the National Child Award for Exceptional Achievement, is India's highest civilian honour for children, awarded annually by the Ministry of Women and Child Development. Source: Wikipedia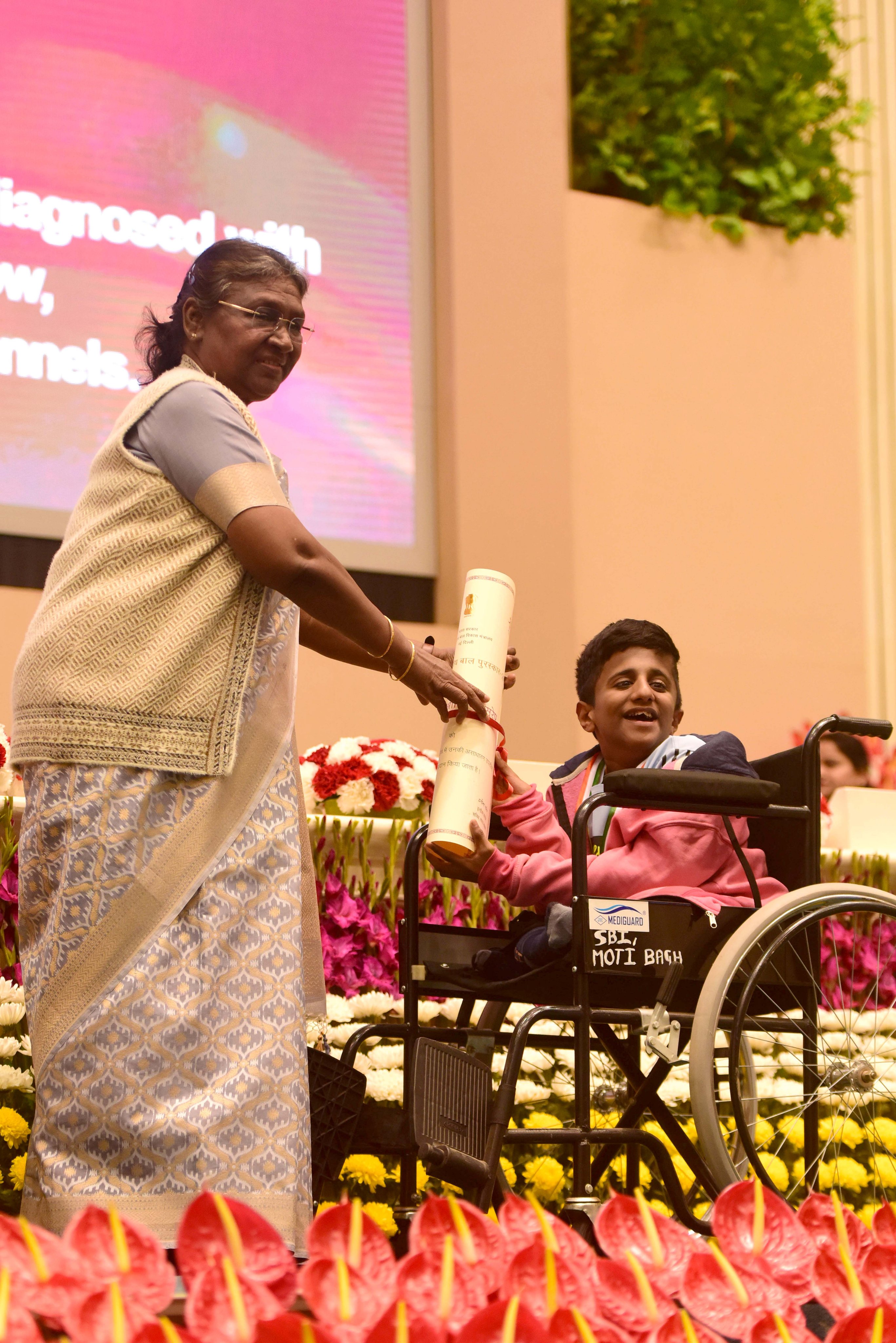 Adithya Suresh disabled singer with Prime Minister
Photos of Adithya Suresh with celebrities and Governor
Credits: Photos are from Aditya Suresh's Facebook. These are published here to show their love for him.
Related Inspirational Stories
Sparsh Shah Wheelchair-Bound Boy Transformed 'Impossible' To 'I'm Possible'
Sparsh Shah,  is a 19-year-old prodigy, singer, songwriter, rapper, inspirational speaker, philanthropist and Guinness World Records holder. He was born with an incurable disease called Osteogenesis Imperfecta. This disease makes his bones extremely fragile/brittle, due to which even a hard handshake can break his bones. Read more about Sparsh Shah.
Anju Rani Joy Paraplegic Multi-Talented Woman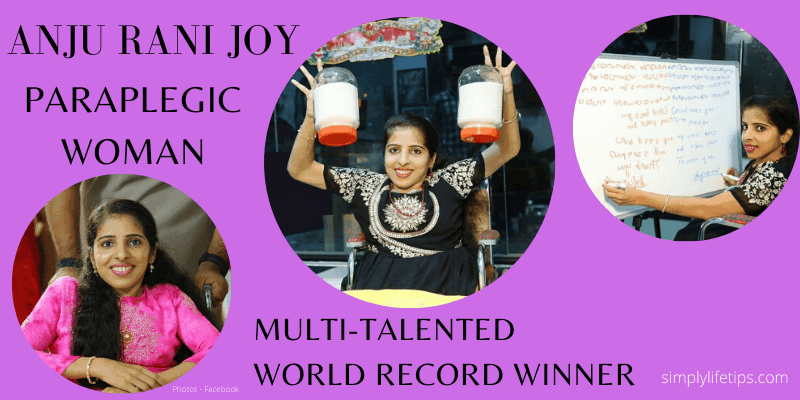 Anju Rani Joy is a paraplegic woman, multi-talented and world record winner for the longest time lifting two glass jars (1kg each) upside down with two fingers of each hand. She is a multifaceted woman and her accomplishments so far have been stupendous. Anju is an actor, theatre artist, model, entrepreneur, record holder, media person, social worker and much more. Read more about Anju Rani Joy
Remya Ganesh Wheelchair Model And Dancer
 Remya Ganesh is a wheelchair model, dancer, and motivational speaker. She proves that if you have self-confidence, a positive attitude, courage, and support from others, no power in the world can stop you from achieving success. Read more about Remya Ganesh
Veena Venugopal India's First TV Anchor In A Wheelchair
Veena Venugopal, India's First TV Anchor in a wheelchair, wants to use the powerful media to touch the lives of others with disabilities. Read more about Veena Venugopal India's First TV Anchor in a wheelchair's plans to change the lives of the community.
Dean Furness Wheelchair Athlete Real-Life Story
Dean Furness met with an accident in 2011 which left him as a paraplegic without the use of his legs. But several years of rehabilitation, hard work and encouragement from his physical therapist helped him to compete as a wheelchair athlete in both the Chicago and Boston Marathons. Read more about Dean Furness Wheelchair Athlete Real-Life Story
Conclusion
The inspirational success story of Adithya Suresh disabled singer proves that disability is not a problem to achieve success. Many parents are worried and sad because of their disabled children. Some parents ignore these children and do not seek proper, timely medical help and also do not support them to enjoy their passion. Most of these children have some special skills and hidden talents. Remember, every child is a gift from the almighty. He has his own plans for every creation. Encourage and support your disabled children and help them achieve success in life. These children do not need sympathy from others, but they want motivation, encouragement and empowerment.
The famous magician Mr. Gopinath Muthukad is a good example and inspiration to learn how we can make disabled children laugh and become successful. The aim of the Different Art Centre started by him is to empower these children by recognising and sharpening their raw talents through special and appropriate methods.
Have you ever watched shows of Adithya Suresh disabled singer?
Are you a fan or follower of Adithya Suresh? If not, you can follow him
Thank you for your visit.
Don't forget to share it.
Leave your thoughts in the comment box below.
References: Newz Hook Images Credits: Facebook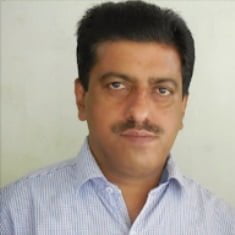 Mathukutty P. V. is the founder of Simply Life Tips. He is a Blogger, Content Writer, Influencer, and YouTuber. He is passionate about learning new skills. He is the Director of PokketCFO.
He lives with the notion of "SIMPLE LIVING, CREATIVE THINKING". He Believes – "Sharing is caring." and "Learning never ends."