(Last Updated On: June 23, 2020)
Do you know the inspiring success story of Larry Page, co-founder of Google? You might be using Google every day for search, Gmail and much more.  Do you know about the founders of this giant company? Let's find his inspiring biography, success story and top 10 rules for success.
Larry Page – Top 10 Rules For Success
Don't be afraid of failure
Stay organized
Concentrate on the long-term
Have a good idea
Solve bigger problems
Take on challenges
Don't settle
Adapt to changes
Follow your dreams
Above details and video source: Youtube
Who Is Larry Page?
He is an American computer scientist and an entrepreneur who co-founded Google Inc. with Sergey Brin and is also the CEO of Google's parent company, Alphabet Inc.
To convert the backlink data, Sergey Brin and Larry Page developed the PageRank algorithm and realized that it could be used to build a search engine far superior to existing ones.
Their only intention was to organize the world's information and make it universally accessible and useful.
Bachelor of Arts/Science, University of Michigan; Master of Science, Stanford University.
Larry Page sits at the helm of Alphabet, the parent company of Google, healthcare division Calico, smart home appliance division Nest and more.
He cofounded Google in 1998 with fellow Stanford PhD student Sergey Brin.
With Brin, Page invented Google's PageRank algorithm, which powers the search engine.
Page was Google's first CEO until 2001. After serving as president of products, he took the CEO job again in 2011.
Larry Page Biography
Conclusion
The success story and inspirational speech of Larry page will surely motivate and help to become successful in life. We should read more and more inspiring stories of successful people and try to find and their success secrets that are helpful in our life. Don't think successful people achieved success in an overnight. They struggled a lot and worked hard with dedication and that is the secret of their success.
Recommended for reading
Do you know how these people became successful in their life?
What are the points attracted you to follow from this post?
Share this post on your network to help others to read this inspiring story.
Feel free to share your views in the comment box below.
References Wikipedia
Photo Credits – Stansfield PL [CC BY-SA 3.0], via Wikimedia Commons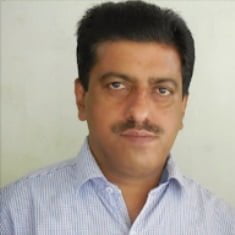 Mathukutty P. V. is the founder of Simply Life Tips. He is a Blogger, Content Writer, Influencer, and YouTuber. He is passionate about learning new skills. He is the Director of PokketCFO.
He lives with the notion of "SIMPLE LIVING, CREATIVE THINKING". He Believes – "Sharing is caring." and "Learning never ends."